College Football Handicapping: Iowa Heads To White House
by Nicholas Tolomeo - 9/24/2009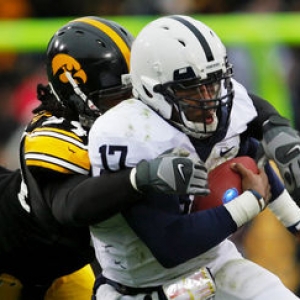 The Nittany Lions do not take kindly to teams who hand them a loss. Nearly every team who knocks off Penn State is greeted by an angry, unreceptive crowd of 107,000-plus Penn State fans decked out in white, under the lights as Zombie Nation, reverberates around Happy Valley the next time they hit Beaver Stadium.
It will be no different at 8 p.m. this Saturday inside college football's largest stadium when Penn State, a 9.5-point favorite, hosts Iowa. The Penn State faithful, the players, and Joe Paterno himself might have a little something extra for Iowa after the Hawkeyes dealt Penn State its lone defeat last regular season and what possibly cost JoePa his last chance at a national title.
It was November 8 of last season and Penn State, then ranked No. 3 in the country, had seemed to clear the last road block standing between Paterno and another shot at a national championship. The Nittany Lions got past Ohio State on the road in their toughest game of the season. Penn State would be favored the rest of the season after that win including seven days later in Iowa's Kinnick Stadium.
The Nittany Lions led by a ferocious defense played the part of the 7.5-point favorites early on. But late in the game with his team clinging to a lead Penn State quarterback Daryl Clark threw a fateful interception. It was a fitting finale for a miserable day for Clark who only competed nine of 23 passes. The interception led to a Daniel Murray 31-yard field goal as time expired to lift Iowa to a major upset.
Ever since Murray's field goal sailed through the Kinnick Stadium uprights it seems that Penn State has had the 8 p.m. time slot waiting for Iowa. The White Out atmosphere was a given. ESPN made the atmosphere that much more special when it invited its College Gameday crew to Happy Valley this Saturday.
Iowa has to know what is in store for them when it exits the tunnel at Beaver Stadium. But do they really know? Does anybody know? How much can be told of this Penn State team who has yet to play a game outside of Happy Valley let alone a game against a team anything but mediocre.
As is Paterno's custom the Lions have played what amounts to a preseason schedule. In three consecutive home games the Nittany Lions have been pegged as favorites of 29.5 points, 28.5 points and 29.5 points again. Its three wins have come against Akron (1-2), Syracuse (1-2) and Temple (0-2). Penn State won 31-7, 28-7 and 31-6 in its three games but never showed consistent offensive firepower that fans grew accustomed to last season.
While it is tough to get a read on this Penn State team due to the lack of competition it has faced, we do know one thing: the revenge factor is a major asset in Penn State's corner.
In 2006 after a 21-10 loss at Ohio State the previous year Penn State rebounded at home with the Big Ten title on the line and won 17-10 in front of a White Out crowd. In 2007 after a 41-17 thrashing at South Bend a year earlier, a White Out crowd was there to welcome Jimmy Clausen in his first road game. The result was a 31-10 beat down by Penn State. Last season in a White Out against Illinois Penn State rebounded from a 27-20 road loss to beat Illinois 38-24.
There is no question the atmosphere advantage is largely in Penn State's favor, more so than any other home team playing this Saturday arguably. The Penn State stats do not show too much as the competition makes everything watered down but one thing is alarming. Clark, he of the infamous interception last season, has already thrown three interceptions this season against less than stellar competition.
Another key factor to look at is how Joe Paterno's teams have fared in these games that amount to the first real challenges for his team. In 2007 after three consecutive games playing as at least a 17-point favorite, Penn State had back-to-back tests at Michigan and at Illinois. They were favored by a field goal in each game and in each game Penn State lost. In 2006, after an opening week pummeling of Akron, Notre Dame and Ohio State blew out Penn State in subsequent games.
On top of that this Penn State team has not exactly dazzled in its last few games dating back to last season. The Iowa loss started a downward trend in terms of betting on Penn State. It failed to cover the following week against Indiana and then in the Rose Bowl the Nittany Lions were outclassed by USC 38-24 as 10-point underdogs. Including this season Penn State is mired in a 1-6 stretch against the number.
The raucous atmosphere should be the difference in the game in terms of the outcome but a extremely week out of conference schedule in addition to recent struggles in covering the number should have Penn State backers either switching to the moneyline (-350) or taking the Hawkeyes plus the points.