Six Reasons To Be Optimistic About the Nets
by Trevor Whenham - 12/4/2009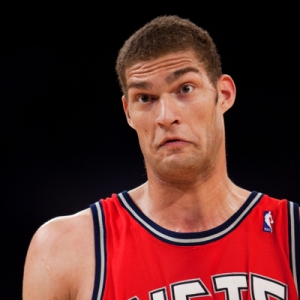 Here's a controversial statement - the New Jersey Nets are an extremely bad team. Shocking, I know, but I stand behind it. They have leapt out of the gate with a whimper, setting an all-time record for futility by going 0-18 to start the season. Not only did they lose to the Mavs on Wednesday night to secure the dubious record, but they did it by allowing 49 points in the second quarter. Needless to say, the already dispirited team couldn't bounce back from that.
It's incredibly easy at this point to kick this team now that they are down - they are the longest shot on the board at 500/1 to win the championship, they have already lost a coach and the replacement is far from a guaranteed winner, and they have a real shot at the all-time record for fewest wins. It doesn't take much to be negative, though, and I'm more sporting than that. Instead, I'm going to do what should be almost impossible - come up with six good reasons to be optimistic about this team:

Chris Douglas-Roberts - The former Memphis star has been one of the most pleasant surprises in the NBA this season. He averaged less than five points per season last year, and only started two games. This year is a totally different story. He's averaging 16.9 points a game along with five rebounds and almost two assists, and he's been the leading scorer in seven of the 15 games he has played. He still needs to work on his consistency a little bit, but considering he was expected to be little more than a role player off the bench this year he's doing just fine. The best thing about his play is that he doesn't seem t be playing beyond himself, so he can reasonably be expected to contribute throughout the season.

Brook Lopez - The second-year former Stanford player is quickly emerging into a star. He's averaging team-bests with 18.2 points, 8.9 rebounds and 2.3 blocks. Lopez may not be the most charismatic player in the league, but he's solid and reliable, and he just oozes stability. He's the kind of player a team can be built around, and the type a coach can trust. Cynics would point out that the team has lost like no other team in history despite Lopez' strong play. That's true, of course, but you also can't doubt that a team that has a seven foot guy that can do what Lopez does is in better shape than many for the future.

Devin Harris - Harris is a very solid point guard. He's only been back form injury for six games, so he still has to work out the kinks and get back into game shape. We know that he has the capability to do so, though - he averaged 21 points and seven assists for the Nets last year. As Harris improves this year he will inevitably lift this team and find a way to win a few games.

Schedule - This team isn't going to lose forever, and their upcoming schedule should help them see to that. Four of their next five games are against Charlotte, New York, Golden State and Indiana. That's hardly a murderer's row, so surely there is a win in there somewhere. If that doesn't work then they finish out the month with a seven-game home stretch. The home court isn't as friendly as it could be since they have alienated their fans, but it still can't hurt.

Dead weight - There are a lot of players on this team that just aren't very good. That's the bad news. The good news is that a lot of them have reasonable contracts that the team can easily buy out and rid themselves of before the trade deadline. That could give them the ability to improve at the deadline if there is a bargain to be had, or it will put them in a good position to improve next year at the very least.

Division - The good news for the Nets is that they have such a ridiculous bunch of losers in their division that even at 0-18 they aren't out of reach. Boston is obviously doing great, but the rest of the group is a disaster. Toronto leads the way at 7-13, withe Philadelphia at 5-14, and the Knicks at 4-15. Teams play their division more than any other, so the Nets couldn't be in a better position in this regard. Compared to those other three teams the Nets are a defensive superpower.