Potential NBA Surprise Teams
by Trevor Whenham - 10/27/2009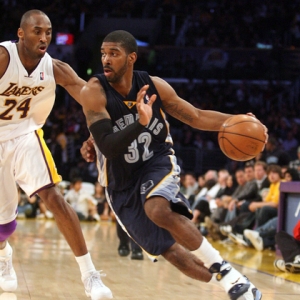 With the NBA season firing up, now is a good time to think about our expectations for the teams for the season. It's not very interesting at the top end - we know that the Lakers, Spurs, Cavs, Celtics, Magic and the like are going to be more than solid, and that everyone else is going to play catch-up.
What is far more interesting, though, is to look at the teams at the other end of the spectrum. There are a lot of teams that are reasonably expected to be varying degrees of lousy. They will mostly live up to those expectations. If everything were to fall into place, though, it's always possible that one of these teams could take a gigantic leap forward and could even be in the playoff discussion.
In the last couple of years Atlanta has done just that. So did Philadelphia before taking a step back again. Here, in no particular order, is a look at five teams who could, at least theoretically, be the next to leave the depths of the pathetic. I was going to include the Clippers as well, but the injury to Blake Griffin just makes me laugh, and makes me believe that the curse may never be lifted there:

Memphis Grizzlies - I'll admit it right up front - I'm a big Allen Iverson guy. I think he was horribly misused in Detroit last year, and that he has a lot to offer in the right situation. I also think that he is smart enough to know that he is running short on chances so he can't screw this one up. He'll get a chance to play beside a real talent in O.J. Mayo.
There seems to be a prevailing attitude that that pairing won't work because they are both selfish guys who would rather make the play themselves than pass it to someone who will screw it up. I think that it could actually be positive for Mayo. He'll be able to relax because he doesn't have to do all the scoring, and if he tries to do too much Iverson will rip his head off. This could help Mayo take a big personal step forward.
Beyond that there is some solid talent - Gay, Gasol, Randolph, and so on. I also expect Mike Conley to continue to improve. I'm not saying that this is a playoff team, but I have seen a lot of people pick them as the worst in the league, and based on those expectations they could surprise.

Golden State Warriors - This is another team that is here based on expectations and not playoff possibilities. They are another team often considered a cellar dweller, and they had a rough offseason, but they could be better than expected.
The biggest reason for optimism is Monta Ellis. We know that he is talented, and so is Stephen Curry. What has been revealing, though, is that Curry has totally worn down Ellis' early doubts about their ability to play together.
That faith could percolate through this team, and it could be enough to make Stephen Jackson at least temporarily content, and to allow Corey Maggette Andris Biedrins is a nice player, Anthony Randolph has a world of potential, and I'd love to have Ronny Turiaf coming off the bench for my team. This team won't be great, but if Curry can hit the ground running he'll have these guys believing that they are better than they seem.

Toronto Raptors - I think that the Raptors are easily a playoff team, and that they even have a tiny outside chance of hosting a playoff series.
It starts at the top - Jay Triano is a great coach, and he's had his first offseason to set the tone and get things working his way. He got things turned around last year and finished very strong. The team also cleared out all of the drama, and finally has a strong, relatively drama-free roster.
Hedo Turkoglu was a great addition - a steal, really. He'll fit like a glove, and he'll help Bosh have a great year to earn the massive contract he'll get from somewhere next year. DeMar DeRozan will make more of an impact as the season progresses. I also like the addition of Marc Iavaroni as an assistant. He's a Mike D'Antoni disciple who will help to get this team flying up and down the court - something they have the pieces to do.

Oklahoma Thunder - Kevin Durant is entering his third year, and I haven't seen any reason to think that he won't keep becoming the star I know he's going to be. What I like most, though, is how this team is being built around him. They are adding nice pieces, they have improved their coaching situation, and, most importantly, they are willing to be patent and let things take the time they need. They know that this is going to be a process, and that they have the right guy to build around. That's exactly what mindset is needed, and if they can stick to it then I think they'll start to see results ahead of schedule.

Charlotte Bobcats- For all of his faults, I believe in Larry Brown. I also respect that this poorly-run team has finally had the sense to let Brown have the reins. He was able to rebuild this team in his image last year, and I like it. Raja Bell and especially Boris Diaw were brilliant additions, and Flip Murray is a great depth guy.
I still like Raymond Felton, though he is testing my patience. He's being pushed by D.J. Augustin, though, so I expect solid point play from the team. I also like the deal that saw Emeka Okafor and Tyson Chadler trade places. Chandler has injury issues, but he brings more to the table when he is healthy in my eyes. Okafor was solid but lacked any meaningful spark.
Brown is now surrounded by Brown guys, and we've seen time and time again that he can do some damage when he has that - at least until he gets bored and moves on.