College Football Betting: Odds and Predictions for Next Miami Hurricanes Coach
by Alan Matthews - 11/30/2010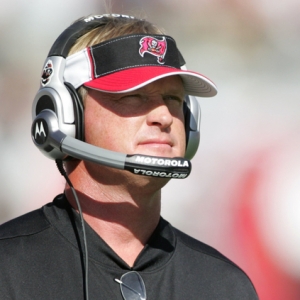 If you need any more proof that college football is all about winning and really nothing else, look no farther than the University of Miami, which fired Randy Shannon on Saturday night after UM's 23-20 home overtime loss to South Florida.
In Shannon's four seasons in Coral Gables, only one Hurricane player was ever arrested (compared to around 30 at Florida under Urban Meyer) and Miami had one of the nation's best APR ratings for football players. But this year's team, which was supposed to be Shannon's best and a preseason ACC favorite, finished at just 7-5 and will be headed to some mediocre postseason game like the Sun Bowl.
Overall Shannon was 28-22 and never won a bowl game. The school still has not won an Atlantic Coast Conference title since joining the league in 2004.
So now the scuttlebutt has already started over which coach might replace Shannon. Yeah, Miami doesn't have great facilities and plays in an NFL stadium more than a half-hour away from campus. And the school probably can't pay top dollar because it's just a small, private institution. But the allure of all the high school talent in South Florida and the mystique that still surrounds the "U" will mean interest from several big-name coaches.
Bodog has come up with odds on Shannon's replacement, so let's take a look at each of them and offer some predictions for the next coach of the Miami Hurricanes:
Jon Gruden (1/1)
Of course Gruden has been out of coaching and in the "Monday Night Football" booth since he was fired by Tampa Bay following the 2008 season. Needless to say Gruden has a stellar resume after leading the Bucs to their only Super Bowl title. And he has the kind of charisma that would no doubt lure recruits and excite a fairly disinterested Miami fan base.
The AP has already reported that Gruden has received "parameters" of an offer from UM, and the Miami media is reporting Gruden is clearly UM Athletic Director Kirby Hocutt's top choice. Gruden issued a statement Sunday, saying, "I am committed to Monday Night Football and to ESPN."
But by taking this job he could remain in Florida and he might not need as much money as he would get in the NFL because he still gets $5 million a year through next NFL season from the Bucs.
I don't think Gruden takes the job because he will probably be offered the Dallas Cowboys job and take that instead.
Jim Leavitt (2/1)
Of course, Leavitt built the South Florida program from scratch. And he was Hocutt's position coach when Hocutt was an All-Big 8 Conference player at Kansas State.
But this hiring wouldn't really excite the fan base, plus Leavitt's stay at USF ended in some controversy over him reportedly striking a player. Leavitt won't be getting this job.
Brent Venables (3/1): I'm a little surprised Venables is the third-favorite on Bodog. The Oklahoma defensive coordinator played at Kansas State with Hocutt and is pals with him.
But it's hard to see Hocutt going for another guy who doesn't have head coaching experience since that route didn't obviously work with Shannon – although Hocutt wasn't the school's AD when Shannon was promoted from defensive coordinator.
Gary Patterson (6/1): Actually, Patterson might have been a favorite for this gig and probably will get a call from Hocutt. But with TCU announcing on Monday it was joining the Big East, why would Patterson leave now that he will have an easier path to an annual BCS bowl game than he would in the ACC?
Marc Trestman (8/1): This is a bit of an under-the-radar candidate, Trestman is the head coach of the CFL's Montreal Alouettes. He does have UM ties as he went to law school there and served as the Hurricanes' quarterbacks coach in 1983 (the year they won their first national title) and tutored Bernie Kosar.
The Canes could be in competition with the University of Minnesota for Trestman as he went there and grew up in Minneapolis. He almost got the Gophers' job three years ago.
Mark Richt (10/1): Miami would jump at the chance to get Richt, currently the Georgia coach and a former Hurricanes quarterback. But why would Richt, who has already denied interest in the job, leave what is a better and higher-paying situation at Georgia?
Chris Petersen (12/1): The Boise State coach is mentioned with every other high-profile job, but has always said in the past he had no interest in leaving Boise. I tend to believe him.
Mike Bellotti (15/1): He's probably going to take the Colorado job and already has talked with that school. CU is a better fit since Bellotti knows the Pac-10 so well after his time at Oregon.
Jimmy Johnson (50/1): Wow, this would be a grand slam if Hocutt could get Jimmy, but the former UM coach appears to like his life too much – hanging in the Keys and his TV gig – to want to go back to the 24/7 work that a top college job is. No chance here.
I don't happen to think any of these guys will be the guy to take over at Miami, but I would say the best value bet here is probably Petersen. He might be tired of having to go unbeaten every year just to have a shot at a BCS bowl game and the watered-down Mountain West, which is now losing TCU too, doesn't appear likely to get an automatic bid anytime soon. That could be enough for Petersen to take the UM job.