College Football Picks: Fresno State at Boise State Odds and Betting Predictions
by Trevor Whenham - 11/19/2010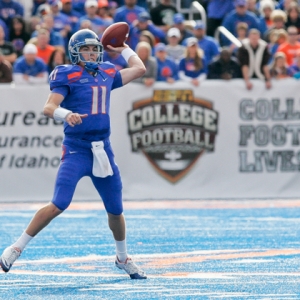 I always think it's an interesting and appropriate matchup whenever these two teams play each other. In a lot of ways, Pat Hill and Fresno State paved the way for Boise State and other programs to be where they are. The Bulldogs were one of the first programs in non-traditional markets to really make some noise and make the football world take notice. They were never quite able to take the big step, but they came close, and their success made it much easier for other schools to be taken seriously.
Lately, though, these programs don't have as much in common. Boise State is a juggernaut - a nationally elite program - while Fresno State has struggled with consistency. The gap between the programs is wide, and there is a good chance that that gap will be on display in this one.
Boise State is on the outside looking in in the race for the BCS Championship right now, but they have a unique opportunity here. Not only do they have the only game of the night on Friday -- one that will be widely available on ESPN2 and will be widely viewed as a result -- but they are the only team in the top four of the BCS standings that is in action this week. Oregon and Auburn don't play again until next Friday, while TCU is off until Saturday.
While Boise State isn't likely to be able to pass anyone in those standings here, they can close the gap. They can also make a strong impression on voters.
Boise State has struggled to gain a lot of respect this year. Beating up on Fresno State won't change that entirely, but it won't hurt. At this point San Diego State and Fresno State are loosely comparable teams. TCU struggled badly to get past San Diego State last weekend, so a convincing win would shift some momentum back into the Boise State camp.
Both teams have to wait and hope that Oregon or Auburn falter, but a strong performance here would give Boise State momentum.
Boise State QB Kellen Moore has a good shot at making history in this game. With just 210 passing yards the redshirt junior will become Boise State's all-time leading passer - a record he could make all but unreachable by the time he is done.
It's easy to get on the Boise State bandwagon in this one, but Fresno State can't be totally counted out. They lost to a pretty good Nevada team last week by just one point, and Head Coach Pat Hill is a wily veteran. Their pass defense is the second best in the conference behind Boise State, and running back Robbie Rouse has rushed for 503 yards in the last two weeks.
Boise State has lost just twice in 71 conference games, and one of those losses was to the Bulldogs. It could be a more convincing story if Fresno State had shown more skill against strong teams - they have lost 12 straight to ranked squads.
Boise State vs. Fresno State Betting Odds and Line Movement
The Broncos are heavily favored here - which is no surprise, of course. They opened as 30.5-point favorites, and up to this point the line doesn't seem to be on the move. It likely won't move, either - the action is almost evenly split between the two squads. The total is at 65, and is slowly moving up - it's at 66.5 as I write. Check the latest college football odds at Bodog.
Boise State vs. Fresno State Betting Trends
Fresno State is 8-3 ATS in their last 11 games as a road underdog, but just 13-27 ATS in their last 40 conference games, and 1-8 ATS in their last nine Friday night games.
The Broncos are 5-1 ATS in their last six as heavy favorites of more than 10 points. They are 18-7-1 ATS in their last 26 conference games, and and 19-7 ATS in their last 26 games overall.
Fresno State has gone 'over' in their last five road games, and in six of their last seven conference games.
Boise State has gone 'over' in five of their last seven home games.
Boise State has covered the last four meetings between these teams, and eight of the last nine. the last two games, and three of the last four, have gone 'over'.
Boise State vs. Fresno State College Football Picks and Predictions
I obviously like and respect the Broncos, and think they are going to win this game handily. The challenge, then, is to figure out if they can win by more than 30.5 points. That's a whole lot of points, but they have won by more than this spread five times in the last six games - and in the sixth game they won by 29.
Fresno State, however, is better than most of the teams that they have played over that stretch. Boise State played Hawaii at home, though, and beat them by 35. Hawaii crushed Fresno State in California, so it is at least reasonable to assume that Hawaii is better than Fresno State and that Boise State is capable of a big win here as well.
On top of that, Boise State is going to be very motivated by the opportunity they have here, and they are always well prepared. I hate giving up this many points, but I can't comfortably make an argument to trust Fresno State, so I have no choice but to take the Broncos.
Doc's Sports has become known in nearly four decades in the sports handicapping business as one of the brightest and most successful college football handicappers in the nation and Doc is coming off a 9-1 week where he helped $100 bettors make nearly $4,000. Doc has won in six of seven weeks for football picks and he has a 6-Unit Big Ten pick going on Saturday. Here ay Doc's Sports we provide both college football picks and NFL picks in one package so you can get the best of both worlds for all your football betting needs. Check our homepage for up-to-the-minute college football odds and daily exclusive college football betting articles.