College Football Power Rankings - The Ferringo 15
by Robert Ferringo - 9/22/2010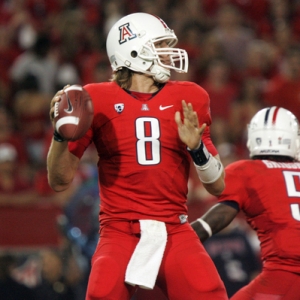 The Ferringo 15 is my Profit-Power Rankings, a ladder or hierarchy based on which teams are the most profitable on the field. I'm not trying to give you some other nonsensical, random, speculative power rankings based on my own biases and conjecture. So instead of Alabama moving up or down the polls on the basis of how badly they blew out Vanderbilt the previous Saturday, I'm going to rank each team based on past, present, and projected future achievement against the college football point spread.
And over the past two years this version of college football power rankings has been on point. In 2007 the teams that finished in the Ferringo 15 had a collective 121-46-1 mark against the spread. In 2008 they came back and went 81-63-3 in the week that they were in the Ferringo 15. In 2009 the teams that were in the F-15 only managed to win 53 percent of their games that Saturday. But, all in all, these college football power rankings have been exactly what any good gambler hopes to be: profitable in the long term.
Last week was our first non-profitable week of the season with the Ferringo 15. Our teams went just 6-9 ATS (5-7 if you discount the "off-the-board" numbers). Remember: I'm not listing the 15 teams that I think will cover in a given week. This is just a list of 15 teams that I think present the best blend of immediate and long-term earning potential against the books, while also giving credit to teams for recent, past performances. For the year the F-15 teams are just 13-12 the week that they have been listed in these college football power rankings.
So without further ado, here is my Ferringo 15 (all records are ATS against the closing line):
1. San Diego State (3-0) – I can't believe that I actually bet against the top team in the Ferringo 15 last week! Heresy! The Aztecs were pretty game in Columbia last week and almost pulled a stunning upset over disheveled Missouri. But now they have to show some maturity and avoid a letdown against a potentially explosive Utah State team. That's is a tall task, especially considering that SDSU only lost by three to a legit Big 12 power. San Diego State has played eight WAC teams since 2004, with the home team winning by an average of 21 points in all eight games.
2. Rice (2-1) – The Owls are in a very sticky predicament this week when they face in-state foe Baylor. Both the Bears and the Owls are off blowout wins last week and there is no doubt that the Big 12 club will be bringing much more overall talent to this one. But Rice was scrappy as hell when they took on Texas. If they bring that type of effort this week they could pull an outright win as a seven-point home underdog. But the more likely scenario is a Baylor blowout, seeing as the Bears are 7-3 ATS on the road and Rice is just 2-7 ATS in its last nine against a Big 12 opponent.
3. Kent State (2-1) – I'm not going to penalize the Golden Flashes too much for failing to cover in Happy Valley last week. The reality is that Kent State was down just 14-0 near the end of the third quarter and they were trading blows. And that was a game in which you had to expect Penn State to try to let out some frustration. They have a week off before launching into a quirky MAC schedule. It's quirky, but if they can bust through and win a couple road games to start out they get four of their last five games at home.
4. Ohio State (3-0) – All they do is cover. That's it. They simply beat teams into submission and they are an absolutely incredible 42-18 ATS in their last 60 games. This, despite being one of the best programs in the country. By the looks of it, Jim Tressel is trying to get quarterback Terrelle Pryor some Heisman Trophy love. Also, I think that the Boise State Conundrum motivates Tressel and his troops. If Ohio State does lose a conference game they know that to make the national title game they will need to have a schedule full of blowouts in order to keep the Broncos at bay. The Buckeyes are 8-1 ATS at home and they have covered seven straight nonconference games. This week is the last cream puff before conference play begins.
5. South Carolina (2-1) – I can't fault South Carolina for not covering an inflated, off-the-board number (-33.5) last week against Furman. USC was off a big win against Georgia and they have a crucial game with Auburn up this weekend. But what impressed me about the Gamecocks' performance last week is that even though they didn't cover they never let Furman get close. South Carolina is 5-1 ATS in their last six against a team with a winning record but just 2-5 ATS after a win. USC is just 1-6-1 against Auburn, but the two teams haven't met since 2006.
6. Syracuse (2-1) – The Orange will get their licks in on another I-AA team this weekend as they continue the Softest Opening Month in college football. There's no telling how much progress this team has really made. But after this Saturday they get two weeks to prep for their Big East opener at South Florida.
7. Alabama (3-0) – Just like Ohio State, all Alabama has done is cover the spread recently. They have easily rocked the number in all three games this year, they are 5-0 ATS in their last five, and they are 10-4 ATS in their last 14 SEC games. Also, the Tide travels. They are 9-2 ATS in their last 11 road games. They are in a dangerous spot this weekend playing against an explosive Arkansas team. But they are 29-2 SU in their last 31 games overall and only five of those wins have come by less than nine points. Alabama doesn't beat people: they punish them.
8. Arizona (3-0) – In typical Stoops style, Arizona did everything they could to cough up their marquee nonconference victory last week over Iowa. Arizona needs to roll the momentum from that win into this week's clash with California. Arizona's defense continues to impress. But this is a team that hasn't been able to fulfill the hype the last few years. The schedule sets up nicely for Arizona over the next month, as three of their next four are in Tucson with a bye week mixed in. In the Cal series, the home team has won and covered five straight meetings.
9. Maryland (2-1) – It's not all that stunning that a motivated West Virginia squad blasted Maryland last week. The Terps aren't all that good. But they are going to play to their watered down schedule and when they end the regular season with six wins and make it to some crappy bowl game you'll wonder how you missed them coming. The Terps get feisty Florida International – fresh off an impressive 2-0 ATS run themselves – this week. FIU has covered the last two meetings, but Maryland managed a 16-point road win back in the last meeting in 2006. Maryland is 0-6 ATS in its last six against the Sun Belt.
10. Michigan (2-1) – Last week's uninspired effort against Massachusetts was simple to predict. And even though they didn't cover their off-the-board number the Wolverines actually may have helped their overall value. Right now Michigan is a complete wild card in the Big Ten race and they are a dangerous, dangerous team. But they are also a young club that is going to play up or down to its level of competition all season long. Don't be stunned if they dump a game to Indiana or Purdue this season. But you also shouldn't be surprised if they roll into Penn State or Ohio State and pull a slick upset. After a closer-than-it-should-have-been win last week, Rich Rod will want to come out and make an early statement against a feeble Bowling Green club.
11. Texas A&M (2-1) – The Aggies are at an early season crossroads. They finished up their nonconference slate with a curious much-closer-than-it-should-have-been win over Florida International. A&M was down two touchdowns in the fourth quarter in that game and didn't look that sharp on either side of the ball. They have a week off to regroup before conference play starts, and their first four games after the break
12. SMU (2-1) – This week June Jones will once again get to prove his value as one of the fiercest dogs in the business. Jones is 11-6-1 ATS as an underdog with SMU, and that includes a 6-1 ATS puppy mark last year and a 1-0 start with the points this season. One of SMU's covers last year was against this same highly rated TCU team that they'll get a crack at on Friday. But this time the Mustangs get them in Dallas. Jones was a notorious giant killer in his time with Hawaii and SMU's pass-wacky offense could cause the visiting Frogs all kinds of trouble. I know I'll be dropping a little cheddar on the moneyline in this one, despite the fact that SMU is just 5-13 ATS at home. SMU is 5-2 ATS in this series and TCU is just 4-10 ATS against Conference USA.
13. North Carolina (1-1) – I'll give North Carolina one more week to justify staying among the most valuable teams in college football. They lost a tough one last week to Georgia Tech, but it wasn't from poor play or lack of effort. UNC has now lost four straight games going back to last year. And now they have to travel to face a Rutgers team that has the home field edge, had two weeks to prepare, and has revenge for an embarrassing 44-12 home loss on national television back in the last meeting (2008).
14. Nevada (2-1) – Despite the marquee win last week, I can't move Nevada up in these power rankings. The reality is that their win over Cal may have actually hurt their value. This club is already overrated because of its offensive firepower. But now the Wolfpack have to avoid the letdown this week when they head to Provo to take on BYU. Provo is one of the most difficult places in the country to get a victory and Nevada will also be fighting the fact that the WAC has been dreadful against the Mountain West over the last five years. Nevada is a solid 19-9 off surface, but they are just 3-8 ATS in their last 11 nonconference games. Nevada has also dumped 14 straight road openers, has never won in Provo, and they have lost 10 of 12 nonconference games by an average of 26 points.
15. Idaho (3-0) – Perhaps last year wasn't a fluke for this crop of Vandals. I have been very wary of this Idaho team this year because they are coming off such a banner season in 2009. However, they have covered all three games to start the year and they didn't back down from Nebraska in Lincoln at all. This week Idaho takes on a Colorado State team that has lost nine straight ATS. But the Rams do have revenge from a two-point loss in Moscow last fall. Colorado State has lost by 21, 45 and 21 this year. But as nasty as Idaho can be they aren't exactly the type of team that relishes the road favorite role. Idaho is 6-0-1 ATS in its last seven nonconference games and 6-1 ATS against the Mountain West. But they are just 5-11 ATS against a team with a losing record.
Others Receiving Votes: Connecticut, Kentucky, Miami, OH, Northern Illinois, Mississippi State, N.C. State, Virginia, Colorado, Oklahoma State, Oregon, FIU, Boise State, Fresno State
Robert Ferringo is a writer and a professional NFL and college football handicapper for Doc's Sports. Last year he brought home +62.5 Units for his clients for NFL picks and he is regarded as one of the top totals players in the sport. He has turned a profit in 5 of 6 football weeks and has a College Football Game of the Year on deck for this weekend. You can sign up for his college football and NFL picks and get more information here.
---
Most Recent College Football Power Rankings