College Football Power Rankings - The Ferringo 15
by Robert Ferringo - 10/6/2010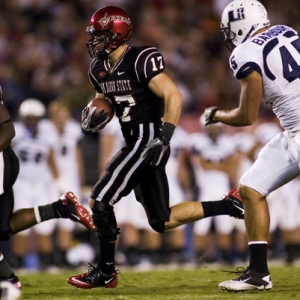 The Ferringo 15 is my Profit-Power Rankings, a ladder or hierarchy based on which teams are the most profitable on the field. I'm not trying to give you some other nonsensical, random, speculative power rankings based on my own biases and conjecture. So instead of Alabama moving up or down the polls on the basis of how badly they blew out Vanderbilt the previous Saturday, I'm going to rank each team based on past, present, and projected future achievement against the spread.
And over the past two years this version of college football power rankings has been on point. In 2007 the teams that finished in the Ferringo 15 had a collective 121-46-1 mark against the spread. In 2008 they came back and went 81-63-3 in the week that they were in the Ferringo 15. In 2009 the teams that were in the F-15 only managed to win 53 percent of their games that Saturday. But, all in all, these college football power rankings have been exactly what any good gambler hopes to be: profitable in the long term.
The Ferringo 15 took a brief hiatus last week, but prior to that had one of its best weeks of the season so far. In Week 4 of the college season it went 8-5 against the books. That was a nice bounce back and for the year the F-15 teams are 21-17 the week that they have been listed in these power rankings. Remember: I'm not listing the 15 teams that I think will cover in a given week. This is just a list of 15 teams that I think present the best blend of immediate and long-term earning potential against the books, while also giving credit to teams for recent, past performances.
So without further ado, here is my Ferringo 15 (all records are ATS against the closing college football line):
1. San Diego State (4-0) – This week is a critical game in the Mountain West for San Diego State. They had two weeks to prepare and now they are a rare road favorite in Provo, of all places. BYU is certainly a disaster right now and they are reeling after a blowout loss to Utah State. But BYU has won four straight and eight of nine in this series, while posting a solid 6-3 ATS mark. There is no doubt that San Diego State is the better team, but even in a down year BYU is a tough place to win.
2. North Carolina State (4-1) – The Wolfpack have to be a bit stunned at how the fourth quarter worked out last Saturday. They blew a 17-0 lead but were still up 30-28 with less than five minutes to play before two late touchdowns cost them a marquee win. How they respond this week will be a good road map of what to expect from this group the rest of the way. But I don't think losing to Virginia Tech really hurt their value. If anything, it will make people think that they aren't "for real". I disagree and I still think that the Wolfpack will be a solid earner the next several weeks.
3. Kent State (2-2) – The Golden Flashes let one get away from them last week in a wild fourth quarter at Miami, OH. However, I'm not fully ready to give up on them. They are just 1-3 overall but they've played better than their record. And after a home game against pathetic Akron they have back-to-back road games. However, then they have three of four at home to close the year and I think that this club could still have a 3-0 or a 4-1 ATS run in it.
4. Ohio State (4-1) – All they do is cover. That's it. They simply beat teams into submission and they are an absolutely incredible 42-19 ATS in their last 61 games. Last week they were derailed a bit by Terrelle Pryor's injury. However, he came back and got the job done in a setting there the Buckeyes have traditionally struggled. He has an injured thigh but he isn't supposed to miss any time. The Buckeyes have a big game next week in Madison so there is some worry that they could be looking past Indiana this Saturday. But Ohio State is 28-11 ATS in its last 39 conference games and is 5-0 ATS in the last five meetings.
5. Hawaii (4-1) – Hey, remember these guys? After a couple tough transition years out on the island the Warriors are a viable wager again. They lead the nation in passing and they are No. 9 in total offense. (And in a quirk, they haven't given up a field goal yet.) Hawaii has a brutal five-game WAC stretch on deck. But there is no doubt that they are better than people think heading into it. Hawaii is 7-3 ATS in its last 10 against a team with a winning record and they are 5-2 ATS as an underdog. They play at Fresno State this week as double-digit underdogs and the road team is 5-0 ATS in the last five meetings.
6. Syracuse (3-1) – We are going to find out a lot about this team this week as it heads to South Florida. The Orange have traditionally struggled in the Sunshine State, but they have had an extra week to prep and are facing a very streaky USF team that is unbeaten at home. The Bulls have wrecked the Orange in the last five meetings, winning by an average of 24 points per game and covering all five games. The line on this game opened with Syracuse +12 but has been one of the biggest movers of the week, with SU money pushing it down to +7.5 or +8 right now.
7. Alabama (4-1) – Another day, another dollar for Alabama backers. There is no praise that I can lay on them that hasn't already been effused by some college football bobblehead. But the bottom line is that the best team in the nation has been a cash cow. People are looking for a letdown this week at South Carolina despite the fact that USC has never met a big game it couldn't fold in and the fact that the Gamecocks don't have a steady quarterback. Alabama is 9-3 ATS on the road and is 11-5 ATS in its last 16 SEC games. The road team is also 4-0 ATS in this series with South Carolina.
8. Arizona (3-1) – Arizona caught its bye week at a good time, I feel, and they were able to regroup last Saturday. After emotional wins over Iowa and Cal this team was cresting, emotionally, and due for a letdown. They now have their fourth straight home game and last year they actually beat Oregon State in Corvallis. But despite that win the Wildcats are just 2-8 ATS in the last nine meetings. Arizona is laying more than a touchdown this week, but just six points have decided the last five meetings and the Wildcats are just 4-12 ATS as a favorite between 3.5 and 10.0. Arizona is 7-2 ATS after a bye week and 6-2 ATS at home, but the Beavers are always a tough team to take the cash from.
9. Idaho (4-1) – I was worried that the Vandals were due for a major letdown this year after their dream 2009. Last year they won a slew of close games, including an exciting bowl win, and they only had four offensive starters back. But this is still a veteran Idaho team that has been pretty nasty so far this year. They were actually up 10 points near the end of the third quarter at Colorado State two weeks ago. If they had held on this team would actually be 5-0 ATS right now. They have this week off and then have two of three on the road. But after nice performances in three road games so far this year I don't think Idaho has maxed out its value just yet.
10. Central Florida (3-1) – Now that Houston is struggling with quarterback issues I feel like Central Florida is set to tear through Conference USA. They start conference play against UAB (1-3), Marshall (1-4) and Rice (1-4), so they should lay some beatings down with their exceptional defense and running game. UCF is on a 7-2 ATS rush and they are 7-1 ATS in CUSA play. They have had a bye to get ready for this week's Wednesday league opener against UAB and I am anticipating a beat down.
11. Colorado (3-1) – Apparently I got off Colorado too early this year. They were one of the teams I was most excited for this season because I felt they were extremely undervalued. They got rocked 52-7 by Cal and I was off the bandwagon. But this team has covered two straight since and they are still catching two touchdowns this week. The Buffs have lost four straight to the Tigers by an average of 34.3 points per game and they were demolished 58-0 in their last trip to Columbia. Mizzou has been up-and-down this year, but I don't think Colorado's No. 83 pass defense will cut it this week.
12. Temple (4-1) – The Owls have not made it look easy, but they have been on a roll. All five of their games this year have been wild ones, starting with a comeback in the last two minutes in the opener against D-IAA Villanova. Then they beat Central Michigan in overtime, staged a fourth quarter comeback to beat Connecticut, took Penn State to the max, and then staged a furious fourth quarter rally to beat Army last week. And after all of that insanity this team has covered three straight and is still the clear-cut top team in the MAC. This week they have probably the biggest game in the MAC, as they face West favorite Northern Illinois. Temple is 20-9 ATS in MAC play and 5-1 ATS as an underdog.
13. North Carolina (3-1) – The specter of scandal is just hanging over the Tar Heels this season. However, their talent continues to shine through and this team is bonded together because of all of the off-field issues. The Heels host Clemson this week, but haven't faced the Tigers since a 52-7 mauling back in 2006. The favorite is 7-3 ATS in the last 10 meetings and I was a bit surprised that UNC is just a slim 2.5-point chalk. The Heels get back senior safety Deunta Williams from suspension, but they lost lineman Greg Elleby for the year and Quan Sturdivant, the team's best defender, is questionable this week with a thigh injury that kept him out last week.
14. Oregon (3-1) – Slowly but surely the Ducks are creeping up there with Ohio State and Alabama as those teams that are just that much better than everyone else in their conference. Whenever a team from a BCS conference is averaging 56.6 points per game and nearly 600 yards of total offense each week they are a threat to cover any and every line that is put in front of them. And the Pac-10 is definitely a deep league this year, but it doesn't have any real powerhouses that can threaten the Ducks. Oregon is 20-7 ATS as a favorite of 10.5 or higher and they are 20-6 ATS against a team with a losing record, so they step on people's throats. Let's see if they can keep their foot on the pedal and really get into the national title picture.
15. Florida State (4-1) – When you have an offensive line that is as experienced and as dominating as Florida State's then everything else on your team falls into place. Christian Ponder is playing the best ball of his career and FSU has really laid into a weak slate of teams over the last few weeks. That actually worries me a bit: they have been beating up on patsies. But the ACC Atlantic Division is full of patsies this year and I think that the Noles won't be threatened from here to the ACC title game. The underdog is 8-1 SU in the last nine games against Miami and is 10-1 ATS in the last 11 meetings. FSU has revenge for a heartbreaker last year and I think the Seminoles are a very live dog this week.
Others Receiving Votes: State (3-1), Cal (3-1), Utah (3-0-1), Temple (3-1), Virginia (3-1)
Robert Ferringo is a writer and a professional NFL and college football handicapper for Doc's Sports. So far this year he has banked $5,000 in profit for his clients after back-to-back weeks of over $2,000 in profit. He has brought in nearly $10,000 in overall profit in all sports over the last two-plus months. He has a College Football Game of the Year on the card this week and he's looking for more today. You can sign up for his college football and NFL picks and get more information here.
---
Most Recent College Football Power Rankings