Fiesta Bowl Predictions: UConn vs. Oklahoma Odds and Betting Picks
by Aaron Smith - 12/30/2010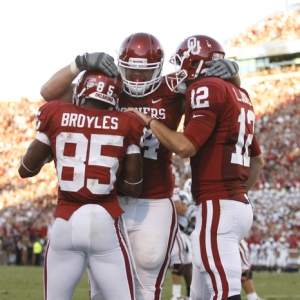 There is always a team that ends up in a BCS game when they truly aren't one of the best in the nation, and this year it is the UConn Huskies. They are representing the Big East, which was just awful all season long. The Huskies were just 8-4 on the year, but they did win their final four games of the season. Can Connecticut come out and prove to the college football world that they belong? They will take on a very talented Oklahoma team that has one of the best offenses in the nation. Kickoff is set for 8:30 p.m. EST on New Year's Day.
Fiesta Bowl Predictions: The Offenses
UConn's offense went through three different starting quarterbacks this year, but they are back to Zach Frazer, who started the season under center. Frazer has been inconsistent this year, but he does have plenty of experience. The Huskies will rely on their running game to carry them in this one. Jordan Todman is one of the best running backs in the nation. Todman ran for 1,574 yards and 14 touchdowns this year. He averaged 147 yards per game in the team's last five regular season games. Overall, this offense is no better than mediocre, but they do have a great individual talent in Todman.
Oklahoma has one of the most explosive offenses in college football this year. Landry Jones has quickly turned into a reliable leader at the quarterback spot. Jones threw for 35 touchdowns and 4,289 yards this year. It didn't hurt that he had one of the best receivers in the nation on the outside. Ryan Broyles caught 118 passes for 1,452 yards this season, and he proved to be one of the best playmakers in the country. DeMarco Murray is a dangerous running back as well, and I wouldn't be surprised to see him have a nice game against UConn.
UConn vs. Oklahoma: The Defenses
The Connecticut defense improved as the year went along. This is a unit that is quite talented, but they didn't really put it together until the last few games of the regular season. They only allowed 13 points per game in their last three contests. This defense has struggled a bit against power running teams, but they do force quite a few turnovers. In order to win this game, they'll need to get a good pass rush and make Jones get rid of the football quickly.
The Oklahoma defense was inconsistent this year. This unit shut out Iowa State and held Texas Tech to just seven points, but they were burned by Missouri and Oklahoma State. The defense played one of its best games against Nebraska in the Big 12 Championship Game. The Sooners have plenty of speed and ability on defense, but they need to avoid the mental mistakes which have caused them to give up big plays this year.
Fiesta Bowl Betting Odds and Line Movement
The Oklahoma Sooners opened as 17-point favorites in this one. The line initially moved further toward the Sooners, but it has since settled back down to 17 points. The posted total opened at 55 points, and it has stayed right there.
Connecticut vs. Oklahoma Betting Trends
The UConn Huskies are 24-12 ATS in their last 36 games overall
UConn is 14-5 ATS in their last 19 games as an underdog
Oklahoma is 4-9 ATS in their last 13 bowl games
Fiesta Bowl Predictions: Connecticut vs. Oklahoma Betting Picks
The Oklahoma Sooners are a big favorite in this one for a reason. I really think this Oklahoma offense should be able to score at will in this game. Jones should pick apart the Huskies secondary, and I think Murray will have a solid game. Todman and the UConn rushing game will likely have some success as well. I think the best play on the board in this matchup is the 'over'.