Free NBA Picks: Cleveland Cavaliers at Boston Celtics Predictions
by Alan Matthews - 5/13/2010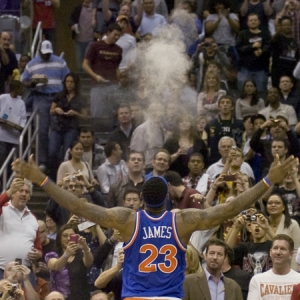 Let's go ahead and call tonight's Cavs-Celtics matchup the most important game in Cleveland franchise history and one that could shape the way the NBA looks for the next decade. That's because tonight's game could also be one of the most important in Bulls and Knicks history as well. If the Cavs are dumped before the NBA Finals for a second straight year, then LeBron James could certainly leave for Chicago or New York as a free agent. And after James' Game 5 seemingly ambivalent effort, some believe he already has made his mind up. LeBron's legacy so far in his career is certainly on the line tonight.
Cavaliers at Celtics, 8 p.m.
The line: Celtics -1 (196)
Player props at Bodog: LeBron James total points + rebounds: 40.5; LeBron total three-point attempts: 'over/under' 4.5; Rajon Rondo total points + assists: 27.
How they enter: Well, you no doubt know that the Celtics looked dead in the water after getting crushed in Game 3, only to follow with two straight double-digit victories (and obviously covers). Tuesday's stunning 120-88 win in Cleveland was the largest margin of victory ever in a Game 5 with the series tied in a seven-game series and it was the Cavs' worst home playoff loss ever.
Scouting report: All eyes will be on LeBron tonight after he had just 15 points on 3-for-14 shooting in Game 5, not even hitting his first field goal until nearly midway through the third quarter. Think about that for a minute. He says his elbow isn't hurting him, and he did shoot 11 jumpers, which would indicate it's not. But James was 0-for-4 from three-point range. If he puts up a clunker tonight and the Cavs are eliminated, that will set LeBron's reputation back years – especially if he looks passive again ("I'm going to try to use as much energy as I can,'' he said of Game 6). The pressure might be as much on Boston, as Kevin Garnett said after Game 5 that his team simply couldn't go back to Cleveland for a Game 7, and he's probably right even though Boston has won twice there already in this series. Boston has taken a 3-2 series lead in 33 previous series all-time and has lost just one of them – that coming in this round against the Orlando Magic last season. With James, the Cavaliers are 0-3 in elimination road playoff games.
The picks and predictions: As for the two LeBron props, I would go with the 'over' 40.5 on points and rebounds. I'm in the camp that believes James will completely take over tonight. In Games 1 and 3, the two Cavs wins, he surpassed the 40.5 total of points + rebounds. He hasn't in any of the three losses. LeBron has attempted more than 4.5 three-pointers twice in this series. But he is only 5-for-22 from long range in this series, so I would expect he abandons that and tries to get more to the basket.
As for Rondo, he was much quieter in Game 5 following his historic line in Game 4; on Tuesday Rondo had 16 points and seven assists. Those numbers are nearly identical to his playoff averages, so I would definitely go 'under' that 27 total because the Cavaliers are focused on him now -- perhaps too much so because Paul Pierce and Ray Allen killed Cleveland in Game 5.
I am conflicted what to recommend on the side and total as this series has been one of the most unpredictable in years. The underdog has covered in the past four meetings, but Boston is 4-1 ATS in its past five at home. Still, the Celtics weren't great at home during the regular season. I'd go with Cleveland and the 'over,' which has hit in the past seven meetings between these two. Thursday's total is the highest it has been in this series.