Handicapping MLB Interleague Play
by Robert Ferringo - 5/21/2010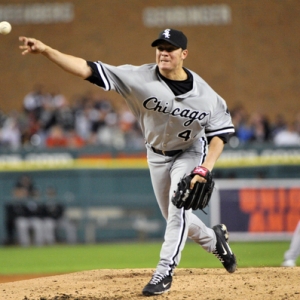 Interleague Play: bringing you thrillers like the Blue Jays vs. Diamondbacks since 1997.
This week the Major League Baseball gets itself some "strange" with the opening weekend of Interleague play. In the 14th year of Interleague play we have 14 series featuring one American League team of ogres one crafty and fragile squad from the National League. Play begins Friday and all 14 series are set for three games of goofiness.
As a baseball handicapper, I can say that any excitement about Interleague play is washed out by all of the extra capping that goes into the week. The matchups are awkward. The splits aren't accurate. The motivation is nearly impossible to measure. And trying to compare how the Brewers stack up to the Mariners right now is, well, kind of a waste of time.
But, hey, people like it. Like sodomy or baby otters, vox populi says that Interleague play is A-OK. Attendance figures are up 11.8 in Interleague games versus regular old meaningful divisional rivalry games. So if people like It then It must be good, right? Like Brittany Spears or Jordache jeans, if the people are into something there can't be anything wrong with it.
Yes, the good news is that the oddsmakers – for all of their knowledge and advantage – can be just as powerless as the rest of us. They will base their money line prices on public perception and now teams are playing at the moment. But they can still find themselves stuck pulling for the Pirates, Padres or Royals to show up on Sunday and avoid a bank-busting sweep.
Wise man say: "Buy the ticket, take the ride." And both the books and the bettors are on the edge of a roller coaster's first drop.
Some of the juicier games of the Interleague Season take place this weekend. The MLB schedule features several regional and intrastate rivalries like Mets-Yankees, Reds-Indians, Red Sox-Phillies, Brewers-Twins, Orioles-Nationals and Giants-A's. Gauging motivation in those contests won't be much of a problem. But we also get to enjoy the ferocity of the Padres-Mariners, Rockies-Royals, and Rays-Astros this weekend. And it's really a tricky proposition to try to forecast which teams want to play, which teams are set to play well, how the DH or lack thereof will impact offenses (and it isn't usually the way you think), and how matchups late in games between unfamiliar foes will shake out.
Further complicating our handicapping this weekend is the MLB schedule makers. A majority of the teams have had one day off in the last two-plus weeks. Bullpens are wasted, key players are banged up, tensions are running high in the clubhouse and travel is really starting to take its toll on teams mentally and physically.
(Note to MLB schedule makers: instead of 12 days off in between series and games during the playoffs I would go ahead and work in more than one day off for teams in the month of May.)
And perhaps the schedule architects were inspired by watching the filthy, skinny, weak-looking men with comb-overs on "The Pacific" mowing down those Japs, since they decided to budget in some island hopping for each teams this week. The folks who set the slate thought it would be a good idea to schedule a weekend series starting last Friday, followed immediately by a pair of two-game series running from Monday through Thursday, all as part of the lead-up to this awkward weekend of baseball cross-dressing. So now not only do we have to try to predict how Marlins will fare against the White Sox – seeing as to how they've played exactly six games against one another in the last six years – but we have to wonder about how Minnesota and Milwaukee will hold up since both will be playing in their fourth city in six days.
The good news is that this weekend's Interleague series are just a brief interlude and 22 of the teams will have Monday off to regroup before intraleague play resumes. But before that breather we have to gear up and inhale a deep hit for Interleague Play, also known as baseball's bong water. And here are some things you may or may not know about this weekend's series:
- Naturally, the Yankees have been the best team in IL play. They are 133-95 (.583). But the Twins are a close second at 132-96 (.579). The best National League team has been the Marlins at 120-99 (.548).
- The worst team is by far Pittsburgh at 71-110 (.392). They are followed by San Diego at 88-121 (.421) and there are only four teams above .500 from the N.L.. The worst American league team has been Baltimore at 101-128 (.441).
Of the "good" teams, Philadelphia (96-121) has been a disappointment.
- The American League, as usual, owned Interleague Play last year. The A.L. teams went 138-114, good for a 55 percent winning clip. That was down from the previous three years where they won 59.1, 54.4 and 61.1 percent of the games. But I don't think you'll get much argument that the DH League is still stronger from top to bottom.
- One interesting trend to keep an eye on is the fact that last year's opening Interleague weekend saw teams perform pathetically against the total. Last year the Friday games went just 3-11 against the total. That was backed up by a 4-10 totals day on Saturday and a 6-8 Sunday, which came even after a heavy overcorrection. Overall that means that Interleague games went just 13-29 against the total through the opening weekend.
That was a bit extreme but still in keeping with a general trend of Interleague play's opening weekend. Teams went 17-24-1 against the total in 2006, 23-17-1 in 2007 and 17-22-2 in 2008. That means over the last four years teams are just 70-92-4 against the total in the opening weekend of IL play, a 57-percent 'under' clip.
- And for over a dozen interesting Interleague trends, check out Doc's Sports Blog.
Happy hunting.
Robert Ferringo is getting hot again in MLB with four of six winning nights and Ferringo has established himself as one of the best MLB handicappers in the nation and has bagged three straight winning seasons heading into 2010. Click Here for more info.