LeBron James Betting Props
by Vegas Sports Informer - 5/28/2010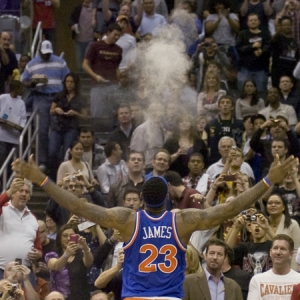 The NBA regular season has been over for a month and the playoffs finally have some great games in the conference finals, but, still, all we hear about is LeBron James and his upcoming free agency. Las Vegas own Lucky's oddsmaker released a prop about King James and his upcoming decision on where he will score his first point in the 2010-11 NBA season.
Yes, everybody who is a fan of any kind of basketball will be on pins and needles to find out where King James will play next year, and even ESPN has a LeBron Tracker that will give you the days, hours, minutes, and even seconds until King James will sign his new ridiculous contract.
Who do I think LeBron will sign with? My heart hopes it will be the Chicago Bulls, but it wouldn't shock me to see King James stay in Cleveland with Chris Bosh also added in a Cavaliers uniform. As long as King James is not in a Knicks uniform I will be happy. Come on Knicks, you do not have the squad for LeBron to win a championship with and that is including Bosh or whoever comes with him to the Garden.
Lucky's LeBron James Proposition Bet
For which team will James score his first point in 2010-11 season?
Chicago Bulls - 9/5
NY Knicks - 9/5
Miami Heat - 2/1
Cleveland - 9/2
NJ Nets - 8/1
LA Clippers - 30/1
Field - 5/1