2010-11 Los Angeles Kings Predictions with NHL Futures Odds and Betting Picks
by Trevor Whenham - 10/6/2010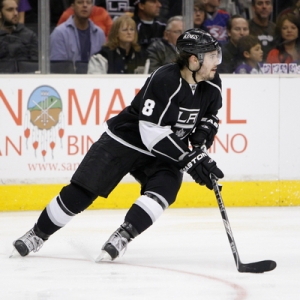 The Kings are a very talented but very young team that accomplished more than was probably expected of them last year. In other words, they were ahead of schedule. This year they should have the foundation to build on what they have already accomplished. It's easy to draw comparisons between this team now and the Blackhawks last year. Because of that, a lot is being made of the fact that the team tried hard to land Ilya Kovalchuk but fell short. Adding Marian Hossa made a huge difference for Chicago last year, so the absence of a big-name veteran addition is a potential concern.
Offseason Moves
Though they failed to add the big gun up front, they did add another top defenseman - Wilie Mitchell - to a blueline that was already very strong. They also convinced Johan Fransson, a 25-year-old defenseman they acquired from the Stars in 2007, to finally leave Sweden and join the big time. He'll start in the AHL, but he'll be playing in the NHL soon enough. Up front they swapped one disappointing but potentially talented player for another - Alex Frolov is gone, and Alex Ponikarovsky has taken his place. Frolov was allowed to leave like several other disappointing veterans such as Sean O'Donnell and Fredrik Modin.
Los Angeles Kings Predictions: Outlook
I'm a firm believer that success is built form the back end in the NHL. If that's true then the Kings should indeed be dangerous. Drew Doughty is just 20, yet the defenseman has a chance to show he is the best in the league this season. Add in young stud Jack Johnson and newly added Willie Mitchell, and this defensive unit will be as good as any - and will be better at moving the puck up than anyone. When teams do get through the defense they face some very good goaltenders - the very strong Jonathan Quick is backed up by super-prospect Jonathan Bernier. That duo should put L.A. near the top of the conference in goaltending. Add in some real offensive competence, and you have a team that is going to win their share of games - and more.
Los Angeles Kings Futures Odds (from Bodog)
The Kings are 16/1 to win the Cup - the 10th choice overall. They are the fifth choice to win the West at 8/1, and are the second choice in the Pacific at +150.
Los Angeles Kings Schedule
Two things stand out when you look at the schedule. First, seven of their first 10 games are on the road. That sounds rough, but it could actually be an advantage for this squad - they were the best road team in the league last year, so this could be a chance to make a real statement. Also, the last five games of the year are all divisional contests. If the Kings don't take care of business early then this is the kind of finish that could come back to haunt them.
Los Angeles Kings Predictions
It's dangerous predicting when a team is going to take a step forward, but that's just what I am predicting here. I love their defense, they are particularly well coached, Anze Kopitar is an elite offensive talent, Ryan Smyth is a veteran who knows how to win, Dustin Brown is one of the best leaders in the league - I could go on and on. In my eyes this team is the class of the Pacific. Their biggest problem is that they aren't better than Vancouver. The Canucks knocked them out of the playoffs last year, and would do that again this year. That makes the Kings a bad bet in the conference and for winning the Cup.
Check back on hockey betting articles and upcoming NHL picks from Vegas Sports Informer. NHL handicapping has always been a nice personal profit earner for VSI because he has the tools, the contacts, and the hand-on hockey success to show the world that the Vegas Sports Informer will be as successful in the National Hockey League picks as he is with all his other sports. Also, remember that Doc's Sports has up-to-the-minute hockey lines so you won't ever miss out on the best numbers.