Los Angeles Lakers Vs. Phoenix Suns Series Odds and Predictions
by Nicholas Tolomeo - 5/15/2010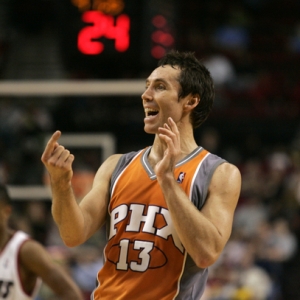 Western Conference Finals
No. 1 Los Angeles Lakers vs. No. 3 Phoenix Suns
Los Angeles Lakers Vs. Phoenix Suns Series Odds
Phoenix +250
Los Angeles -350
The Western Conference Finals are set to start Monday and this series has the makings of an old western shootout. The total for Game 1 has been set at 210.5. That is the highest total either team has seen in this postseason.
The defending NBA champions and top-seeded Lakers bounced back from a tight first round against Oklahoma City to sweep the Jazz. Overall Los Angeles has won six straight games after being knotted with the Thunder 2-2. Phoenix has a six-game win streak of its own going after sweeping San Antonio in the second round.
The Suns dropped Game 1 of the first round to Portland but never trailed in the series again. Phoenix may very well be staring down a series deficit against Los Angeles so having experience playing from behind can only help them.
If the games are as high scoring as the totals indicate the ball could be in the Suns' court. Every single Phoenix game this season, including the postseason, has had a total over 200. The Lakers can run and gun with anyone but they often choose not to.
Many people are skeptical about the Suns at this point in the year because of their lack of defense, lack of experience this deep in the postseason and their past history. There is reason to believe this is a different Phoenix team. They have role players who are producing this year like Jared Dudley and Goran Dragic, who set San Antonio on fire with his performance in Game 3. And, most importantly, they finally vanquished the Spurs. This is the same San Antonio team who had ousted the Suns in three out of the last five playoff appearances.
The Lakers are 3-1 against the Suns this season. In the last meeting in March the Lakers held Phoenix to under 100 points, a rare feat this season. Three-point shooting could play a huge role in this series. The Suns are the best three-point shooting team in the league while the Lakers have the best three-point defense.
The Lakers have been a two-man show on offense with Pau Gasol and Kobe Bryant accounting for most of the scoring while the Suns have a far more balanced attack with Amare Stoudemire, Jason Richardson and Steve Nash all capable of carrying a team in addition to a better bench. The scoring options and bench depth could be the difference in a series as wide open as this.
Los Angeles Lakers Vs. Phoenix Suns Series Predictions
Phoenix in seven
Be sure to visit our homepage for daily exclusive NBA betting content, free NBA picks, updated odds, matchup reports, scores and predictions. Click Here.