MLB Betting: 2010 A.L. Central Preview
by Robert Ferringo - 3/5/2010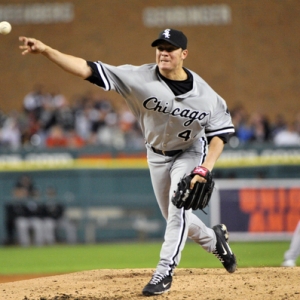 Three different organizations – Minnesota, Chicago and Cleveland - have won the American League Central in the last three years. And looking around the rosters of the Central squads this year I can say that I see a lot of question marks and not a lot of separation between the clubs. Here is Doc's Sports 2010 American League Central preview:
Minnesota Twins
2009 Record: 87-76
2010 Wins Over/Under: 82.5
Odds To Win 2010 AL Pennant: 14/1
Odds To Win 2010 World Series: 30/1
This team makes me nervous. Over the course of the past two years the Twins have been a go-to team for me and one of the best value bets in the Majors. Their starters aren't "name" enough to drive up the price on their games but good enough to get the job done. They don't beat themselves and there were always a bunch of teams that just could not win in that dome.
But there is a lot of buzz around the Twins heading into this season. A lot of people are on the bandwagon now as a result of their one-game playoff win over Detroit to determine the Central winner last fall. Mix in plenty of ink over their new stadium and a couple "name" free agent pickups and the Twins are currently kind of penciled in as the division front-runners.
Problem: the Central is always a mess and has had four different division winners the past four years. And each year the defending champ was the heavy favorite entering the season. The Twins may be different. They have won the division in five of the last eight seasons and with Ron Gardenhire they have one of the best managers and systems in the game.
The pitching isn't sexy but it's been effective, even though the staff had a cringe-worthy ERA ranked No. 23 in the league. And the key to this team has been an underrated offense that was in the Top 5 in batting, on-base percentage and runs. They have speed and power and a lineup of lefties in the heart of the order that just hammer the ball.
But I, like many others, think that their new ballpark is a mistake. The open-air, grass stadium kills one of the best home field advantages in the game. This team was built perfectly for dome playing and that allowed them to capitalize on all of the unsuspecting visitors that couldn't handle it. Now their stadium is just like everyone else's. And when you look at the splits over the last 5-10 years of how Minnesota has performed on turf and on grass that's not a good thing. At all.
Chicago White Sox
2009 Record: 79-83
2010 Wins Over/Under: 82.5
Odds To Win 2010 AL Pennant: 6/1
Odds To Win 2010 World Series: 12/1
The Sox got real old, real quick last year and saw their season short-circuit late because of their over reliance on the long ball. But they enter this season younger, faster and with some key components that they'll enjoy the benefit of for a full season.
The Sox made two of the biggest trades of the season last year to acquire Jake Peavy and Alex Rios but watched as neither move really had a positive impact on their playoff push. But much like the other marquee deals last summer (Matt Holliday, Scott Kazmir, Victor Martinez, etc.) both Peavy and Rios should definitely benefit from the comfort and familiarity that comes from being in a full training camp and a full season with their team. Other new pieces include Juan Pierre, Andruw Jones and Mark Teahen.
The key to this team's season likely lies in how their "new" offensive philosophy works out. This group has been nearly completely reliant on home runs for offense over the past few years. But when they posted their lowest total in 10 years (184) and were 51 homers short of their 2008 league-leading total, we saw that this team just couldn't manufacture enough to stay in the race. This year they still have some pop from guys like Carlos Quentin and Paul Konerko, but they are going to put more of a focus on the running game and playing more station-to-station ball. I actually think switching to more of a "small ball" mentality will make the White Sox a less consistent 'under' bet, as they were easy money on that play last year at 62-96-4.
Chicago always has strong pitching and their overall staff has been one of the more underrated over the past five years or so. Mark Buehrle remains a quiet ace, John Danks has solidified himself as a legit lefty, and Gavin Floyd is one of the better No. 4 starters in the Majors. The key may be Peavy. While regarded as one of the best in the business, it will be interesting to see how he adjusts to the hitter-friendly American League and to see if he can buck his career splits, which were severely skewed because of having better numbers in pitcher-friendly PetCo Park.
This team will definitely be in the mix. This organization is strong from top to bottom and now the onus is simply on the players to perform. Guys like Rios, Teahen, Quentin, Jones and Alexei Ramirez have had flashes of brilliance in their careers. They need to play to their potential. If they do this could be one of the better value teams in the Majors.
Cleveland Indians
2009 Record: 65-97
2010 Wins Over/Under: 74.5
Odds To Win 2010 AL Pennant: 100/1
Odds To Win 2010 World Series: 200/1
Subtract a pair of Cy Young Award winners from any team and you're likely going to see a marked difference. And that's been the case in Cleveland as the Indians have sold off just about anything of substance – outside of Grady Sizemore – and are still rebuilding after their ALCS collapse back in 2007.
C.C. Sabathia and Cliff Lee are gone and Fausto Carmona (remember that this cat went 19-8 with a 3.06 ERA two years ago) has fallen apart. What they have left is a bunch of D-minus arms and wannabes. Guys like Aaron Laffey, David Huff and Jeremy Sowers have proven one thing in the Majors: that they are great arms to fade. The only other hope that this team has is that Carmona finds it again or that Jake Westbrook (37-36 with a 4.33 ERA since 2005) can turn into a staff ace overnight. This is another team that you just can't take seriously because of this dreadful starting staff. They were No. 29 in ERA, No. 29 in saves and No. 29 in opponent's batting average and they have done nothing to improve.
Offensively the Indians weren't bad last year. They finished in the Top 12 in the Majors in most significant categories (batting, runs, on-base percentage) and that was despite getting next to nothing out of Grady Sizemore. They will miss Victor Martinez but they could negate that with a bounce back year from Sizemore. And they have some nice young bats – guys like Shin Choo, As Cabrera and Matt LaPorta – so they could be even better. But as long as they are still holding on to the hope that Travis Hafner will regain his steroids form (did I say that out loud?) they won't reach their full potential.
There's a lot to rag on the Indians about. Their pitching stinks. Their hitting is just a few pegs above mediocre. They have a whole new coaching staff, attendance has plummeted, and their in the thick of rebuilding. But all that said, every metric that I use to project out for a season suggests that the Indians are primed for a bounce back year and will top their Vegas wins total. I don't know if I can take that leap on those arms but I'm just saying that I won't be stunned if this team overachieves and catches a break or 12 this year.
Kansas City Royals
2009 Record: 65-97
2010 Wins Over/Under: 71.5
Odds To Win 2010 AL Pennant: 75/1
Odds To Win 2010 World Series: 150/1
A season with so much promise got real ugly, real quickly. This team had a cup of coffee in first place early in the year and was clinging to second place near the end of May before the whole thing went up in flames. They finished the year 43-74 after a .500 start and despite being hot out of the gate they actually had a year even below their, um, standards. This team has averaged 95 losses over the last decade and went 65-97 last year.
Will things be different this time around? I really don't see why it would be. This team keeps missing the point with free agency, bringing in washed-up, overpriced guys like Jose Guillen and Jason Kendall rather than properly filling the dugout with medium-priced pros. On top of that the young "talent" on this team seems to be perpetually spinning its wheels. Until I see something of substance out of this group – and I'm not talking about one month of .500 ball – there is just no reason not think that this won't be one of the easier teams in the league to bank against.
The Royals have some average pitching. When its healthy. Zack Grienke is a verified stud and last year's Cy Young winner. But Brian Bannister, Gil Meche and Luke Hochevar have all been inconsistent and unreliable over the last two years. If they all manage career years then this team really could have something. But at this point I'm not willing to bank on a trio that had a combined ERA of about 5.50 last season.
As for the lineup, it's not much better. Sophomore slump doesn't even begin to describe Mike Aviles' slide. Alex Gordon is a bust. Billy Butler and Alberto Callaspo appear to be legit. But other than that it's a bunch of .260 hitters trying to get it done. And since the Royals don't play in the National League West that's not good enough.
I know that a lot of people want to get on this bandwagon and back the Royals. But that's more just because they want to root for the underdog. I don't want to root for the underdog. I want to make money. And when I look at this team past the emotion and the hype what I see is a bunch of guys, outside of Grienke, that hasn't accomplished anything at this level. And until I see it I'll be first in line to fade away. And if I'm wrong there will be a bunch of people right there with me.
Detroit Tigers
2009 Record: 86-77
2010 Wins Over/Under: 81.5
Odds To Win 2010 AL Pennant: 11/1
Odds To Win 2010 World Series: 24/1
I see dark clouds on the horizon for this team. And I think a couple years from now when they are wondering how it all went wrong they're going to look back on that final weekend of the 2009 season as a turning point for the franchise.
The Tigers were up seven games in the divisional race with 26 to play and up three games with just four to play. But they closed the regular season by losing three of four and then lost a tough, tough one-game playoff at Minnesota in extra innings. After seeing what happened to the Mets two years ago after a similar collapse I can say that I 100 percent expect a hangover effect from that situation. And when you factor in personnel losses it could be a long season in Motown.
Detroit has gotten rid of its No. 2 starter (Edwin Jackson), its No. 3 starter (Jarrod Washburn), its closer (Fernando Rodney), its emotional leader (Curtis Granderson) and one of its most consistent players over the last several years (Placido Polanco). Their replacements: nonexistent. The Tigers are shackled with a bunch of bad contracts and dead money and this team isn't able to afford extra pieces to bolster the clubhouse. The result is a team in decline in a division getting more and more competitive.
Detroit can still rely on Justin Verlander to anchor the staff after another great year. But after that it's slop. Rick Porcello is a promising player coming off a great rookie year. But the sophomore slump isn't something conjured out of thin air. After that it gets downright ugly. Max Scherzer is a dud. And if he couldn't hack it in the N.L. West I don't see him breaking through in the American League. Then there is Jeremy "Balloon Ball" Bonderman (8.71 ERA), Armando Galarraga (5.64 ERA), or Phil Coke (4.50 ERA out of the Yankees bullpen).
The projected lineup, as it stands right now, looks to rely a lot on guys named Austin Jackson, Scott Sizemore, Ryan Raburn as well as mid-level "talents" Adam Everett and Gerald Laird. That's really not good. Especially since they have virtually no bench, former stars on deep into the back nine of their careers (Magglio Ordonez and Carlos Guillen), and a superstar with little-to-no heart (Miguel Cabrera).
Things are looking pretty dreary in Detroit. And wile the Tigers may not sink to the levels of the Lions or the Pistons I wouldn't expect that much more out of a team headed in that direction.
For more information on Ferringo's MLB picks, check out his Insider Page here.