MLB Predictions: NL East Race Betting Odds and Picks
by Nicholas Tolomeo - 8/5/2010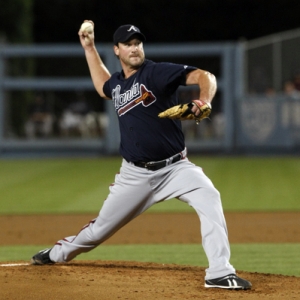 The National League East race appeared to be a four-team race with everyone but the Nationals in contention for the division crown. Then the MLB Trade Deadline came and went and we quickly found out that only the division-leading Braves and surging Phillies are serious about contending.
Through Tuesday the Braves led the NL East with a 61-46 record. The Phillies (59-48) sat two games back with the Mets (54-54) 7.5 games back and the Marlins (53-54) eight games back. With over 50 games left to play in the season it would seem that the division is a four-horse race, but recent transactions and even the Las Vegas odds tell another story.
The Braves are favored to maintain their perch atop the division. BetUS has Atlanta favored to win the NL East at -250 with the Phillies priced at +170. Behind them the Mets and Marlins are extreme long shots at +4000 each despite being only 7.5 and eight games back, respectively.

The reason the Mets and Marlins are viewed upon as noncontenders by the oddsmakers is their moves or lack of moves leading up the trade deadline.
The Marlins truly never made up their mind in what they wanted to do. Florida went ahead and kept their most sought after pieces in Dan Uggla and Cody Ross, but then parted ways with Jorge Cantu and then went ahead and bolstered the bullpen with Will Ohman from Baltimore. Keeping Uggla and Ross will certainly help down the stretch this year, but they could have really benefited from another big bat in the lineup.
The Mets took an entirely different approach. Many thought Omar Minaya was waiting to make a fashionably late entry into trade-deadline sweepstakes, but he ended up being too late as July 31 came and went with Minaya and the Mets remaining quiet. They had a chance to bolster the rotation with a number of different options or add some arms to a beleaguered bullpen, but the Mets did neither. Instead Minaya held on to his prospects and will hope his team can transform itself into a contender without any added help.
Considering the stances both the Florida and New York front offices took, you can see where the +4000 odds are coming from. It would be a slight miracle if the Mets or Marlins climb into contention and put some heat on the Braves and Phillies, not only because of their lack of moves but also because as they sat back the Braves and Phillies just kept getting better.
Atlanta upgraded both its bats and bullpen by landing a healthy Rick Ankiel and reliever Kyle Farnsworth from Kansas City. Farnsworth is yet another quality arm in a bullpen that features Peter Moylan, Jonny Venters, Takashi Saito and flame-throwing closer Billy Wagner. In terms of the bullpen, Atlanta has the advantage here.
Philadelphia was not about to wait around and idly watch Atlanta improve; the Phillies made some waves of their own. They made the most out of a shaky late-July pitchers market and acquired Roy Oswalt from Houston. Oswalt is no Cliff Lee, the stalwart ace who propelled Philadelphia to the World Series last year, but he is definitely an upgrade. Along with Roy Halladay, Cole Hamels and now Oswalt, Philadelphia has the best top-of-the-rotation pitching in the division and probably all of baseball. An even bigger move was holding onto October hero Jayson Werth, who the Phillies will likely not be able to afford after this year. Keeping Werth sent a signal to Phillies fans that all the chips are in for this year and for this division race.
Ankiel is a nice addition for the Braves, but the Nate McLouth debacle in centerfield has set this team back offensively and relying on rookie Jason Heyward for the bulk of the offense come late September is just a recipe for disaster. Atlanta's strength is its pitching. Tim Hudson, Derek Lowe, Kris Medlen, Jair Jurrgens and Tommy Hanson have all been solid this year and are a major reason why Atlanta's team ERA of 3.59 is fourth-best in the National League. But at the same time the Phillies will be sending out the likes of Halladay, Oswalt, Hamels and Kyle Kendrick to start. The Phillies have a clear advantage in their offensive lineup and now with starting pitching too. My MLB predictions say Philadelphia should be able to erase the two-game deficit by the time Atlanta comes to town for a three-game set in late September. The price of +170 is the best you will see from the Phillies to win this division. By next week they will likely be favored.
Jason Sharpe is the newest member of Doc's Sports Advisory Board, but he is not new to the sports betting scene, as he has made a living in Las Vegas for several years betting sports as a Wise Guy. For his baseball picks, Eight of his last nine member's picks have been winners! If you are interested in baseball betting, this is one guy you don't want to miss. Also, check Doc's Sports homepage each day for exclusive baseball betting articles, current baseball lines and matchup reports to boot!