MLB Predictions: Reds vs. Cardinals Betting Odds and Baseball Picks
by Nicholas Tolomeo - 9/3/2010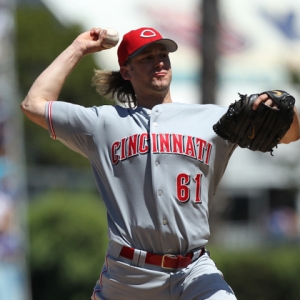 This was the weekend when all of the National League was supposed to be seeing red with all eyes on the crucial St. Louis/Cincinnati three-game series. Instead the Reds have surprised all of baseball by opening an eight-game lead in the NL Central over the Cardinals and taking most of the drama out of the race.
The Reds own the largest lead of any division leader in the National League and the second largest lead in baseball behind the Texas Rangers (10 games up in the AL West).
The Reds were considered a distant outsider in the NL Central race back in spring training and even after leading the division for most of the summer many still did not take them seriously, especially after losing 10 of 15 to St. Louis culminating with a sweep at home against St. Louis in early August.
But since that sweep, the Reds have come alive and the Cardinals have faded in the rearview mirror. The Cardinals are now as close to the Houston Astros and Milwaukee Brewers as they are to the Reds.
There is hope for St. Louis, but just not much of it. If they want to make things interesting all their games against the Reds are must win starting tonight at 8:15 p.m. ET. in St. Louis.
MLB Predictions: Pitching Matchup
Bronson Arroyo (RHP, 14-8, 3.82 ERA) vs. Jaime Garcia (LHP, 12-6, 2.33 ERA)
Arroyo is having one of his best seasons against everyone not named the Cardinals. Arroyo is 2-6 with a 6.54 ERA in 12 games at St. Louis in his career. This year he took the loss in a 12-4 blowout back in May in Busch Stadium.
St. Louis batters have absolutely feasted off of Arroyo. Pedro Feliz (.364), Felipe Lopez (.448), Albert Pujols (.326), Colby Rasmus (.444), Brendan Ryan (.417) all look like batting champions when they face the Cincinnati rightie. And all except Ryan have gone deep off Arroyo at some point in their career.
The Cincinnati batters are far less familiar with Garcia, who is 3-0 with a 4.87 ERA in his career against the Reds. Garcia will be working on six days rest. He has not allowed an earned run in his last three starts, an incredible run where he is 2-0 with 19 strikeouts. Garcia is 2-0 this year against the Reds but he was far from efficient his last start, laboring through 5 1/3 innings giving up four earned runs due in large part to five free passes. Thanks to run support Garcia got the win in the 8-4 decision against Cincinnati.
Reds vs. Cardinals Betting Odds
The second-place Cardinals are home favorites at -135 over Cincinnati who is priced at +115. The total is set at eight. The Cardinals have been favored in all but two games against Cincinnati this season.
Reds vs. Cardinals Betting Trends
Reds are 4-0 in their last four games vs. a left-handed starter
Reds are 4-0 in their last four games after an off day
Reds are 9-1 in Arroyo's last 10 starts on five days rest
Cardinals are 0-4 in their last four games vs. a right-handed starter
Cardinals are 10-2 in their last 12 home games vs. a team with a winning record
Reds are 1-6 in Arroyo's last seven road starts vs. the Cardinals
Reds vs. Cardinals Betting Predictions and Baseball Picks
A couple good arguments could be made that Cincinnati should be favored in this game and should win this game. But something about St. Louis and Busch Stadium brings out the worst in Cincinnati and Arroyo. The Cardinals bats have to be looking forward to facing Arroyo and returning home. Cincinnati will likely win the war (the division race) but St. Louis will win the battle (this game). The play is the Cardinals.
Jason Sharpe is the newest member of Doc's Sports Advisory Board, but he is not new to the sports betting scene, as he has made a living in Las Vegas for several years betting sports as a Wise Guy. For his baseball picks, he has scored 5 out of 6 Game of the Week and Game of the Month situations and has a 5-Unit Game of the Week going for Frday. If you are interested in baseball betting, this is one guy you don't want to miss. Also, check Doc's Sports homepage each day for exclusive baseball betting articles, current baseball lines and matchup reports to boot!