Orlando Magic vs. Charlotte Bobcats Series Odds and Predictions
by Nolan Sinclair (with Robert Ferringo) - 4/16/2010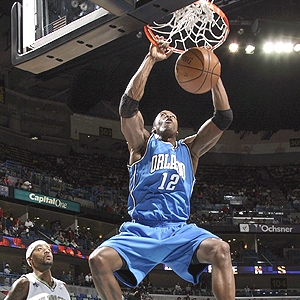 Orlando Magic vs. Charlotte Bobcats
Series Odds: Orlando -700 (Charlotte +570)
Out of all the possible playoff matchups this is probably the most lopsided. Take a close look at this series and can you honestly come up with any reason that the Bobcats come out on top? The Magic are the reigning Eastern Conference Champions and Charlotte is a team that many people did not expect to see in the playoffs, but rode some savvy moves by the front office into the seventh seed.
Here's a look at why either team will win this series:
Why the Orlando Magic will win: The Magic boast one of the NBA's best offenses, scoring 102.5 points a game while shooting over 46 percent as a team, and one of the best defenses, giving up an average of 95 points a game while holding their opponents to 43.8 percent shooting (which leads the NBA). When you have one of the best offenses, best defenses, and most significant point-differentials then you are legit.
The Bobcats only average 75 shots per game. If the Magic held the Bobcats to an average of 43.8 percent shooting over the course of the series that would amount to 66 points a game. The Bobcats do average 5.5 three-point shots a game so go ahead and add six points to that total to increase their total score to 72 points a game. They also average 20 made free throws a game, which means the Bobcats could be right around 92 points. Simply put, that is not enough points to beat the Magic four times. Look for Orlando to take advantage of their size in the post and feed Superman every chance they get.
Orlando won the season series 3-1, winning their three games by 11, 6 and 12 points. They also swept last year by 25, 12, 5 and 5. That's a 7-1 mark against their opponent in the last two years. That is domination.
Player to watch for Orlando: Keep an eye on Jameer Nelson in this series. Nelson was a non-factor in the Magic's most recent game against the Bobcats and it ended in a loss. In the two previous meetings Nelson averaged just less than 19 points in two Magic wins.
Why the Charlotte Bobcats will win: Charlotte was 1-3 versus the Magic this season, but they did win the most recent meetings (in March) and they also lost in overtime in the second-most recent meeting. The time before that Charlotte had a halftime lead. Hey, it's not much, but it's a start, right? Clearly the Cats have the confidence they need to stay with the Magic, but the will need some of just that, magic, to come out on top. The Bobcats need to take advantage of their home court, where they have been really good at 31-9 SU and 23-17 ATS, and hope to steal one in Orlando. But since they were one of the worst road teams in the East this year that's a tall order.
Player to keep an eye on for Charlotte: Steven Jackson is going to have to be a monster in this series if Charlotte stands a chance. In the two losses that he played in, Jackson only had 10 total made baskets including just one 3-point field goal. In the Bobcats win, Jackson made 10 baskets including three 3-point field goals. He is going to need to carry his mates if they want to make the second round.
Orlando Magic vs. Charlotte Bobcats Series Prediction: Orlando in five.
Robert Ferringo is an NBA handicapper and is excited for a monster playoff run. Click here for more information on his NBA predictions.