2010-11 Orlando Magic NBA Picks, Predictions and Futures Odds
by Alan Matthews - 10/26/2010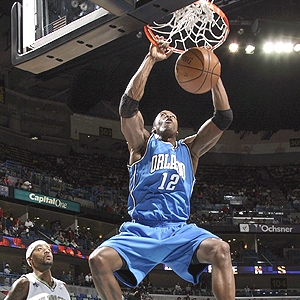 With all the hype that the Miami Heat are getting this NBA offseason, it's rather easy to forget about the other powerhouse team up the turnpike in the Sunshine State: the Orlando Magic.
All Dwight Howard and Co. have done is win 59 regular-season games and reach the Eastern Finals the past two years, but it's almost like they don't exist in experts' eyes – even the few who didn't pick Miami to win the East seem to be picking Boston and not Orlando. And certainly very few are picking the Magic, who led the NBA in point differential last season, to win the Southeast Division title again. Remember, though, that no team was better than Orlando at the end of last season as Orlando won 33 of its final 41 games and swept the Bobcats and Hawks in the playoffs before running into Boston.
Of course, everything begins and ends with Dwight Howard on the Magic as he looks for a third straight NBA Defensive Player of the Year Award. And the Magic think Howard could be better offensively this year because he worked Hakeem Olajuwon this offseason. Supposedly Howard has developed a newfound confidence in his mid-range jumper thanks to his work with the "Dream." Certainly you can all but guarantee that Howard leads the NBA in rebounds and blocks again.
The Orlando starting five is basically the same as last season with Jameer Nelson, Vince Carter, Mickael Pietrus (who shared starts with Matt Barnes), Rashard Lewis and Howard. Carter and Lewis both struggled at times last year. Lewis averaged 14.1 points a game, his lowest output in 10 NBA seasons as a starter. The team is hoping to be able to use him at small forward at times this year in order to get bigger up front with Marcin Gortat and Brandon Bass at Lewis' normal power forward spot. Carter registered career-lows last year with 16.1 points, 3.9 rebounds and 0.7 steals and shot just 42.9 percent.
As with any team health is obviously a key and probably nowhere more so than with Nelson, who has played in just 102 games over the past two seasons due to shoulder and knee injuries. He was stellar in last year's playoffs; if Lewis had shown up then maybe things would have been different against the Celtics.
Orlando Magic: Offseason Moves
Orlando made just a few fairly minor moves, signing small forward Quentin Richardson and point guard Chris Duhon. Perhaps the main move was that the Magic, somewhat surprisingly, matched a big offer sheet the Chicago Bulls gave J.J. Redick, who started to show signs of being a pretty good player in 2009-10. That move put the Magic over the salary cap. The only regular contributor the team lost off last year's club was Barnes.
2010-11 Orlando Magic Futures Odds
Orlando is +350 to win the Southeast Division, +200 to reach the East Finals again, +450 to win the East and +1000 to win the NBA title. The Magic's 'over/under' win total is 54.5 and Howard is +650 to win the MVP award.
2010-11 Orlando Magic NBA Picks
One thing is a lock: This team will lead the league in three-pointers. Orlando set an NBA record with 841 three-pointers last season and more than a third of their shot attempts were from behind the arc. And Richardson is a much better three-point shooter than Barnes was, with Richardson even taking more three-pointers than two-pointers last year.
The Magic are shooting to do what the Lakers did in 2000 and the Spurs did in 2003 -- celebrating a move into a new home with a championship in the first season. Can they? Certainly it's possible, especially if perhaps Miami and Boston are in the other half of the East playoff bracket and beat on each other for seven games. Thus I think +1000 to win it all is pretty good value as is the 'over' 54.5 wins.
Doc's Sports is very excited about another profitable NBA picks season. Picks will be available starting Tuesday, Oct. 26. Doc's Sports has become known as one of the best NBA handicapper in the nation with three of four winning seasons - $100 bettors are up $18K in the last four years! Early Bird specials will be posted soon, so check our homepage regularly. Also, check our home page daily updated NBA odds, NBA betting articles and daily matchup reports. Call us toll-free at 1-866-238-6696 to find out about a free week of Doc's Sports NBA picks, or a free week from any of the fine NBA handicappers at Doc's Sports.