Preseason College Football Polls: My Issues With the Rankings
by Trevor Whenham - 8/10/2010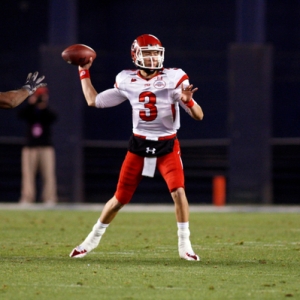 The preseason Coaches' Poll has been released - the clearest sign yet that the college football season is finally almost here. Polls are subjective at the best of times, but especially so at this point. Teams haven't even practiced officially for months, so we have no way of really knowing what they have, what they are planning, and how it all may work out. It's always the case, then, that everyone who pays attention to college football is bound to have some issues with the early polls. Some teams will be getting more respect than you think they deserve, while others are being disrespected or downright ignored. Here's a look at three over-ranked teams and four under-ranked teams in my eyes:
Too Much Love
Florida (No. 3 - 1245 points) - I'm not the biggest fan of Florida at the best of times, but my doubt of this ranking goes far beyond my biases. The most obvious issue here is the loss of Tim Tebow. Not only has the face of the team gone on to bigger things, but there is a change in offensive approach required as a result. There isn't a Tebow clone waiting in the wings, so there is going to be a shift in offensive gameplanning to go along with the change. There is talent on the team, obviously, but this is still a big risk. Add in to that the fact that Urban Meyer went through the oddest offseason ever for a coach with his pseudo-retirement, so we can't entirely trust him this year. The Gators may very well end up this high, but I don't think it makes sense to start them up here.
Oregon (No. 11 - 940 points) - It's been a tumultuous offseason for the Ducks - to say the least. Heisman hopeful QB Jeremiah Masoli has been kicked of the team, running back LaMichael James is suspended for the start of the season after pleading guilty to misdemeanor harassment, and four other players were booted from the team. That's a lot for a team to overcome, and it's hard to believe that the problems are over - head coach Chip Kelly has been a magnet for trouble since taking the job. The team will obviously be making a QB change that they weren't expecting, and there are other issues as well. The schedule isn't terribly tough, but there are potential pitfalls. You can make an argument that the Ducks are the second best team in the conference - and the best that can be ranked because of USC's woes - but I am not at all convinced that the second best team in the Pac-10 is the 11th best team in the country. This is not going to be a good year for the conference.
North Carolina (No. 18 - 445 points) - The Tar Heels have a pretty good defense assembled, but Butch Davis has done nothing but disappoint at North Carolina - he has made slow progress, but never close to the rate he was supposed to. It takes more of a leap of faith than I am willing to make to think that this is finally the year. Beyond Davis there are some questions that the schedule brings up - opening against LSU and Georgia Tech could start things off in a deep hole, and a four-week stretch that includes trips to Miami and Florida State and a game against Virginia Tech could be just brutal.
Not Enough Love
Utah (No. 24 - 169 points) - The Utes have earned more respect than this. They have been consistently excellent, and they are going to be fired up this year as they prepare to move to the Pac-10 next year. They open the season with a winnable game against Pitt that will attract real attention if they win. They play their two toughest conference opponents at home, and this is probably still a good time to be making a trip to Notre Dame. Jordan Wynn is a special QB who will only get better as a sophomore. He has talent around him, including a good offensive line. The defensive line is very good and experienced, and the rest of the defense is deep if unproven. There are at least five teams ranked higher than the Utes that wouldn't stand a chance against them.
Houston (unranked - 76 points) - You can't possibly convince me that the Cougars shouldn't be ranked. It all starts with senior QB Case Keenum. He may play in a gimmicky offense, but you have to respect a guy that has passed for more than 5,000 yards two years in a row. Only one other guy - Graham Harrell - has ever done that. He's a very special player, he's well coached, and he has a better team around him than he did last year. Houston also has a schedule built to perfection for them - there isn't a game on it that they can't win if they play their game. This team is going to be like a living video game this year, and it will be fun to watch and hard to completely ignore.
Texas A&M (unranked - 3 points) - As a general rule the team with the best quarterback in every major conference should be ranked. At the very least they should get real respect from voters. Jerrod Johnson is a proven performer, a senior, and the best pivot in the league, yet the Aggies are all but ignored in this poll. He has the deepest receiving corps in the league as well, and a solid stable of running backs. there are a few issues with the defense, but there are definitely less talented overall teams ranked higher. Mike Sherman is a good coach, he's entering his third year with the program, and he has recruited well, so he deserves more respect than this as well.
Strike Point Sports has shown a profit for his football customer in 25 of the last 40 weeks he has released his football picks and he is geared up his best season yet for 2010-11. Find out why SPS is considered one of the best college football handicappers in the nation with one of his many profit-building football packages. His college football and NFL futures are a must have for any serious football bettor, and they will be released on Aug. 16. And be sure to check out Doc's Sports homepage daily for updated football betting content, matchup reports and up-to-the-minute college football lines.