MLB Handicapping: Ranking the Pitching Staffs
by Robert Ferringo - 4/6/2010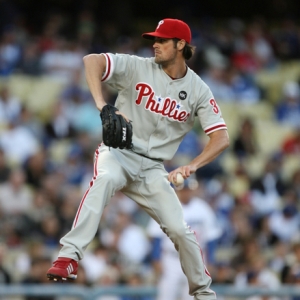 The Major League Baseball season is only two days in. but let's get down to brass tax here. Pitching doesn't win championships, it wins money. Lots and lots of money. And gamblers need to be able to take the long view with teams and staffs and be able to look at each starting rotation along the lines of how it relates to the others in the league.
Below are my team-by-team rankings for the starting rotations of each club in the Majors. I tried to gauge each group as it is right now, with due consideration given to things like pitchers coming back from injury (when and if) as well as how much depth a certain rotation has if one of their injury-prone or likely ineffective starters were to go down.
Granted, this is kind of a macro view of the MLB pitching landscape. And these rankings aren't going to do too much good in helping you break down individual starting matchups once the regular season is in full swing. But in taking the long view this can help us get an idea of what each team's realistic expectations can be this year and we can use that to play them accordingly.
For instance, before you go laying some cheddar on that Cleveland Indians World Series futures play you might want to take a gander at where their arms stack up. And before you go jumping on Baltimore's bandwagon perhaps you should consider where their starters rate compared to the rest of the division they play in.
So without further ado, here is my ranking of the 2010 MLB starting rotations:
1. Boston Red Sox
Their top three of Josh Beckett, Jon Lester and John Lackey is unrivaled by another other trio in the game right now. All three have proven track records and big game experience and there actually is still a lot of value on this group. Not buying it? The Red Sox went a combined 44-20 last year and are 80-45 over the last two years when either Beckett or Lester takes the bump. Solid stuff.
2. New York Yankees
Hey, they're still the champs. And the Yankees actually managed to improve their rotation by adding an N.L. Cy Young candidate from last year (Javy Vazquez) to the mix. I also think that they made the right choice by pushing Joba Chamberlain to the bullpen. He can be groomed as a closer and will be elite back there. Also, taking all of the 92-pitch, five-inning efforts that he'd put forth and switching them with all of the seven- and eight-inning efforts that you'll get out of Vazquez will be a huge boost to the bullpen.
3. Atlanta Braves
I know, I know: seems crazy, right? But Tim Hudson has been nasty this spring. Derek Lowe is a proven winner who should bounce back. And young studs Jair Jurrjens and Tommy Hanson are as good as any under-25 arms in the business. If they can stay healthy this group is elite. The Braves were No. 1 in quality starts and No. 3 in ERA last year. They won't top that, but they should still be stellar.
4. St. Louis
Chris Carpenter and Adam Wainwright are as lethal of a 1-2 punch as you can find in MLB and Kyle Lohse is better than his numbers last year suggested. Remember: he was 15-6 just two years ago. And I'm excited about what Brad Penny – a former no-doubt No. 1 starter – can do at the back end of a rotation. Does it really matter who is No. 5?
5. Philadelphia
It is going to be hilarious what Roy Halladay does to the National League. I mean, just hysterical. Cole Hamels was shaky last year, as the extra innings that he'd logged prior to that seemed to catch up to him. But he's still a great No. 2 option. All Joe Blanton does is win. I'm not a J.A. Happ fan, but I can't deny a 12-4 mark.
6. Chicago White Sox
Count me among those that are at least a bit worried about Jake Peavy's transition to the American League. But the guy is a stud and he will adjust. Mark Buehrle is a proven winner and I really like the moxie and the stuff of John Danks and Gavin Floyd. Freddy Garcia is a weak link at the back but he's a former 17-game winner and went 40-21 in his last sting with the Sox.
7. San Francisco Giants
Back-to-back Cy Youngs are a great place to start. Tim Lincecum is the best in the business. Period. Matt Cain is a No. 1 on about 22 other clubs. After those two I'm not as bullish about this group but I have to tip my hat to them. Jonathan Sanchez is streaky but anyone that has a no-hitter on their resume has skills. The same goes for Cy Young winners. And Barry Zito did have a nice bounce back year last season. Again, this might be overrating them. But they are solid.
8. Colorado
This is another team with arms to spare. Remember: Jeff Francis was one of the best young lefties in the game just three years ago. And now he's the No. 4 if he comes back healthy. If not, Greg Smith is a guy that can surprise. Ubaldo Jiminez had a breakout year and Aaron Cook is perpetually underrated. Throw in Jorge De La Rosa, who may have finally put it together, and rubber-armed Jason Hammel and you have a sweet five-man squad.
9. Chicago Cubs
From all of the struggles that the Cubs had last year, none of them had to do with the starting pitching. They were No. 5 in starters' ERA and No. 2 in quality starts. I have a lot of confidence in Big Z, Ryan Dempster will come back strong, and Ted Lilly is just a pro. I am not a fan of Randy Wells' style, but he was effective.
10. Tampa Bay
I do think that the Rays were better off two years ago with Scott Kazmir and Edwin Jackson in the mix. But James Shields and Matt Garza are studs, David Price has a load of potential, and both Jeff Niemann and Wade Davis have big arms at the back end. They still have some growing up to do but this rotation is coming together.
11. Los Angeles Dodgers
Whether you like the names or believe in the arms the Dodgers always find good pitching. Does some of it have to do with their stadium? Sure. But Chad Billingsley has a $1 million arm and 10-cent head. Clayton Kershaw was brilliant for extended stretches last year. And the rest will come together somehow. It always does.
12. Los Angeles Angels
I know that they lost John Lackey. But Kazmir was great after coming over from Tampa Bay. He's been hurt this spring but has frontline stuff. They don't have an ace anymore but they have five kings.
13. Arizona
This ranking is based on the assumption that Brandon Webb is healthy by mid-May. If that's the case than the one-two-three of Webb-Dan Haren-Jackson is as good as any trio in the N.L. Up-and-comer Ian Kennedy is one to watch.
14. Cincinnati
If Edison Volquez were healthy (they hope to have him back by August) this rotation would be in the Top 10. Aaron Harang should bounce back, Homer Bailey has some seasoning, Bronson Arroyo has won 15 games each of the last two years, and Johnny Cueto has electric stuff and could top 200 strikeouts this year. Oh, and then there's Aroldis Chapman, the 101-mph-throwing Cuban lefty that has been the talk of Spring Training.
15. Seattle
I know that Felix Hernandez and Cliff Lee give them a power-packed one-two Cy Young punch. But those two can't do much to make Ian Snell, Ryan Rowland-Smith or any other stiffs much better. A great defense is going to make these guys look better than they really are.
16. Florida
Josh Johnson is a proven stud. And if Ricky Nolasco can pitch like the guy from 2008 and the second half of 2009 then they'll be okay. The Marlins rely on a lot of sketchy arms after that duo (Sanchez, Volstad, VandenHurk, Miller). But when you think about it they actually have around seven guys that I could see notching 20 or more starts.
17. Minnesota
I don't have to think that the Twins are good for them to be effective. They will again run into problems because they have zero frontline arms. (If the Angels have no aces but are full of kings, then the Twins line up with five queens. Maybe jacks. That's a bit more masculine I suppose.) They need Frank Liriano to step up.
18. Texas
They were No. 18 in the Majors last year in starters' ERA. Which, considering where they play, is even better than the numbers suggest. And it is leaps and bounds better than what the Rangers were trotting out in 2008 and 2007. If Rich Harden holds up they can bounce up a few rungs. But I'm not a Scott Feldman believer and when they are trotting out C.J. Wilson I can tell they are in some trouble.
19. New York Mets
Right now it's Johan Santana and a bunch of duds. Oliver Perez stinks and John Maine isn't much better. Yet the Mets have cast their lot with a pair that has proven time and time again not to be up to task. And Mike Pelfrey is slotted as a No. 2 but has performed as a No. 5.
20. Detroit
Detroit's rotation is basically the Mets of the American League. They have Justin Verlander, a proven commodity, and then nothing but question marks after that. Rick Porcello is a nice piece but I'm afraid he was overtaxed last year. If they are still waiting for Dontrelle Willis to figure it out (which they are) they are in big trouble.
21. Kansas City
They are just following in line behind the Mets and the Tigers. The Royals have Cy Young winner Zach Grienke, and that may be the only thing keeping them from the No. 28 or No. 29 slot here. Gil Meche was solid but injuries got the best of him last year. After that were three guys (Bannister, Hochevar, Davies) that went a combined 22-35 with an ERA around 5.50.
22. Oakland
I may be wrong to have the A's this low. But to this point they will begin the year with zero starters that had an ERA less than 5.00 last year. I don't think that Ben Sheets will A) hold up or B) have much success in the A.L. And if Dallas Braden is the guy with the best ERA on your staff you have issues. They are young and have a lot of upside. But I have to see it first.
23. Milwaukee
This may end up being a bit low for this group. I have nothing but respect for new pitching coach Rick Peterson. And I think he can do wonders with the veteran arms in this group. But until that actually happens they'll be treated as the group that had the worst starters' ERA in the Majors last year, plus Doug Davis and Randy Wolf (hardly intimidating).
24. San Diego
Just like Toronto, the Dads are going to find life hard without their ace. Peavy has moved on and that's created somewhat of a power vacuum at the top of the Padres staff. Jon Garland and Chris Young are nice pieces. But when those are the arms you are relying on to carry the staff you are in big trouble. Don't the let the numbers, inflated by PetCo Park, fool you: these guys aren't very good.
25. Toronto
Ouch. Think losing Roy Halladay is a blow? Something tells me that Shawn Marcum, Rick Romero and Mike Rzepczynski won't be able to fill the void. They have depth – if you don't mind mediocrity – and perhaps one or two guys will step up. But they have a lot to prove, especially in the A.L. East.
26. Houston
Roy Oswalt has hit a pretty hard wall the past few years and hasn't looked like the Oswalt we have come to expect. And after a while Oswalt's slow starts and torrid second halves get a little old. Why can't he do it all year? Wandy Rodriguez has burst onto the scene. But after that is a wretched pile of nobodies that will be throwing BP all season.
27. Baltimore
Kevin Millwood was a nice addition but, as he showed in Texas, he isn't a rotation savior. Jeremy Guthrie is nearly a lost cause at this point and needs a new team. Youngsters Brian Matusz and David Hernandez have shown some promise. And something tells me we're going to see a lot more young arms take the hill this year in this revolving-door rotation.
28. Washington
J.D. Martin is not good. Garrett Mock is awful. Scott Olsen has moments, but not nearly enough of them. John Lannan is a nice pitcher on a dreadful team. But even he would only be a No. 3 or No. 4 on a decent team. And "ace" Jason Marquis is about to get a cruel dose of reality.
29. Pittsburgh
I don't care if he made an All Star team or not: Zach Duke is terrible. Paul Maholm? Yeah, he doesn't do it for me. After that is, well, anyone's guess. Chuckles Morton is a piñata and whatever green arm they roll out in the No. 5 is likely going to get shelled. And Ross Ohlendorf is due to come back to reality this year.
30. Cleveland
Right now the staff ace is a guy that had a 6.32 ERA last year and a 5.44 ERA the year before that. And we're not talking over a few rough starts: we're talking about a No. 1 starter with an ERA of 5.89 over his last 46 starts. Wait – it gets better. Their No. 2 starter is a guy that has won all of seven games since the fall of 2006. And after that core there is a real drop-off. There is Justin Masterson, who went 1-9 with The Tribe last year, and then two of the worst lefties in the league (David Huff and Aaron Laffey). I really want to like the Indians to have a nice bounce-back season. But when I look at this rotation the only thing that comes to mind is, "Bombs away!!!"
Robert Ferringo is a writer and a professional sports handicapper. His full season subscribers experienced a 1000 percent return on investment on his 2009 MLB picks. For more information on Ferringo's MLB picks, check out his Insider Page here.