Tampa Bay Rays at Boston Red Sox MLB Series Preview
by Matt Severance - 4/15/2010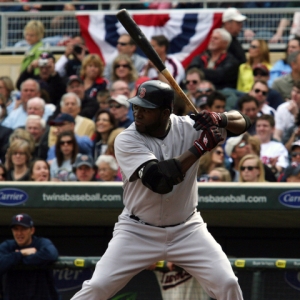 Are the Tampa Bay Rays really back to a playoff-type level or are the Baltimore Orioles just freaking terrible? The answer is probably 'yes' to both, as Tampa Bay enters Friday's series with the Boston Red Sox at 6-3 (best start in franchise history) after an impressive series win over the Orioles. It's only the third time in franchise history Tampa Bay has been above .500 after nine games and first time since 2004. Boston, however, is the -165 Game 1 favorite on BookMaker.
The Rays suffered a World Series hangover right off the bat last year in going 9-14 in April. Manager Joe Maddon stressed a good start this season, and so far so good. But, again, the only "real" team Tampa Bay has played is New York, which won two of three in St. Petersburg last week.
The calls to bench David Ortiz have begun again in earnest in Boston. Because the Red Sox faced Twins lefty Francisco Liriano on Thursday, Ortiz didn't start at DH and Mike Lowell did in the Red Sox's 8-0 loss. Big Papi leads the majors in strikeouts with 13 punch-outs in 26-at bats. He is batting just .154 with two RBI and no home runs. Ortiz has admitted the media scrutiny has been bothering him. With the Rays set to start all right-handers, we should really find out if Manager Terry Francona is behind Ortiz because he should start all four games – Francona has said he doesn't plan to platoon DHs as this point. Dustin Pedroia has been a beast for Boston, going 11-for-20 with three homers and seven RBI in the past five games. He had three of the Red Sox's six hits in Thursday's blanking.
If any of the games in this series go to extra innings, look for Boston's bullpen to walk Tampa Bay's Carlos Pena. His 10th-inning homer on Tuesday was the eighth of his career in extra innings and a team-record fourth as a Ray, all since the 2008 season -- no player has more over that span.
Tampa Bay did lose catcher Kelly Shoppach (sprained right knee) to the DL this week. Maddon says he thus expects Dioner Navarro to start three of the four games this weekend.
Boston outfielder Jacoby Ellsbury hasn't played since bruising his left ribs in a collision with Royals third baseman Adrian Beltre on Sunday but is expected to be back for this series, maybe as early as Friday.
Here are the probable pitchers in this series:
Friday -- Rays RHP Wade Davis (0-1, 6.00) vs. Red Sox RHP Josh Beckett (1-0, 6.17)
Saturday -- Rays RHP James Shields (0-0, 3.97) vs. Red Sox RHP Clay Buchholz (1-0, 3.60)
Sunday – Rays RHP Matt Garza (2-0, 1.13) vs. Red Sox LHP Jon Lester (0-1, 7.20)
Monday – Rays RHP Jeff Niemann (0-3, 3.24) vs. Red Sox TBD
Davis was a bit shaky in his first start of the season against the Yankees, but then again so was Beckett, who then came back with a seven-inning, three-run effort against the Royals. Beckett is 7-4 with a 3.68 ERA career against the Rays.
Shields is a completely different pitcher away from Tropicana Field and Fenway Park is a house of horrors for him: He is 0-6 with a 8.04 ERA in six career starts at Fenway. Buchholz is 2-1 with a 2.39 ERA over four starts against Tampa Bay in his career.
If you are an avid reader at Doc's, you might remember I recommended you taking a flier on Garza at 60/1 to win this year's AL Cy Young award. Well, he looks like a favorite so far – but then again he has only faced Baltimore. He is 3-2 with a 3.62 ERA in six starts at Fenway Park. Lester can't wait until it's May. He has a 5.08 career ERA in March and April but 3.50 the rest of the year. He is 23-5 with a 3.23 ERA career at home, however.
As of this writing Monday's Boston starter wasn't official but it should be John Lackey. He has been easily Boston's best starter, allowing just two earned runs in 12 2/3 innings. Niemann has never pitched at Fenway.
By the way, rain is forecast for each day this weekend in Boston, so that could obviously play havoc with the pitching matchups and some lineup moves. And remember that Monday's game starts at 11 a.m. local time because it's Patriots' Day (Boston Marathon held same day).