Week 6 College Football Picks and Odds
by Trevor Whenham - 10/8/2010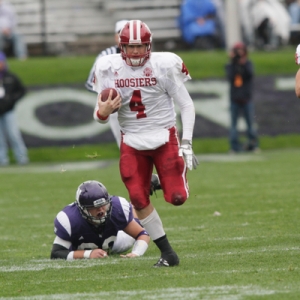 It was a rough week last week for these football picks. Stanford looked very good early on, but got worse and worse as the game went on. Nevada won big like I expected them to, but just not quite big enough - a late UNLV score when the game was in hand ended my dreams of a cover. With these week 6 college football picks and odds we'll look to reverse the trend and go back to what we had before last week - two straight perfect weeks.
Indiana +22 at Ohio State (Saturday, Oct. 9, 12 pm ET) - This will come as a shock since I'm a diehard Michigan fan (tounge firmly planted in cheek), but I just don't believe in this Ohio State team. They are good, but I just don't think they are dominant enough to justify this college football line. Their offense, led by Terrelle Pryor, isn't as consistent as it ideally could be, so trusting them to beat a team by more than three touchdowns is a lot to ask. When Pryor is good he's very, very good, but he seems to lack the ability to focus for long periods of time and he makes mistakes. Indiana isn't the most capable team out there when it comes to taking advantage of those mistakes, but they can do their part. To add to Pryor's issues are the fact that he's coming off an injury last game, and could be at less than his best.
More significant than Indiana's defensive ability is its prowess on offense. Ben Chappell is one of the more underrated passers in the country - he throws the ball with reckless abandon and a good deal of accuracy. He's up against a tough defense in the Buckeyes, but he's going to be able to put some points on the board, and he'll make it harder for Ohio State to open up the big gap that they will need to in this one.
There's another thing at work here - Ohio State has no incentive to perform here. They know they are the best team, and they expect to win. They don't have anything to prove other than winning, their ranking is secure as long as they come out on top, and they are banged up, so it's very likely that they will take their foot off the gas once they get out in front. For Indiana, on the other hand, this is the biggest game of the year. They should be fired up enough to cover the spread.
Auburn -6 at Kentucky (Saturday, Oct. 9, 7:30 pm ET) - When this line opened with Auburn favored by nine I was still interested, but I probably wouldn't have pulled the trigger. Now it has fallen to the other side of the key number of seven, though, so I am suddenly very interested. Kentucky has a nice defense, but their real strength is against the pass. If they can immobilize Auburn's passing game they still have to deal with a very good run game, and Kentucky's pass defense is just average.
I believe in Cam Newton and this Auburn offense. More significantly, the players are believing in themselves. The Tigers are coming off a totally meaningless game last week, so they will be rested and well-prepared, and they will be eager to again prove that they are a top-level team. I find it hard to give Kentucky nearly as much respect. They have only played two legitimate opponents this year, and they have been beaten up in both of them. Auburn is very attractive at this price.
Doc's Sports has become known in nearly four decades in the sports handicapping business as one of the brightest and most successful college football handicappers in the nation and Doc has a big Revenge Game of the Year in college going this weekend and this will be one of the highest rated picks of the season 6-Units. Doc had a monster weekend last week and picked up more than $1,500 for his $100 players. Here ay Doc's Sports we provide both college football picks and NFL picks in one package so you can get the best of both worlds for all your football betting needs. Check our homepage for up-to-the-minute college football odds and daily exclusive college football betting articles.