Prop Culture: 53rd Grammy Awards Odds and Predictions
by Christopher G. Shepard - 2/11/2011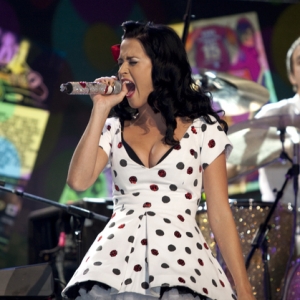 Writing another page in rap history, 10-time Grammy nominee Eminem and Dr. Dre will perform on stage together for the 53 rd Grammy Awards, held Jan. 31 at the Staples Center from 8-11:30 p.m. on Feb. 13. The event will be televised on CBS with contributions from Ryan Seacrest, Jennifer Lopez, Keith Urban, will i am, and will feature the legend Bob Dylan performing with Grammy nominee Mumford & Sons.
For your viewing entertainment Barbara Streisand will make an appearance, as well as all five Album of the Year and Best New Artist nominees, who will perform at this year's telecast. This year Eminem leads all nominees with 10 nods for his album "Recovery." Bruno Mars scored seven nominations and Lady Gaga's "Fame Monster" tied Jay-Z and Lady Antebellum, earning six nominations each.
The kids of the campy music-mash-up show "Glee" have even found a way to get two Grammy nominations with their rendition of "Don't Stop Believe'n" and best compilation soundtrack. Hopefully, Santa Barbara native Katy Perry will find time to do another duet with Elmo, but if she doesn't, her "Teenage Dream" managed to snag four nominations. My picks and predictions to win are in boldface type and Grammy Awards odds are included with all the picks.
Album of the Year
This is the Grammy's most important award and doled out at about 11:25 p.m. if you are waiting up to see if your ticket cashes. The oddsmakers are giving a lot of love to Eminem as his odds for the album of the year double over the similarly named category Record of the Year. While "The Suburbs" get a nod in this category but not for Record of the Year. Go figure?
Viewers will know soon enough if this will be an Eminem landslide year or not. If so, there is little doubt he'll snatch this Grammy.
Weird things have been known to happen in this category, however, like when Herbie Hancock beat Amy Winehouse a few years back.
"The Suburbs" is the only true rock-n-roll entry, but the voters love surprise winners.
For my wagering V-chip this award comes down to two albums; Lady Gaga's "The Fame Monster" or Eminem's "Recovery." Lady Gaga is brilliant and her album resonated and keeps on resonating, but I have a feeling that this year will be all about the redemption of Eminem.

The Suburbs - Arcade Fire +650
Recovery – Eminem -400
Need You Now - Lady Antebellum +1600
The Fame Monster - Lady Gaga +600
Teenage Dream - Katy Perry +1200
Record of the Year
Eminem and Rihanna's summer anthem "Love the Way You Lie" is the favorite to win in this category. While Eminem is bound to win a few awards, I don't think one will be for Record of the Year.
Meanwhile, you can virtually cross off Cee Lo Green's "FU" since there is no way the Academy will even chance having its presenters say the 'F' word – even if it was used on Glee.
B.o.B's "Nothin' on You" was last spring's infectious jam that dominated the airwaves. You couldn't turn your radio on without hearing it, but with this spring approaching that was a long time ago. "Empire State of Mind" is the latest slick offering from Jay Z and Alicia Keys, but unfortunately it really came out in 2009 so I am not sold on this album in 2011.
This leaves us Lady Antebellum who is +500 on the Grammy odds thanks to a nifty title-track, "Need You Know" that was produced by hitmaker Paul Worley, I am backing Lady Antebellum at +500.
Love The Way You Lie - Eminem (feat. Rihanna) +125
Empire State Of Mind - Jay-Z & Alicia Keys +150
Need You Now - Lady Antebellum +500
F*** You - Cee Lo Green +1000
Nothin' on You - B.o.B (Feat. Bruno Mars) +1000
Song of the Year
Ray LaMontagne's "Beg Steal Or Borrow" came from the singer's "God Willin And the Creek Don't Rise," which debuted at No. 3 on Billboard and was nominated for best contemporary folk album Grammy. So at least Ray has that going for him.
Cee Lo will struggle with FU even if he performs the radio friendly version of the song during the telecast.
Lady Antebellum's crossover tune "Need You Now" will unfortunately run into the same Detroit buzzsaw that cuts down Lambert's "The House That Built Me."
"Love the Way You Lie" spent seven weeks at No. 1 last summer and saturated the Hot 100 and Top 40 radio, which makes Eminem my pick to win the Grammy for the Song of the Year.
Beg Steal Or Borrow - Ray LaMontagne +500
F*** You - Cee Lo Green +200
The House That Built Me - Miranda Lambert +450
Love The Way You Lie - Eminem (feat. Rihanna) +400
Need You Now - Lady Antebellum +275
Best New Artist
Let's face it, despite being excellent in their own genres, both Esperanza Spalding and Mumford & Sons should just be happy to be at the Grammys and they should not expect too much when it comes to actually winning the Grammy for Best New Artist.
That victory speech will come down to one of two singers. Florence Welch is awesome and Florence + The Machine had the break out hit "Dog Days Are Over," but that most likely won't be enough to take them over Drake and Justin Bieber.
Drake had the Hip Hop hit of 2010 while Bieber, is a five tool player; he can dance, sing, act, rap, and play drums. What else do you need?
Too bad the Academy's daughters don't vote; but take heart, Justin, the Jonas Brothers were also nominated in this category.

Justin Bieber -200
Drake +450
Florence & The Machine +275
Mumford & Sons +750
Esperanza Spalding +2000