NBA 2K Players Tournament Predictions with Betting Odds and Picks
by Alan Harris - 4/2/2020
With pretty much everyone quarantined, starving for betting action, and the networks starting for live content, we present to you an NBA 2K Tournament featuring 16 NBA players that will be shown on the ESPN family of networks starting Friday evening. Now, this isn't going to be nearly as much fun as betting on the actual NBA, but I think it's going to be a fun thing to put some pizza money down on and takes everyone's mind off what is going on in the world.
The format is simple, 16 NBA players are involved and they are seeded 1-16, according to their ranking in the game. That gives us a Sweet 16 like bracket that opens on Friday night with the Final Four and Championship games being played on Saturday, April 11. The tournament is single elimination for the first two rounds, best-of-three for the Final Four and Championship, and players have submitted a list of eight teams that they can play with, with the caveat being that they can only use a team once. There's a bit of strategy involved in that as we'll probably see teams such as the Clippers, Lakers and Bucks being saved with the hope that they will be able to be used in the later rounds. Below is the list of entrants, their odds, a copy of the bracket (so you can convince everyone in your zoom meetings to fill one out), the TV schedule and finally where I'll be placing my wagers. Odds for this tournament can be found at various online books.
| | | |
| --- | --- | --- |
| Seed | Player | Odds |
| 1 | Kevin Durant (Nets) | +500 |
| 2 | Trae Young (Hawks) | +700 |
| 3 | Hassan Whiteside (Blazers) | +900 |
| 4 | Donovan Mitchell (Jazz) | +800 |
| 5 | Devin Booker (Suns) | +300 |
| 6 | Andre Drummond (Cavaliers) | +2200 |
| 7 | Zach LaVine (Bulls) | +2200 |
| 8 | Montrezl Harrel (Clippers) | +2800 |
| 9 | Domantas Sabonis (Thunder) | +2800 |
| 10 | Deandre Ayton (Suns) | +700 |
| 11 | DeMarcus Cousins (Free Agent) | +1200 |
| 12 | Michael Porter Jr (Nuggets) | +1500 |
| 13 | Rui Hachimura (Wizards) | +2200 |
| 14 | Patrick Beverly (Clippers) | +2200 |
| 15 | Harrison Barnes (Kings) | +2200 |
| 16 | Derrick Jones Jr (Heat) | +2000 |
TV Schedule:
Friday, April 3, ESPN, 7:00-8:30 p.m. EST
Friday, April 3, ESPN 2, 8:30-11:30 p.m. EST
Sunday, April 5, ESPN 2, 12:00-4:00 p.m. EST
Quarterfinals: Tuesday, April 7, ESPN 2, 7:00-11:00 p.m. EST
Semifinals/Finals: Saturday, April 11, ESPN, Time TBD
Bracket: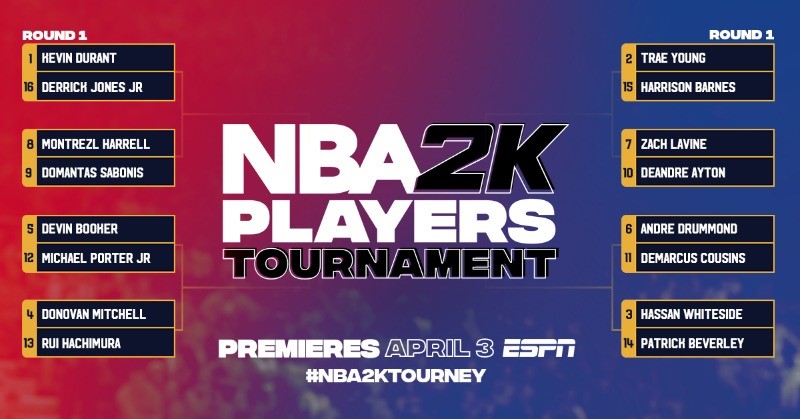 Props:
There are odds on each player to score the most/least points in the first round.
Will Any First-Round Game Go Into Overtime?
Yes +100
No -140
Conference To Have The Most Players Advance To The Second Round.
West -130
East -110
LA Clippers Player To Advance Further
Harrell -140
Beverly +100
Phoenix Suns Player To Advance Further
Ayton +120
Booker -160
Largest Margin Of Victory In The First Round
Over 7.5 Points -120
Under 7.5 Points -120
My Picks
Again, I've only put pizza money on these plays as I'm currently going out of my mind sitting here betting soccer from countries I've never heard of and horse races where I'm not sure if I'm betting on horses or donkeys. That being said, I'm going with Trae Young at +700 and Derrick Jones Jr +2000 as the players that I'm picking to win this thing. Could they win it? Sure, they can. Are they going to go out in the first round? Possibly. I've also played Devin Booker at -160 to advance further than his Suns teammate, Deandre Ayton. Booker is the favorite to win this thing, with good reason. He's always playing on his Twitch page. However, it's really no fun when betting such a small amount to take the favorite, so we're trying to beat him. I do like him to do well, so my bet on him to advance further than Ayton covers us if he wins the whole thing.
Check back early next week for my prop article where I'll have something on the props recently put out at Circa Sports on all NFL teams to make/miss the playoffs along with possibly some NFL Draft stuff!
Alan Harris was a supervisor at the Aria Race and Sportsbook in Las Vegas before joining the team here at Doc's. You can grab all his plays HERE and check out his weekly prop and futures articles at docsports.com. You can try out Harris' picks for free when you set up your complimentary $60 account here.