Possible Tiger King Movie and Other Betting Props from Popular Netflix Doc
by Raphael Esparza - 4/2/2020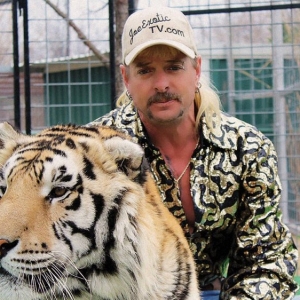 Who needs sports? OK, I still do, but as a global oddsmakers and handicapper I'm trying to post betting odds on pretty much everything else since sports are a no go right now. So why not post odds on the highly watched Netflix docuseries show "Tiger King". Yes, you can now bet on the show.
Global books are putting odds on eSports, horse racing head-to-head matchups, Table Tennis, and anything and everything entertainment. When I was thinking about posting odds on the docuseries "Tiger King," I wanted to focus on some of the burning questions that millions of viewers had after they binged watched this series.
The docuseries is pretty much focused on Joe Exotic (real name Joseph Maldonado-Passage, born name Joseph Schreibvogel), and boy does his story make you scratch your head for all seven episodes. Joe Exotic is in prison (in Oklahoma) after being convicted in a murder-for-hire plot against animal rights activist Carole Baskin. And, yes, that is not a typo… a murder-for-hire plot.
I don't want to spoil all the storyline of this docuseries because this has multiple characters -- and I do mean characters -- besides Joe Exotic. The Docuseries Tiger King has been the most-watched show on Netflix for the past two weeks. And, again, with the lack of no sports on the betting board due to the COVID-19 pandemic, some sports bettors are laying their action on all entertainment odds. This fact makes my days very busy researching and watching some bad TV.
Here you go on some of the betting odds out there in the world of sports betting.
Will Joe 'Tiger King' Exotic Receive a Presidential Pardon by Jan. 20, 2021
Yes +850
No -1600
Will Carole Baskin be found 'Guilty' of killing Jack 'Don' Lewis by Dec. 31, 2020
Yes +1000
No -2000
Will Jack 'Don' Lewis body be found by Dec. 31, 2020?
Yes +1000
No -2000
Will Doc Antle be charged for killing Tiger Cubs by Dec. 31, 2020?
Yes +850
No -1600
Tiger King Movie

Who Will Be Cast as Carole Baskin?
Wendi McLendon-Covey +100
Allison Janney +300
Kristen Wiig +300
Jennifer Coolidge +500
Laura Dern +600
Who Will Be Cast as Doc Antle
Will Ferrell +150
Jim Gaffigan +300
Matt Damon +300
Shia LaBeouf +300
Who Will Be Cast as Joe Exotic
Kevin Bacon +150
Edward Norton +250
Billy Bob Thornton +300
David Spade +400
Ben Stiller +500
Raphael Esparza is one of the best handicappers in all sports. This weekend Esparza will have plays from Horse Racing and soccer. New clients can take advantage of Doc's no-hassle $60 free picks offer and get Esparza's weekend picks.