2011 Cincinnati Reds Predictions and MLB Futures Odds
by Robert Ferringo - 3/30/2011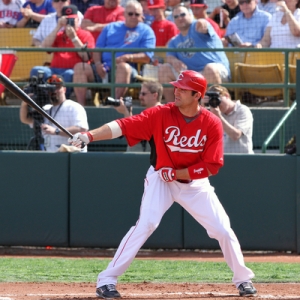 2010 was a hell of a year for the Cincinnati Reds. They brawled their way to 91 wins, usurping St. Louis en route to Cincy's first division title since 1995. The Reds scored the most runs in the National League, boasted the league's Most Valuable Player, and were the feel-good story of mid-market baseball for the majority of the summer.
It was an exceptional year for a previously mummified franchise.
Now do it again.
It was a blast watching the Reds – a team that I had been waiting on to break out in 2008 and 2009 – finally have it all come together. But if they want to become more than a flash-in-the-pan they have to strap in and be prepared for the grind that comes with being one of the N.L.'s elite organization. They have the foundation of a team that is ready to put a serious five-year run together: five of their top nine hitters and six of their best pitchers are under the age of 29 and under contract for two or more years. But competing and performing at a high level on a year-in, year-out basis takes more than talent.
Get a FREE 50% Signup Bonus at Bookmaker Sportsbook - Click Here
The Reds are no longer the arrow – they are the bull's eye. We'll see how they handle the transition and see how heavy the crown gets throughout this summer.
Here are Doc's Sports 2011 Cincinnati Reds Predictions and MLB Futures Odds:
2010 Record: 91-71
2011 Wins Over/Under: 87.0
Odds To Win 2011 NL Central: 1.7/1
Odds To Win 2011 NL Pennant: 10/1
2011 Cincinnati Reds Odds to Win World Series: 18/1
Pitching: Back in January the Reds were boasting the deepest and most talented rotation in the N.L. Central. In fact, they had a glut of starters, with six guys that registered 12 or more starts last year with a combined ERA that would have put them 0.01 points outside the Top 10 in the Majors last year, it seemed like one of the biggest issues this team would face this spring would be paring that down. However, injuries have really forced Cincinnati's depth to step forward and now starting pitching could actually be an issue. Homer Bailey and Johnny Cueto have each had arm issues and will start the year on the disabled list. Bronson Arroyo was diagnosed with mono. And Edinson Volquez has been all over the place as he still works to return from 2009 surgery. Mike Leake, who will start the season as the No. 3, posted a 7.29 ERA this spring. If everyone is healthy by the summer then this team will be fine. But if the injuries linger then this bubble could burst. I don't fully understand why this team is keeping electrifying Aroldis Chapman in the bullpen as a setup guy. However, he and veteran closer Francisco Cordero make the back end imposing for this team.
Hitting: Cincinnati has everyone back from the team that in 2010 scored the most runs in the National League, and the fourth-most in the entire league. Joey Votto is the reigning league MVP and young bucks like Jay Bruce and Drew Stubbs had breakout years. But the real strength of this team was the steady, consistently excellent contributions of veterans like Scott Rolen, Ramon Hernandez and Brandon Phillips. This team is going to miss Orlando Cabrera at short; all he does is win everywhere he goes. And going into the season the Reds appear to have a versatile lineup with pop up and down the docket. They are weak at shortstop, where a Paul Janish-Edgar Renteria platoon doesn't do much for me. And if I have an issue with this team it is with the bench, or lack thereof. Behind the starting eight in the field there isn't a lot of substance here. Cincinnati is going to be under a ton of pressure from Game 1 and they were very fortunate, from a health perspective, last year. But there are several all star-level players here and a nice blend of youth and experience, talent and potential.
Key Stat: The Reds need to be more patient at the plate. They saw the third-fewest pitches per at bat last year. Also, they were seemingly fortunate with their scoring, needing just an average of 2.58 base runners per run last year. That number was No. 6 in the Majors.
2011 Cincinnati Reds Predictions: Cincinnati isn't going to go away any time soon. It's not a coincidence that the makeup of this team is starting to resemble those early 2000's St. Louis teams that dominated the Central – General Manager Walt Jocketty has been the architect of both teams. And one of the hallmarks of those Cardinals teams was their seeming ability to plug in quality when they lose quality. I think the depth of the franchise is going to be tested this entire year. It has already started with the pitching staff. And I don't expect guys like Rolen, Hernandez and Gomes to hold up all season long. They say you can't predict injuries. Well, I'm predicting them for this team. And I don't think that they have the depth behind their front nine to hold up. I am predicting Milwaukee to win the Central. But the Reds are going to be right there scrapping and clawing with them the entire season.
2011 O/U MLB Season Win Totals Predictions: Take 'Under' 85.5. This is a great number from the books. There are those people that will think this is low for a team that won 91 games last year and didn't really lose anyone. Then there are others who think that the Reds, with exactly one postseason appearance since 1996, were a flash in the pan and will want to hit the 'under'. I think Cincinnati will end up around 84-86 wins so I will side with the books on this one. But I wouldn't touch this number with a 10-foot pole.
Robert Ferringo is a professional sports handicapper for Doc's Sports. He is considered one of the top MLB cappers in the country and has turned a profit in four of the last five years on the diamond with his baseball picks. He closed 2010 with $6,000 in earnings over the last four months and is looking forward to a great upcoming season against the MLB odds. Click here for more information on his MLB picks.