College Fantasy Football Advice and Tips
by Nicholas Tolomeo - 9/1/2011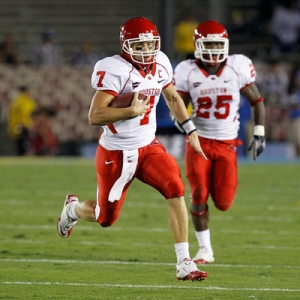 With a nation of sports fans fully engrossed with NFL Fantasy Football, could another craze soon be on the way? With participation in NFL Fantasy Football growing in the tens of millions, lesser-known but equally addicting College Fantasy Football leagues are sprouting up more and more each year growing into the thousands.
The premise of college fantasy football is the same as pro fantasy football. You draft a team of quarterbacks, running backs, receivers, tight ends, kickers and defenses in hopes of accumulating the best statistical team each week. Here we will offer up some College Fantasy Football advice and tips.
There are obvious differences like the sheer amount of Division I-A college football teams (120) compared to the 32 teams in the NFL. With so many teams, leagues can be broken down by conference. Just like there are NL-only leagues in fantasy baseball, you can do a Sun Belt-only fantasy college football league, although you might get some funny looks from people.
Another option is to restrict your league to strictly BCS conferences. Only players playing in the ACC, Big 12, Big East, Big Ten, Pac-12 and SEC are eligible. This could easily solve the problem of too large of a talent poll to select from.
Other differences from college are multiple bye weeks and Division I-AA opponents, which can skew stats. Most leagues only count half of a players' stats when they come against a Division I-AA team. For example, if West Virginia University quarterback Tavon Austin compiles stats worth 30 points against Norfolk State in Week 2, his fantasy point total for the week is only 15.
Even with conference restricted leagues, the drafts are much more wide open and players do not fall in line like the NFL. In an NFL fantasy draft this year you could guarantee some combination of running backs Arian Foster, Adrian Peterson, Chris Johnson, Jamal Charles and Ray Rice would be taken first through fifth. In a college fantasy football draft this season, a premium is placed on quarterbacks.
In a college fantasy football league that involves all 120 playing Division I-A teams the consensus No. 1 pick is Houston quarterback Case Keenum. And there lies another difference, in college fantasy football, you often have no idea who you are drafting even with the No. 1 overall pick. Keenum is a fantasy legend who is projected to throw for nearly 5,000 yards this season, but you probably couldn't pick him out of a police lineup.
When drafting, it's often smarter to pay attention to the offensive coordinator than the actual player. You can basically pencil in the Hawaii, Houston, Oklahoma State and Texas Tech quarterbacks as Top 10 picks each year.
In BCS conference-only leagues this season Oklahoma quarterback Landry Jones, Stanford quarterback Andrew Luck, West Virginia quarterback Geno Smith, Northwestern quarterback Dan Person, Baylor quarterback Robert Griffin III and Cincinnati quarterback Zach Collaros were all candidates to be the top pick. The top fantasy running backs in the BCS were expected to be Oregon's LaMichael James and Alabama's Trent Richardson while Oklahoma State wide receiver Justin Blackmon is the top overall rated player on CBSsportsline.
Speaking of CBS, they adopted fantasy college football on their Web site before the 2009 season. Before then hardcore fantasy players relied on annual magazines like Lindy's, Phil Steele, Athlon and Sporting News for player rankings and advice. They would turn to the Internet or a USAToday on Sunday morning to get the full run down of stats and tabulate scores themselves.
Chris Dattalo is a long-time college fantasy football enthusiast. "There is more player depth," Dattalo said comparing college to pros. "After the top guys it really drops off and you really have to dig. It makes it more challenging."
Other lesser known Web sites are starting to host leagues and it could only be a matter of time before the big guns at ESPN and Yahoo! Sports pick up on the growing sport.
"We started our college fantasy league up five years ago because most of us enjoy college football Saturdays more than NFL Sundays," said Matt Martin, a commissioner of his 14-team college football fantasy league. "Nothing is more fun than having guys playing from noon until 2 a.m."