College Football Odds: Boise State at Toledo Predictions and Betting Picks
by Trevor Whenham - 9/12/2011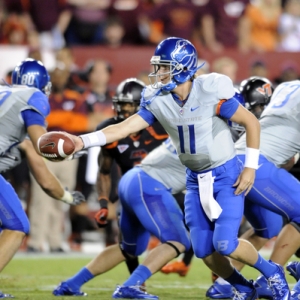 Need proof that, despite all of their success and praise, Boise State still isn't on par with the big boys? You need look no further than Friday's game. That's when the Broncos travel to Toledo to play the Rockets.
What are the chances that an elite program from a major conference would ever travel to Toledo? Almost none. The Broncos are not a major conference team, though, and that means that they have to play home and home series with teams like Toledo sometimes. Last year they played on the blue turf, and it was a slaughter -- Toledo coughed it up five times and Boise State cruised to a 57-14 win.
Boise State at Toledo Betting Storylines
This is a redemption game of sorts for Toledo. Last week they had a real chance to be a giant killer, but they choked and couldn't quite get past Ohio State. They did some things very nicely in that game, and to say the officiating was tilted to Ohio State's advantage would be a major understatement.
However, there were some serious missed opportunities as well. They allowed a touchdown on a punt return. They missed a field goal. They couldn't convert on fourth down in the red zone as the game was just about to end and they were within a touchdown.
As good as they played in Columbus they only would have had to play a little bit better to earn what could have been a program-changing win. Now they have the advantage of playing at home, but they are also playing a better and less-troubled team here, so a little bit better might not be enough to win.
The Broncos beat Georgia in impressive fashion in their opener, and then they had a week off. That means that they are completely rested for this one and will be thoroughly prepared for the game.
It would have been much better for the Rockets if they were the rested team and the Broncos were the ones coming off the tough game, but that's just not the case. Boise State has proven repeatedly that they are an elite squad. Toledo isn't. If the Broncos play to close to their potential this one won't be very close.
The biggest concern for the Rockets has to be their banged-up defense. Kellen Moore has the ability to dissect a secondary, and Toledo's secondary isn't at full strength. To make up for their issues the Rockets really need to have the discipline and focus to avoid penalties as they attempt to maintain control. Penalties were a big factor in the Ohio State game -- they committed 14 and the Buckeyes were only called for three. If the tally is similarly unbalanced here then the Rockets stand no chance.
Boise State has a strange eligibility issue to deal with here. They have three players from Amsterdam on their roster -- including safety starter Cedric Febis -- and the NCAA has temporarily suspended them while looking into undisclosed eligibility issues. As I write they have yet to rule one way of the other, so the Broncos can't tell what they are going to have available. It's a distraction, but not a game-changing one.
Boise State at Toledo College Football Odds and Betting Trends
Not surprisingly, Boise State is the significant favorite here. They opened as 17.5-point favorites, and that has drifted to 19 already. Not surprisingly, more than three quarters of all bets have been placed on Boise State so far. That means that the line could easily keep climbing. The total has opened at 58.5.
Boise State has covered 10 of their last 14 college football point spreads since the beginning of last season. They went 'over' the total against Georgia, but that was the first time in seven games that they had gone 'over'. Toledo has covered both of their games this year, and are 4-0-1 ATS in their last five. They had gone 'over' three straight totals before last week -- and they only missed that total by 3.5 points.
Boise State at Toledo Predictions and College Football Picks
I watched most of the Ohio State game and came away impressed with Toledo. More significantly, though, I was really quite unimpressed with the Buckeyes. If Boise State and Ohio State played right now I think the Broncos would win handily. They are better at most key positions right now than the Buckeyes are.
Kellen Moore is a very elite college quarterback. His offensive line is solid. The defensive line is very good. The running game is strong. The secondary is solid. There really isn't a major weakness for the Broncos. That means that there isn't anything for the Rockets to focus on and take advantage of.
In order for the Rockets to win they would have to find holes and exploit them. They will struggle to do so, and with two weeks to get ready the Broncos will have plugged some of those holes that might have seemed to have been there before. Preparation, depth, talent, speed, quarterbacking -- all significant edges for the Broncos.
The crowd will be a factor here, but the Rockets don't have a massive traditional fan base, and the Broncos are used to being unloved by now, so that doesn't matter.
All in all, as much as I would like to give Toledo credit I just don't think they stand a chance here. The Broncos are the far better team, they are better prepared and healthier, and they are motivated to win as impressively as they can to stay relevant in the National Championship picture. They'll cover this spread. The total doesn't offer much value in my eyes, but I lean to the 'under'.