College Football Picks: Michigan at Michigan State Odds and Predictions
by Trevor Whenham - 10/10/2011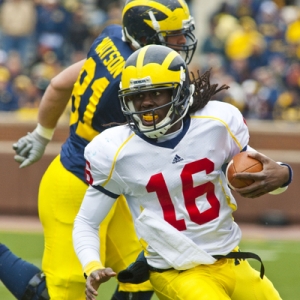 Michigan Wolverines at Michigan State Spartans
Saturday, Oct. 15, 12 p,m, ET
It's time for the annual battle for the Paul Bunyan Trophy. After six straight wins by the Wolverines in this series, the Spartans are riding a three-game winning streak. New Michigan Head Coach Brady Hoke faces a challenge here in overcoming history — the last five Michigan head coaches all lost the first game they played against Michigan State.
Last year's game was decided by a 34-17 score in Ann Arbor, though the game wasn't as close as the score would suggest. This year both teams come into the contest ranked, and either team can position themselves very strongly in the pursuit of the Legends Division title and a berth in the inaugural Big Ten Championship game with a win.
This game is a perfect example of football algebra. Michigan State's only loss was to Notre Dame — a one-sided beatdown in South Bend. Michigan beat Notre Dame. You could make an argument, then, that Michigan should be able to beat Michigan State. Like pretty much every time you try to make an argument like that, though, there are issues. Michigan State lost on the road, while Michigan won at home under the lights in one of the most intense environments ever seen in Ann Arbor, and they didn't exactly dominate for much of the game. Now Michigan State is at home as well.
Michigan at Michigan State Betting Storylines
Like every game Michigan will play between the start of last year and the end of next season the biggest story here is Denard Robinson. He's the most electric and dangerous offensive player in the country, and the biggest factor in the outcome of this game. The question is which Denard we will see.
You just need to look back at Michigan's game last weekend at Northwestern to see Robinson's "Jekyll and Hyde" persona. In the first half he was terrible. He could get no momentum going, Northwestern was effectively using a spy to limit his mobility, and every time he looked like he was making something happen he threw a pass right into the hands of the Northwestern secondary. It was ugly. At halftime, though, he must have channeled the spirit of Michigan alum Tom Brady, because he played the second half as well as a quarterback can. His passing was crisp, his running was effective, and he totally dominated Northwestern as he led four scoring drives. The defense fed off his confidence to pitch a second half shutout as well.
Robinson will have to contend with the best defense he has faced so far — Michigan State has the second best scoring defense in the country, and has been ferocious often times during the season. It would be a mistake to assume that the defense is unbeatable, though, because the stats have definitely been impacted by the Michigan State football schedule.
They have allowed low point totals against underwhelming teams — Youngstown State, Florida Atlantic, Central Michigan, and an Ohio State team with a world of offensive issues. The best offense they faced was Notre Dame, and despite some QB issues the Irish were able to score 24 points on offense. Michigan's offense is a step forward from what Notre Dame offered, so the Spartans are going to have to show that they can elevate their game to win this one.
Michigan's defense will be challenged here as well because Michigan State quarterback Kirk Cousins is probably the best traditional quarterback in the league. While he didn't put up a lot of points against the two best defenses he faced — Notre Dame and Ohio State — he did manage to average 290 yards per game through the air, so he is definitely dangerous.
The Michigan defense has shown a very strong ability to adapt and adjust at halftime — after an inconsistent first half against Northwestern they were very strong in the second half. If they aren't sharp from the outset, though, they could find themselves in a hole that the offense could struggle to climb out of.
Michigan at Michigan State Betting Odds and Trends
Michigan State is favored by three points — essentially just the home field advantage. Oddsmakers see this one as a close game. The betting public has a preference for the underdog at this price — the Wolverines have drawn about two-thirds of bets in early action. Despite that imbalance the line isn't showing any strong signs of significant movement.
Michigan has started the season at 5-1 ATS, but is just 2-6 ATS in their last eight games in October. Michigan State is 6-2 ATS in their last eight games against teams with a winning record. The road team is 6-2 ATS in the last eight meetings between these teams.
Michigan at Michigan State Predictions and College Football Picks
If Michigan is legitimate this year — and they have shown some signs that they are — then they need to win this game. I expect them to do just that.
Their offense is far more explosive and dangerous than any that Michigan State has seen, and the way that the Spartans struggled with Notre Dame gives me real reasons to doubt that their highly-ranked defense will continue to shine. I also question whether the Spartans' offense will be able to shine after struggling against the two best defenses they have faced.
Michigan's defense has shut down some strong offenses — Western Michigan, San Diego State and Northwestern in the second half. This is their game to lose, and I would bet that they won't lose it. Michigan will win outright to move to 7-0.
Doc's Sports has the bookies shaking in their boots as our expert football picks have helped $100 bettors earn nearly $4,500 on the season thus far. Doc has a big card coming this weekend and we look to extend our Top Play run for football (9-3 this season for Top Plays). Click Here for the best NFL and college football handicapping on the Net.