College Football Power Rankings: the Ferringo 15
by Robert Ferringo - 11/10/2011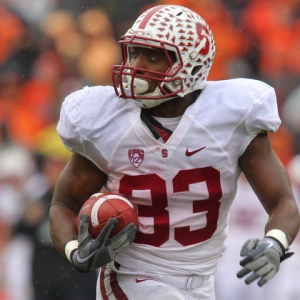 The Ferringo 15 college football power rankings is my own unique twist on the obsessive ranking systems that have dominated the sport for nearly a century. The Ferringo 15 is my Profit-Power Rankings; a rating of the 15 teams that I think hold the most value in college football betting at the moment and it is a reflection of past, present, and projected future achievement against the spread in college football betting.
So just because my No. 1 ranked team goes out an blows out an opponent that doesn't strengthen their hold on the top slot. If anything, blowouts hurt value because the general betting public will then start to overestimate a team's ability. However, teams that quietly go about their business grinding out wins and covering spreads will see their stock – and their spot in the Ferringo 15 -- steadily rise as the season progresses.
The Ferringo 15 has been exceptional over the past four years at pinpointing undervalued teams according to their college football odds. If you were to have bet every team in the Ferringo 15 the week that they appear in my college football power rankings then you would have hit over 58 percent of your wagers for a four-year period.
Here is my Week 11 Ferringo 15 college football power rankings. (As always, all records are ATS against the closing line):
1. Stanford (9-0) – What this team has done at the window this season – and dating back to last year that is now a 14-0-1 ATS run – is truly remarkable. And, again, it is a cardinal rule not to bet against the streak. So simply sit back, wait for it to end, and be patient enough to bet against this team next year and years to come after Andrew Luck is long gone.
2. Clemson (7-2) – The Tigers catch Wake Forest this week in a letdown spot after their emotional home clash with the Irish last week. This is also Clemson's last home game, so I imagine they will have that extra drive (they are also off a bye) to get past the number. The home team is 5-1 ATS in this series and the Tigers are 3-1-1 ATS at home against the Deacons.
3. Oklahoma State (7-2) –The value on this team is not completely gone. This team's offense is so good, and their defense is underrated when it comes to beating up middle-of-the-pack teams, that they are still playable. However, I am positive that if this week's game against Texas Tech had been played six weeks ago the line would have been closer to -6.5 or -7.0 as opposed to -17.0.
4. LSU (7-2) – If ever there were a letdown spot it's this week for the Tigers. Wisely, the Tigers scheduled Western Kentucky as the sacrificial letdown lamb this week. WKU is on a 6-0 ATS rush themselves. But with LSU's depth I don't expect much of a drop-off from the home Tigers in what will essentially be a homecoming for them. However, they are 0-3 ATS the last three times that they have laid out more than 40 points.
5. Kansas State (7-2) – The Wildcats remain in the underdog role this week for the seventh time in eight weeks. I can't recall a recent Top 25 team – and a team that was in the Top 10 – that has laid out points so few times. The home team is 6-2 ATS in the A&M series, and another trend to keep an eye on is that the 'over' is an amazing 40-17 in K-State's last 57 conference games.
6. Alabama (7-2) – If anything, their home loss to LSU may have actually increased Alabama's value at the betting window. This team knows that the only way it makes it to the BCS Championship Game for a rematch with LSU is to absolutely whitewash its remaining opponents. That starts this week with Miss State, who Alabama has beaten three straight years by an average of 24 points per game. The road team is 7-3 ATS in this series and the Tide are 18-6 ATS as a double-digit favorite.
7. Louisiana Tech (7-2) –This squad is in a tricky position this week. They play Ole Miss just a few days after the Rebels announce that Coach Houston Nutt is done after this year. Will Mississippi be motivated to lay a beating on the Bulldogs? Will they even be capable of doing it? Regardless, Tech is now the road favorite in this game after opening as a one-point underdog.
8. Arkansas State (8-1) –It's a monster game for ASU this weekend against Lafayette, as the winner takes over first place in the conference. In an odd scheduling quirk, this is the 11th straight week that this team has suited up without a bye. State has also lost three straight in this series and they are just 3-13 ATS against the Cajuns in the last 16 meetings. That makes it awful tough to lay points here. However, this is one of those games where the line is almost shockingly high. When that happens, there is usually a good reason for it.
9. Southern Miss (7-2) – At one point this week's game with Central Florida was being billed as the CUSA Game of the Year. Now it is just another obstacle for a scorching hot Southern Miss team. The Golden Eagles have won three straight in this series, with two of the wins coming by double-digits. With bottom-feeders Memphis and UAB on deck I think that the Eagles will be completely focused this week.
10. Wisconsin (6-2-1) –It is back on the road this week for a Wisconsin team that has lost its only two true road games this season. They are facing a Minnesota team that beat Iowa and pushed Michigan State to the limit in its last two games. But I believe that the Badgers should still be able to pick their own score this weekend. Remember: they are about 45 seconds away from being undefeated and in the national title discussion. The Badgers are 13-2-1 ATS in its last 16 games overall.
11. Vanderbilt(7-2) –The Commodores have lost to Georgia, Arkansas and Florida by a combined 13 points recently and they have covered four straight games. Before I go out and say that James Franklin has this program turned around I will just say that this team, like three years ago, has an incredible amount of experience. Vandy is just 5-13 ATS as a favorite and just 3-12 SU against Kentucky.
12. Rutgers (6-2-1) –The Scarlet Knights punched their ticket to a bowl berth last week with their win over South Florida. They are also technically still in the Big East title mix (they need Cincinnati to lose to WVU this week) and they have a big-time game with Cincinnati next week. I wonder where the motivation will be this week. Rutgers is 7-1 ATS in its last eight with Army but needed OT to score a win last year, and Army is coming off its own letdown spot after giving one away to Air Force.
13. Washington (6-3) – A wide open dropped touchdown pass last week kept Washington out of the backdoor in an ultra-emotional game against Oregon. I actually felt like they outplayed the Ducks for most of that game, but that dropped TD and two bad turnovers in their own side of the field sunk them. This week they have to get back up for a trip to USC, which buried Colorado and had an extra day of rest. The Huskies have gone 5-1 ATS in this series with back-to-back outright wins, and the public is all over them, forcing the line down a full two points this week (to 11.5 from 13.5).
14. Michigan (6-3) – This week's game in Champagne is a rematch of one of the craziest games of last season, a 67-65 Michigan win in triple-overtime. The Wolverines are fading, as I predicted they would, as their schedule stiffens. Michigan is just 3-13 ATS in its last 16 Big Ten road games and they have been a favorite in this series a stunning 25 straight times. Also, Michigan has stopped running Denard Robinson as much and the results are predictable: he has been intercepted more than any other Big Ten quarterback. As I have said, he is a poor man's Jacory Harris.

15.Houston (7-2) – The best thing about Case Keenum and Houston is that they just do not stop scoring. This is another team that has pipe dreams of a BCS berth and they understand that the only way to earn a ticket to a top bowl is to just dominate and bury opponents. However, this team doesn't have the CUSA West crown wrapped up and still has very tough games with SMU and at Tulsa before the league title game. They may not even end up winning their league, much less going to a post-Jan. 1 bowl.
Others Receiving Votes:Oklahoma (6-3), Western Kentucky (7-2), Georgia (6-3)
Robert Ferringo is a writer and a professional sports handicapper for Doc's Sports. He has banked $3,000 in football profit last since late September and is lining up another big college football weekend. He nailed hisNFL Game of the Month last week and will have a trio of 5-Unit Plays on the card this week. You can sign up for his college football and NFL picks and get more information here.
---
Most Recent College Football Power Rankings