College Football Predictions: Head-to-Head Props
by Trevor Whenham - 8/2/2011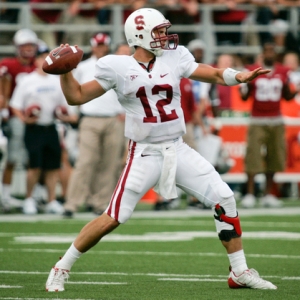 Some of the more interesting college football props or future bets that are available right now — and there are plenty to choose from at all the different sportsbooks — are the head-to-head matchups available at 5Dimes. The winner of each of the matchups will be the team that ends the season with the most points in the final USA Today poll of the season. It's a very interesting way to look at how different teams stack up, and there is some intriguing value to be found. There are about 20 different matchups available. Here are six of the most interesting:
Nebraska (-140) vs. Notre Dame (+100) - This one is interesting given that Notre Dame is such a public team. They have some potential to have a good season now that Brian Kelly is in his second year. To do so, though, they will have to find a quarterback they can stick with and trust (and who can stay healthy), and they need to figure out their situation at running back.
Nebraska is solidly favored here, but I'm not sure I am buying it. They are making a big step up in overall class in moving from the Big 12 to the Big Ten, and they get welcomed by having to play Ohio State and Wisconsin early on. It's going to be a far more punishing league than the Big 12 was, and that could have a big impact.
The Huskers could be fine, but it isn't the given that this price suggests. I hate the Irish on principle, but I am attracted to this price.
Oklahoma (-180) vs. Alabama (+140) - If asked I would tell you that Oklahoma is the best team in the country right now. How often, though, has the team that seems the best in August wound up being the best in January? Not as often as you might think.
Alabama is deep and tough — especially on defense. They have some questions at QB, but so does everyone else in the SEC, it seems. Oklahoma should be favored in this matchup, but I'm not convinced that they should be favored by this much. There is value in Alabama.
Virginia Tech (-155) vs. Stanford (+115) - I don't get this one at all. The Hokies have the advantage of playing a soft schedule in a very weak conference, but I still don't think they justify being heavily favored here. They are starting an unproven commodity at QB in Logan Thomas, and they have some work to do on defense and on special teams before they can be compared to a typical Virginia Tech power team.
Stanford is going through a coaching change and they lost some talent, but they have the best QB in the country taking snaps, and he is a true difference maker who will be out to prove that staying in school this year wasn't a mistake. I trust that he will be good. Saying the same about the Hokies requires a big leap of faith. I'll take the underdog all day here.
Arizona State (-130) vs. Michigan (-110) - I'm a big Michigan fan, so I am naturally drawn to them. In this case, though, I think it could be worth the risk.
The Sun Devils have been perennial underachievers under Dennis Erickson. They have a very questionable secondary, and that could be a big issue since the ball will be in the air a whole lot in the Pac-12 this year.
The 2011 Arizona State Sun Devils football schedule has some tricks in it — most notably consecutive trips to Utah and Oregon — and despite all of the promise they show they were just a 6-6 team the last time we saw them play.
Michigan is going through dramatic changes, but the new coaching staff is building serious momentum, they have a lot of returning starters on offense including one of the most electric players in the country in Denard Robinson, and the defense can't help but be dramatically better than last year thanks to new coaching and the return of some key players who were injured last year. They have a reasonably soft schedule as well. The Wolverines are worth a shot.
BYU (-210) vs. Auburn (+160) - It's not too often you will see a defending National Champion get so little respect. Call me contrary, but I'd look at Auburn at this price.
People are talking about a potential BCS run for BYU this year, but there are a lot of obstacles in the way. They open at Ole Miss, at Texas, then at home against Utah, so things could get ugly early on if they aren't ready. They also have a potentially tricky trip to Oregon State, and they have to play TCU in Dallas. There are a lot of ways this season could go south for this squad, and I have less confidence given that they have an overhauled coaching staff than I would if the staff was stable and long-term.
Auburn has lost a whole lot, but the SEC is underwhelming this year, they have an offensive system that produces points at will, and they have confidence on their side. If they can find a serviceable QB then they could win 10 games or more. BYU should be favored, but not by this much.
South Florida (-135) vs. North Carolina (-105) - This one seems like a gift. North Carolina wasn't going to be great this year in the best-case scenario, and having your coach fired late in July amid serious scandal is a long way from the best-case scenario. They have QB issues, and depth is a concern. They probably topped out at eight or nine wins before Davis was fired, so they will likely be lucky to make a bowl game this year — and not a great bowl, either.
South Florida is at worst the second-best team in the Big East, and given that Skip Holtz is entering his second year while West Virginia has had coaching turmoil they could be well positioned to win the conference. If they are strong contenders in the Big East they will outrank the Tar Heels — especially because North Carolina won't get the benefit of the doubt from voters after all the chaos.