Doc's Weekly Big Ten Betting Report
by Doc - 8/29/2011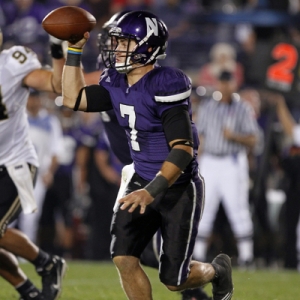 The Big Ten Conference has a new look this season with the addition of Nebraska, and it is now split into two divisions, the Leaders and the Legends. With this addition the conference now has 12 teams and it will be able to offer a Big Ten Championship Game in December with the winner of this game getting an automatic BCS bowl game appearance. I will be offering my insights on the conference with this weekly article throughout the 2011-12 season.
The Big Ten Conference has been my favorite conference since I started in this business in the early 1970s, as our main office is located in Wisconsin and most of our selections in college football will come from this conference. I have a vast network of contacts throughout the Midwest and every season I plan on hitting two of every three selections that Doc's Sports releases from the Big Ten. Over the next few paragraphs we will examine a few of the key topics that have developed as the season is now just days away.
New Coaches
The Big Ten will have four new coaches this season, and the big change came at Ohio State with the dismissal of Jim Tressel. Hewas certainly not dismissed for his on-field performance, but instead got caught up in a cover-up operation surrounding some of his key players. Now Coach Luke Fickell will take over and I look for him to carry on as usual with this Buckeye program. That being said, he was given just a two-year contract and a base salary of $700,000, so if he does not perform well, he may be out the door sooner rather than later.
Kevin Wilson began has first head coaching job at Indiana last winter, and the former offensive coordinator at Oklahoma will try and revive this program. Things appeared to be heading in the right direction under former Coach Terry Hoeppner, but his unfortunate death and the resulting new coach sent this program back in a tailspin. The talent is not there this year, but I look for this program to make strides in the next couple of years.
Brady Hoke takes over for Rich Rodriguez at Michigan as the university tries to go back to its traditional ways. Hoke is a former assistant at Michigan and does have head coaching experience at Ball State and San Diego State. One has to wonder if Michigan can come back after going into obscurity for three years under Rich Rodriguez.
Finally, Jerry Kill moves north from Northern Illinois to take on the challenge of head coach at Minnesota. I feel that Coach Kill will have the toughest task of all four new coaches since the Gophers have expectations of success, unlike Indiana. But he does have a nice outdoor stadium on campus to attract recruits.
Evaluating "Coach Speak" and Injuries
Many gamblers feel that coaches' comments during the week give you great insight about how the game will play out on Saturday. However, in my experience this is one of the most overrated factors in college football handicapping. When I first started in this business back in 1971, one of my top priorities was to know, or at least listen, to as many coaches and their assistants as possible. It only took a few years of pain to realize that this would very seldom help me in any way. They all think they can win, that is why they are in the coaching business. Coaches never want their opponents to sense fear, so even if things are not going well they will never state that on the record. So listening to coaches thoughts on an upcoming game has become a low priority in my research.
So now that we have discussed "coach speak, "we will evaluate it even further when it comes to injuries. In my opinion, injuries also are an overrated factor, as in most cases the oddsmakers have already adjusted the line to properly reflect the injury. I must admit that is not always the case when a quarterback is injured, as this still does get my attention. An example of this occurred last year when Northwestern QB Dan Persa went out with a leg injury. The Wildcats fell apart last year toward the end of the regular season and it appears he has not fully recovered this year. I was going to use Northwestern as a selection this week against Boston College, but I will likely pass now until I see him in action. I will be watching this game from start to finish on Saturday and this may be an opportunity for one of my second half releases. So what do I think is the most important factor in handicapping? I will go into detail with the answer next week.
This Week's Upset Special
Baylor +6 ½ over TCU (Friday 8 p.m. ESPN 3) – The Bears were beaten 45-10 last year at TCU, but I see a much-improved Baylor club in 2011. Coach Patterson returns only eight starters, and this is not a typical Horned Frog team. Their young players are talented, no doubt. However, the loss of QB Andy Dalton to the Cincinnati Bengals and his talented recovering corps will be too much for them to overcome. I will call the upset and getting points is too good to pass up.