2011 Milwaukee Brewers Predictions and MLB Futures Odds
by Robert Ferringo - 3/30/2011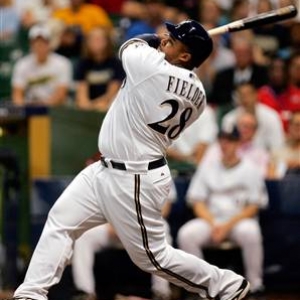 A-holes.
That is really the best way to describe what Milwaukee has played like over the past two seasons. This franchise had a renaissance in 2008 when it came out of "nowhere" (although they were my sleeper that year) to earn a Wild Card berth in the National League. But then the last two years they have been a walking disaster, blowing leads, booting balls, excessively whiffing against bad pitching, and basically just playing like a bunch of a-holes.
And I can say that because in each of the last two seasons by July I had given up betting on or against this club because there was just absolutely no way to predict which team was going to show up in any given city and no clue as to how focused or effective this team was going to be on any given day.
Claim your 100% Xbet
Signup Bonus
CLICK HERE
However, Milwaukee made some bold moves this offseason and very quietly has positioned itself as a contender in the N.L. Central. And now that both of their primary contenders, St. Louis and Cincinnati, have experienced some significant injury issues the Brewers may just enter the regular season as the unwitting favorite of the Majors' largest division.
The Brewers gutted their starting pitching and trimmed the fat off one of the league's worst bullpens. They cut the cord on overmatched Manager Ken Macha and brought in aggressive rookie Manager Ron Roenicke. Milwaukee jettisoned an athletic – but overrated – young shortstop (that cost them at least three wins last year) in favor of a veteran at the position. And on the whole it looks like this team is a bit more stable than it has been in recent seasons.
But we'll see. They may just really be a-holes.
Here are Doc's Sports 2011 Milwaukee Brewers Predictions and MLB Futures Odds:
2010 Record: 77-85
2011 Wins Over/Under: 84.5
Odds To Win 2011 NL Central: 2.5/1
Odds To Win 2011 NL Pennant: 15/1
2011 Milwaukee Brewers Odds to Win World Series: 30/1
Pitching: Zach Greinke is going to absolutely dominate the National League. Tim Lincecum is good, but Greinke could be better. This guy has some of the best stuff in the game and he has been toiling in obscurity out in Kansas City, the Siberia of the Majors. Now that Greinke has a potentially explosive offense to work with, along with the fact that he is facing substantially weaker lineups, he should threat 20 wins every year and will be a dominator in the soft N.L. Central. Greinke missed Spring Training with a rib injury and could take some time to settle in. But once he does he will anchor a staff that is phenomenally better than the mess the Brew Crew were trotting out last year. Former ace Yovani Gallardo is now the No. 3 starter, with former Toronto Blue Jay Shawn Marcum lining up at No. 2. Both of those pitchers are swing-and-miss guys that excel at staying down in the zone. And don't sleep on Randy Wolf. He could end up winning 14 or 15 games from the No. 4 slot and I think he still has something left in the tank. No. 5 starter? Not so much. In my opinion the biggest X-Factor for this team is the bullpen. Young John Axford set a franchise record for saves by a rookie (24) and he will reprise that role. Beyond that I think they are soft with their middle relief. But if the starters are healthy, effective, and logging big innings then that will have a cascade affect on the Brewers pen. Milwaukee logged the third-most innings from their relief last year and they were simply leaning way too much on a terrible bullpen.
Hitting: There aren't all that many lineups in baseball that can boast three all stars in the middle of it. Milwaukee can. Prince Fielder is one of the most feared bats in the league and he has the added motivation of playing through a contract year. He is bracketed by Ryan Braun, who is simply a machine, and one of the more underrated young hitters in the game in Casey McGehee. The third all star (with Fielder and Braun) is Corey Hart. That is an excellent core. But the ceiling for this team may be set by the health of Rickie Weeks (who is always banged up, but can mash when he's healthy) and the maturation of Carlos Gomez (who has had a great spring). But for as much talent as this team has they still scored one run or less 26 times last year and they were shut out 14 times – the same amount of shutouts that light-hitting Pittsburgh had. Conversely, they scored 11 runs or more 11 times – the same number as muscle-bound Texas in the American League. This groups needs to find more balance and consistency if they are going to take the next step.
Key Stat: Milwaukee's bullpen has slid from No. 8 to No. 18 to No. 26 in the Majors in ERA over the last three years. I think if they can finish in the top half of the league – without a number of blown saves beyond the MLB average – then this will be a very good team.

2011 Milwaukee Brewers Predictions: I think that the Brewers are going to win the National League Central. I think that the biggest issue with this club over the last two seasons has been its pitching. Both a pathetic and injury prone rotation and a broken down and stunningly feeble bullpen have cost them games over the past two years. But if the Brewers get 25-30 starts (and hopefully more) from Greinke, Marcum, Gallardo and Wolf then this team is going to be in business. The bullpen has nowhere to go but up – as long as Axford doesn't flame out – and I don't know why but I expect their offense to be a bit more consistent this year.
2011 Milwaukee Brewers MLB Season Win Totals Predictions: Take 'Over' 84.5. I think that this team has the potential to be significantly better than the 2008 version. Most of the primaries from that club are back, but a little older and a little more seasoned. Also, I think that their rotation has a chance to be as deep, with Greinke doing his best C.C. Sabathia impression. There are three keys. First, the bullpen can't be worse but can it be in the top half of the league? Second, will the front office make some moves to add veterans at key spots? And third, and most importantly, can this team find the nerve and the consistency that a top tier playoff contender requires. This is a little bit of a forgotten team. But I think they can do some serious work in the Central and if they hit their stride they could threaten 90 wins.
Robert Ferringo is a professional sports handicapper for Doc's Sports. He is considered one of the top MLB cappers in the country and has turned a profit in four of the last five years on the diamond with his baseball picks. He closed 2010 with $6,000 in earnings over the last four months and is looking forward to a great upcoming season against the MLB odds. Click here for more information on his MLB picks.