MLB Picks: Brewers at Red Sox Odds and Predictions
by Darin Zank - 6/17/2011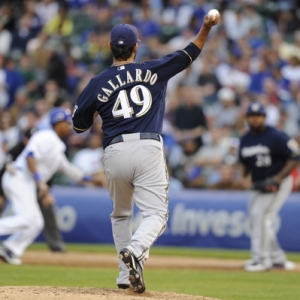 Interleague Play can make for some unusual matchups, and while not all of them pique our interest we get a good one this weekend when the NL Central Division-leading Milwaukee Brewers stop in Boston for three games with the AL East-leading Red Sox starting Friday night.
Milwaukee entered this season as a popular choice to win its division, thanks largely to an upgrade in its starting rotation. But the Brewers struggled a bit out of the gate, and sat at 13-19 in early May. Milwaukee then went on a 25-9 run, capped off by a sweep of the St. Louis Cardinals at home last weekend. However, the Brewers began their current one-week road trip by dropping three of four games in Chicago to the fifth-place Cubs; getting shut out Monday night, blowing a late lead Tuesday and giving up 12 runs Thursday.
So heading into the weekend the Brewers lead the NL Central by one game over second-place St. Louis.
Boston entered this season as the favorite to win the AL East, then lost its first six games. And the Sox sat at 17-20 in early May. But since then the Beantowners have gone 24-7, and just concluded an 8-1 road trip by taking two of three games from the Rays in Tampa.
So the Red Sox enter this weekend leading the AL East by a game and a half over the second-place New York Yankees.
Statistically Speaking
The Milwaukee offense, led by the big bopper combo of OF Ryan Braun and 1B Prince Fielder, ranks 14th in the majors in team on-base percentage at .322, fourth in team slugging at .421 and 11th in scoring at 4.4 runs per game.
Brewers pitching, meanwhile, ranks 12th in ERA at 3.70 and seventh in quality starts with 42.
Boston's offense leads the majors in on base percentage at .346, and ranks second in both slugging at .444 and scoring at 5.3 RPG.
Red Sox pitching ranks 17th in ERA at 3.98 and 23rd in quality starts with 23.
But while the Milwaukee bullpen owns an ERA of 3.46, Boston's bullpen ERA is 4.11, although that number has been going down.
American League import Shaun Marcum will start the opener of this series for the Brewers against struggling John Lackey for the Red Sox (7:10 p.m. EST). Then Saturday Randy Wolf takes the mound for Milwaukee vs. Jon Lester for Boston (1:10 p.m. EST). And Yovani Gallardo will go for the Brew Crew Sunday against old-timer Tim Wakefield for the Sox (1:35 p.m. EST, TBS).
The Brewers are 9-6 when Gallardo starts this year, 8-6 for Marcum and 7-7 for Wolf. But while the "over/unders" are a combined 10-18 when Marcum and Wolf start, they're 9-6 when Gallardo goes.
Boston is 9-5 when Lester starts this year, and 4-3 for Wakefield, but 4-5 for Lackey. Also, while the totals are a combined 8-6 when Lackey and Wakefield start, they're 8-3 when Lester pitches, mainly because the Sox have given Lester the best run support among any starter in baseball so far this season.
Friday's Pitching Matchup
Milwaukee's acquisition of former Cy Younger Zack Greinke from Kansas City made big news during the off-season, but Marcum has been the much better pitcher for the Brewers so far this year. The former Toronto Blue Jay is 10-for-14 on quality starts this year, owns a 2.68 ERA, a 1.01 WHIP (walks + hits/innings pitched) and an 83/23 strikeout-to-walk ratio. For good or bad Marcum and the Sox are very familiar with each other; he started five games vs. Boston last year with Toronto, allowing 18 earned runs on 26 hits in 30 1/3 innings of work.
Lackey has been a minor disaster this year, even though he's won his last two outings by giving up seven ERs in 11 2/3 innings. On the season, though, his ERA sits at 7.41 and his WHIP at 1.65, with a 29/22 K/BB ratio. Lackey has never pitched against Milwaukee.
Saturday's Pitching Matchup
Wolf is nine-for-14 in quality starts this year, and owns a 3.20 ERA. Over his last five starts the lefthander has allowed seven ERs on 22 hits in 33 IP. He has no recent history pitching vs. Boston.
Fellow lefty Lester, despite his 9-2 record, is only seven-for-14 in quality starts this season. Still, he owns an 87/33 K/BB ratio and a 1.28 WHIP. He also has never pitched vs. the Brewers.
Sunday's Pitching Matchup
Gallardo has run hot-and-cold so far this year, with nine quality starts and six rather lousy outings. Most recently Gallardo held the Cubs to one run on three hits with 10 strikeouts in seven innings Tuesday night vs. the Cubs, but the bullpen blew the game late. He has never pitched against the Red Sox.
Wakefield, in doing duty from both the bullpen and the rotation this year, owns a 4.39 ERA, but a 1.23 WHIP. His last start was a good one vs. Tampa, but that followed back-to-back bad ones vs. the White Sox and Yankees. Wakefield has no recent history pitching against Milwaukee.
The History
These two teams used to be American League East rivals, until the Brewers moved to the AL Central in the 1990s. Milwaukee then moved on to the National League in 1997. So these two teams have met just twice since then, most recently three seasons ago when Boston swept three games from the Brewers at Fenway.
Brewers at Red Sox Betting Odds and Trends
As of Friday morning WagerWeb is listing Boston as a -185 favorite to win this series, with Milwaukee getting +155 as the underdog.
Milwaukee is 14-22 on the road this season.
Boston is 19-13 at home this season.
The totals are 33-33 in Brewers games this season.
The totals are 32-29 in Red Sox games this season.
The totals are 18-10 (excluding pushes) in games played at Fenway Park this season, which are averaging a healthy 10.2 RPG.
The AL has won the interleague season series with the NL seven years in a row.
MLB Picks: Brewers at Red Sox Predictions

The Brewers have had a tough time on the road this year,, but they've got a pretty good team, and we expect them to improve that road record as the season progresses. And they miss Beckett in the Boston rotation this weekend. So in looking for a price we'll take Milwaukee to win this series. And we like the "over" in Friday night's game.
Jason Sharpe has the bookies shaking in their boots. His mastery of the MLB Odds has been evidenced this season as his Baseball Picks have helped his clients rake in $4,000 already this season. His baseball handicapping will continue to rack up profits all season long and one-day package is only $30. Click Here to buy picks.