MLB Picks: Red Sox at Orioles Odds and Predictions
by Alan Matthews - 7/18/2011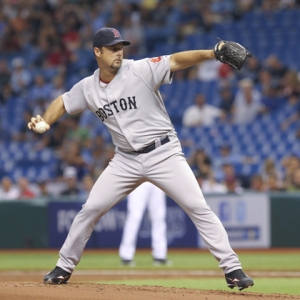 First-place team against last-place team. Said division leader with a +113 run differential. Cellar dweller with a -98 run differential, second-worst in baseball. Pitcher with a 5-3 record against one with a 1-6 record. This seems like a no-brainer MLB pick tonight when Boston visits Baltimore, right? Yeah, not so fast.
Red Sox at Orioles: How They Enter
The Red Sox enter having won the final two games of their series at Tampa Bay. But I'm going to say flat out that it was Sunday's win why I think the Sox are ripe for the picking against Baltimore tonight. Boston starter Josh Beckett and five relievers held the Rays to just three hits in a 1-0, 16-inning victory. Amazingly, Rays pitchers allowed only five total hits. It was the first time that neither pitching staff allowed no more than five hits in at least 16 innings of one game in the divisional era (since 1969). Only four teams have done it since 1920. The Red Sox have won eight of nine and are 12-2 since June 30.
It was the longest 1-0 game in the major leagues since the Brewers at Angels on June 8, 2004, went 17 innings. The longest 1-0 game ever was 24 innings between the Mets and Astros in 1968. The two teams played nearly six hours on Sunday night – and then Boston had to travel to Baltimore.
The Birds, meanwhile, opened the second half with back-to-back home losses to the Cleveland Indians, but then rallied to split the four-game series with wins over the weekend. Baltimore lost nine straight and had not put together successive victories since June 19-20 before beating the Indians twice. On Sunday, Baltimore won after trailing by three runs for the first time since May 26. And here's an odd stat: Robert Andino hit a three-run homer yesterday to give the team the lead and then had an RBI-squeeze bunt in the seventh inning in the 8-3 win over Cleveland. Andino was the first player to drive in runs for the Orioles with both a homer and a bunt in one game since Frank Robinson did that in a 14-inning win at Fenway Park on June 25, 1970.
Red Sox at Orioles Betting Storylines
There are two big injury news items for these teams. Baltimore over the weekend placed DH Vladimir Guerrero on the 15-day disabled list with a broken bone in his right hand. Guerrero has not played since being struck in the hand by a pitch from Boston's Kyle Weiland on July 10. He's batting .279 with seven homers and 31 RBI.
It's good injury news for Boston. The team will activate outfielder Carl Crawford from the disabled list today and he's scheduled to be in the lineup against the Orioles. Crawford completed a two-game rehab stint at Triple-A Pawtucket over the weekend, where he went 1-for-5 in a total of 10 innings played on Friday and Saturday. He's been on the DL with a left hamstring strain since June 18. Crawford has been a big disappointment this season, hitting.243 with 11 doubles, four triples, six homers and 31 RBI in 67 games. But he did seem like he had found his rhythm before the injury.
Also, expect Red Sox DH David Ortiz to sit out tonight. He appealed his four-game suspension for that brawl against the Orioles and pitcher Kevin Gregg on July 8. But Ortiz is expected to hear the review of his appeal before tonight's game. He still would have to sit out at least a few games, and it's not expected to be reduced at all. Boston hit .343 and outscored Baltimore 32-13 in a four-game sweep July 7-10 when these teams last met.
Red Sox 2B Dustin Pedroia looks to extend his hitting streak to 16 games tonight, which would tie a career high. He's also reached base in 27 consecutive games dating to June 15, the longest current stretch in the majors.
Red Sox at Orioles Probable Pitchers
Boston goes with knuckleballer Tim Wakefield (5-3, 4.74), who looks for his 199th career victory. Wakefield makes his first start against the Orioles this season after tossing one inning of scoreless relief in a 5-4 loss at Camden Yards on April 27. He is seven strikeouts shy of 2,000 with Boston. In another weird stat, Wakefield leads all active pitchers in victories. Not since Tommy Bond led with 195 career wins in 1879 has the majors' top active winner had less than 200 wins.
The Orioles go with Brad Bergesen (1-6, 5.65). He has made his last seven appearances out of the bullpen following a three-week demotion to Triple-A Norfolk. Bergesen held Boston to two runs in six innings April 28, but the Orioles lost 6-2. The Orioles will be seeking a third straight win for the first time since a four-game streak through June 10.
MLB Picks: Red Sox at Orioles Odds and Predictions
Baltimore is at +114 with the 'over/under' at 10 runs. Boston is 14-3 in its past 17 vs. a team with a losing record. The Orioles are 0-6 in Bergesen's home starts. The 'over' has hit in six of Wakefield's past eight road starts. It is 5-0 in Baltimore's past five at home.
I like the Orioles here because I simply think the Red Sox are going to be totally on empty after the late night in Florida – plus, obviously, their bullpen is shattered. It also helps that Wakefield can pitch all night if need be, but I think he hangs a few of those knucklers. Still, with Ortiz likely out, I lean toward the 'under' because those Red Sox bats will be a bit slow.
Jason Sharpe has the bookies shaking in their boots. His mastery of the MLB Odds has been evidenced this season as his Baseball Picks have helped his clients rake in more than $5,000 already this season with three straight winning months. His baseball handicapping will continue to rack up profits all season long and one-day package is only $30. Click Here to buy picks.