NBA Picks: Thunder at Grizzlies Game 6 Odds and Predictions
by Alan Matthews - 5/13/2011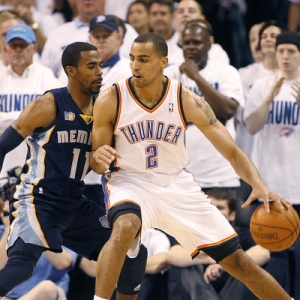 While the NBA might tout parity in its league (actually does it?), it's pretty obvious that major market teams make things go. And I guess I am guilty of this as well as this will be my first preview of the Oklahoma City-Memphis series since it started. It features two of the smallest TV markets in the league, but, outside of Game 5, has been probably the most entertaining conference semifinal so far. The Thunder can end Memphis' Cinderella run on Friday night.
Thunder at Grizzlies Betting Story Lines
You just knew that Monday's epic three-overtime game was going to take a lot out of both teams for Game 5 on Wednesday night – but obviously it took way more out of Memphis. The home team always has the huge advantage following a draining game like that and the Thunder took advantage in Game 5, winning 99-72 in the series' lone true blowout so far.
Practically every key player was on the court for 50-plus minutes in Game 4 and it very much showed on Wednesday. Check out these stats: Kevin Durant played 57 minutes in Game 4 but managed just 19 points in Game 5; Russell Westbrook put up 40 points in 51 minutes on Monday but had just 11 on Wednesday; Memphis' Zach Randolph had 34 points and 16 rebounds in 56 minutes on Monday and had nine points and seven rebounds in Game 5; and Marc Gasol, after 26 points and 21 rebounds in Game 4, had a quiet 15 points and five rebounds in Game 5 (he was the only Memphis player to score in double figures).
The Grizzlies shot a season-worst 36 percent and matched their lowest point total from the regular season. The Thunder became the first team since 1993 to win a triple-overtime playoff game and then win the next game as well. You really had to see all that coming, and it could well still be a "hangover" in this game, although most starters were out of Game 5 early (Durant and Westbrook, for example, didn't play in the fourth quarter).
What is emerging as a trend is that the Thunder defense seems to be exposing the Memphis offense. For example, the Grizz shot just 35.9 percent in Game 5. It was the third straight game in the series in which Memphis shot less than 40 percent. Memphis didn't shoot less than 40 percent in back-to-back games at any point during the regular season. Think Rudy Gay might help right now? The Grizzlies really don't have a true outside threat -- guards Mike Conley, Tony Allen and O.J. Mayo shot a combined 10 of 38 from the field, including 2-of-7 on three-pointers in Game 5. Plus without Gay (out since February so not exactly breaking news) their bench is that much weaker. For example, thanks largely to James Harden and Nick Collison, the Thunder's bench outscored Memphis' 53-27 in Game 5. If Randolph and Gasol don't dominate inside, this team won't win.
Thunder at Grizzlies Betting Odds and Key Trends
Memphis has opened as a two-point favorite with the total at 195.5, according to NBA odds.
OKC has covered in five of its past seven road games.
Memphis is 8-0-1 ATS in its last nine games following a loss of more than 10 points.
The 'over' is 6-2 in Memphis' past eight games. It is 7-2 in OKC's past nine vs. teams with a winning record.
The 'over' is 8-2 in the past 10 meetings.
The home team has covered seven of the past 10 meetings.
NBA Picks: Thunder at Grizzlies Predictions
Well, the Grizzlies have lost just once at home in five games this postseason and that was the epic triple-overtime game earlier this week – although if you watched the game Memphis was a tad lucky to extend the game into both overtimes thanks to some circus shots (mainly by Greivis Vasquez). However, the Grizz also won both regular-season games at home vs. the Thunder, with both teams reaching triple digits in each. In fact, Game 5 was the first time this season against each other that neither the Thunder nor Grizzlies reached triple figure points.
But it's the biggest game in franchise history and thus Memphis covers (also take the 'over') and forces a Game 7, with the Dallas Mavericks forced to wait yet a few more days for their West Finals opponent.
Allen Eastman has been dominating the NBA odds lately and his NBA picks have tallied a 15-9run for the NBA Playoffs. His NBA handicapping is considered amongst the top in the nation and he has another strong pick coming for Friday. Click Here to buy a one-day package for only $29.