Nebraska at Wisconsin Predictions and College Football Betting Odds
by Trevor Whenham - 9/27/2011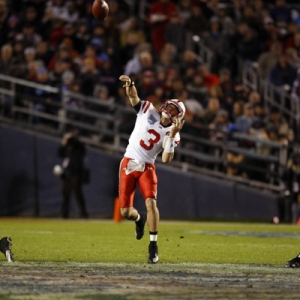 Nebraska Cornhuskers at Wisconsin Badgers
Saturday, Oct. 1, 8 p.m. ET
When was the last time that the Big Ten had a major game with national implications and attention that didn't involve Michigan or Ohio State? It happens occasionally, but it's certainly the exception. That's what we have here, though, when No. 8 Nebraska travels to Madison to face No. 7 Wisconsin in the first meeting between the historic programs since 1974. Of course, it's also the first time that Nebraska has ever played a Big Ten contest, and that's another thing that is tough to wrap your mind around.
I'm going to come right out and say it — I think both of these teams are overrated. Or rather I have seen no reason to believe that these teams are this good at this point. I don't doubt that both could be good, but they both have some issues, and they have both played laughably bad nonconference schedules that have proven absolutely nothing.
By the time this game ends before midnight on Saturday I strongly suspect that one of these teams is going to be exposed as a bit of a fraud. The problem is that though I think the Huskers are more vulnerable, I don't trust either team entirely here.
Nebraska at Wisconsin Betting Storylines
As I said before, these two teams have made a mockery of nonconference scheduling this year. They have each played a Pac-12 opponent, but Washington and Oregon State are far from the elite of the conference. Beyond that they each played three cupcakes, and the only road game either team played was Nebraska's trip to Wyoming last week -- hardly an opponent to worry about no matter where you play them.
While the easy games have allowed both teams to gain confidence and get prepared for conference play, it also means that they certainly haven't been tested. Easy games can create bad habits, and it can lead to performances and statistics that just aren't sustainable or truly indicative of what a team is capable of.
The best example of why I don't trust these teams and these stats is Wisconsin QB Russell Wilson. The former NC State star has been spectacular in early action and is getting a lot of national hype as a result. Just look at his numbers, though -- 76 percent completions, 12.48 yards per attempt, and 11 touchdowns to one interception. Impressive, but do you believe for a second that those are sustainable against real competition?
If he could maintain that pace then they would rename the Heisman after him. That obviously won't happen, so the big challenge is determining how much of a downward adjustment he is going to face and what impact that will have on the team.
What we have seen so far is so misleading as to be irrelevant. I like and respect Wilson, but it would be far too easy to give him too much credit here.
Nebraska has obvious QB questions as well. Taylor Martinez is talented, but he is volatile and inconsistent. He has been just mediocre so far this year, and he hasn't gotten any better at getting along with his coach.
Ideally a soft schedule like this would have let him show how far he has come along. Instead, he completed just over half of his passes. Is he ready to take the step up to Big Ten play? Your guess is as good as mine.
One bit of good news for Nebraska is that DT Jared Crick is expected back after missing last game with a suspected concussion. He was a second team All-American last year, and will be a key element in keeping Russell Wilson off balance.
Nebraska at Wisconsin College Football Odds and Trends
The game opened with Wisconsin favored by 9.5, according to college football odds. The Badgers have drawn a slight majority of the action, yet the line has dropped to nine in many places. That's a sign that the smart money has a slight preference for the Huskers.
The total opened at 57 and has fallen slightly to 56 in very early action.
Wisconsin is an impressive 10-0-1 ATS in their last 11 games, and 7-0-1 ATS in their last eight home games. Nebraska is 6-2 ATS in their last eight on the road.
Nebraska at Wisconsin Predictions and College Football Picks
I am, as you can probably tell, torn on this one. Both teams have issues. Though I think this spread is big I have more faith in the Badgers in a lot of ways than I do the Huskers. They have the better quarterback, they are tougher, they are deeper, and they are going to have a huge boost from playing at home.
I would be happier if the line were smaller, and I don't have a lot of confidence at this price. However, if forced to choose I would lean towards the Badgers.
Nebraska does not appear to be the team that they were advertised to be heading into the season, and this game will show that the Legends Division of the Big Ten is wide open and not the Nebraska coronation that many assumed it to be.
Doc's Sports is killing the bookies with our expert football picks. We have picked up +50 units thus far on the young season with our NFL and college football handicapping and $100 bettors have earned more than $4,500 already this season. We have a big card for this weekend that features our 7-Unit College Football Game of the Year. Click Here for more info.