Notre Dame at Michigan Predictions with Betting Odds and College Football Picks
by Trevor Whenham - 9/5/2011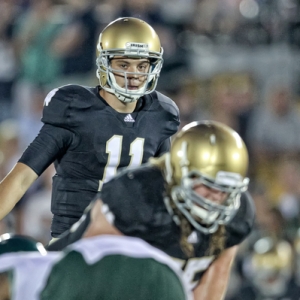 There have been a whole lot of games played in the Big House over the years, but this Notre Dame vs. Michigan one will be the first one that has been played at night. That will create some extra buzz around a rivalry that certainly doesn't need anything to fuel it up.
These two programs really don't like each other, and for very different reasons the stakes couldn't be higher for either team.
Notre Dame came into this season tabbed as a BCS team,, but after a humiliating home loss to South Florida they can't afford even the smallest misstep the rest of the way.
Michigan got off to a promising start in the Brady Hoke era -- they showed some reassuring glimpses of competence on defense for the first time in three years -- but they still have a long way to go, and they could definitely use a statement win early on to really get things rolling in the right direction.
A loss would be a big blow to either program. Those kinds of stakes are the key to great football games.
Notre Dame at Michigan Betting Storylines
The biggest focus in this game has to be on the quarterbacks for Notre Dame. The Irish outgained South Florida by a wide margin and should have been able to beat them, but the quarterback play was so sloppy and riddled with problems that they couldn't get it done.
Dayne Crist was named the starter after fall practice, but he was so bad in the first half that he was pulled at the break. Tommy Rees took over at that time. Though he looked better than Crist, he still threw two costly interceptions and didn't look like the kind of guy who can lead a program to the BCS.
Coach Brian Kelly obviously wasn't happy about it -- he lost his mind during the game and swore at his quarterbacks in a tirade that was shockingly harsh. The response to that situation just adds to the pressure and scrutiny that Kelly is in this year. He knows that that scrutiny and pressure will only intensify with a loss here, but a loss is what he will get if the QB situation doesn't improve. The amount of faith you have in the Irish has to be directly related to your faith in their QB play.
For Michigan the theme has to be continued improvement. Western Michigan got the ball first in the opening game and put together an impressive, efficient drive of eight minutes that resulted in a touchdown. It was the worst nightmare for Michigan fans -- a flashback to the defensive horrors of the past two years under defensive coordinator Greg Robinson.
That was the only TD Western Michigan scored, however, in the lightning-shortened game. A team that had been unable to adjust defensively for so long changed schemes, blitzed viciously, and found ways to be much more effective. They were still a long way from good, but the in-game improvement was a big step.
They'll have to be much better this week again to beat Notre Dame. Your faith in Michigan comes down to your belief in their ability to improve defensively. They need to continue to improve on offense as well given the strong defensive line they will be lining up against, but the degree to which the unit was able to adapt to a new offense already was impressive.
Notre Dame at Michigan Betting Odds and Trends
This will be an interesting game for those who like home underdogs -- Notre Dame opens as 4.5-point favorites. The total hasn't been posted yet as I write this. The Wolverines have won and covered the last two times the teams have met, though that means little now since this is just the second meeting for Kelly and the first for Hoke.
Notre Dame has been a road favorite three times in the last two seasons, and is just 1-2 ATS in that time, including an outright loss at Michigan two years ago. In a sign of the struggles of the Rich Rodriguez era Michigan failed to win or cover the last four times they were home underdogs.
Notre Dame at Michigan Predictions and College Football Picks
Watching Brian Kelly freak out at his quarterbacks like he did was unsettling. Coaches obviously often feel frustrated, but that much anger was uncharacteristic of Kelly, and is surely a sign that all is not well in Irish-land.
Now Notre Dame will be taking their fragile squad into an incredibly hostile building that will have a whole day to get prepared for the game -- drunk, in other words. They'll be facing a team that believes in what their new coach is selling and which will want to make a big statement.
You also can't ignore that the Irish aren't going to be thrilled about their QB situation, whatever it is, while the Wolverines have one of the most dynamic, thrilling quarterbacks in the country in Denard Robinson -- a guy who shredded Notre Dame with 244 passing yards and 258 yards rushing last year.
Home underdogs are always worth a look, and when the home underdog has a big edge at quarterback, momentum on their side, a massive home field advantage, and past success against the opponent, it's hard to ignore them. Michigan will win this one outright.
Doc's Sports football picks got off to a great start for Week 1 of college football (4-1, $100 bettors up nearly $1,400) and this college football handicapper is licking his chops for the Week 2 lines this weekend. Doc will have a full card of college and NFL picks and he expects another huge weekend. Click Here for more information.