Doc's Sports 2011 Ohio State Buckeyes Football Betting Preview
by Doc - 8/23/2011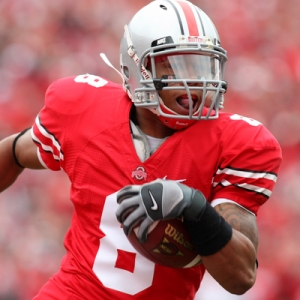 Predicted Overall Record 7-5 (4-4 in Big Ten)
Click this link for the 2011 Ohio State Buckeyes football schedule.
This year's Ohio State team may be the most difficult team in the Big Ten to handicap. Some of their talent is suspended for the first five games of the season because of the big scandal involving NCAA infractions, and that does not include QB Terrelle Pryor, who left school for the NFL. The biggest fallout from this scandal, however, is that Coach Jim Tressel was forced to resign since he withheld information about his players instead of reporting it to authorities. Ohio State recently had their hearing in front of the NCAA and they may add additional penalties in a couple of months.
Through all this doom-and-gloom one must still remember that this Buckeyes team still has a lot of talent and I believe that one has to keep a close eye of them early.
Strengths: Pride is one factor that Ohio State has always had. I expect the eligible players to rally around their new coach and make sure that this year is not a drop-off for the Buckeyes. The schedule also favors them with four of the first five games at the Horseshoe. They only nonconference road games do not look as daunting now since Miami appears to have more issues than Ohio State does. If this young team steps up, they will challenge for a Big Ten Championship.
Weakness: With the departure of Pryor to the Oakland Raiders, the quarterback position will really be tested, since teams will load up on stopping the run. To make matters worse, the receivers are young and very inexperienced. WR DeVier Posey returns, but he must sit out the first five games of the season. Ohio State also has difficult road games at Nebraska, Illinois, and Michigan.
Favorable Win Against the Spread: Oct. 29 vs. Wisconsin. As this looks to be a low-lined affair, I would have to lean toward the Buckeyes in this encounter. Ohio State will be coming off a bye week and by this point in the season all of their suspended players will have returned. Wisconsin plays at Michigan State the week before and having to go to Columbus the following week will be too much for them to overcome.
Favorable Loss Against the Spread: Oct 15 at Illinois. The Buckeyes should be a small favorite here. I know I am going against the trend here, as the visitor has been the play in this matchup by winning 14 of the last 19 meetings since 1990. Ohio State will be coming off a road game with Nebraska, and this is a big game for Illinois and their 2011 season. The Illini have the talent to pull the upset and it would not surprise me if it happens.
Closing Thought: This team could be a moneymaker this season for anyone that can get a real feel for what is happening inside the ropes. The first test for them will be on Sept. 17 when they travel to Miami. As I already mentioned, Miami has major issues of their own and may be shorthanded for this game. I look to be going with or against Ohio State often this coming year. However, as of this writing, I am not sure which way I will be going.
Doc's Sports is set to embark on their 40th year in the sports handicapping business this football season. Yes, Doc started the company back in 1971 and still spends his weekends in front of the TV watching numerous games throughout the day. We are again expecting a monster season in college football anchored by our weekly selections from the Big Ten Conference. Our main office is located right in the heart of Big Ten Country and each year we fully expect to hit 2 out of every 3 college football picks we release from this conference. Jump on board now with a full season football picks package from Doc's Sports!