2011 Penn State Nittany Lions Predictions and College Football Futures Odds
by Trevor Whenham - 7/13/2011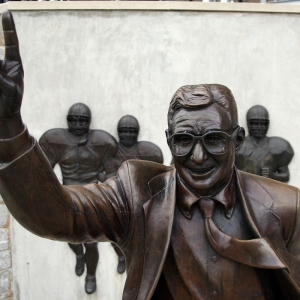 It was a very frustrating year for the Penn State Nittany Lions last year. They started the season ranked 14th in the country, and expectations were high. By the end of the year, however, they were just 7-6, including an ugly bowl loss to Florida. Along the way there was drama surrounding their coaching staff, a total mess at the quarterback spot, and all sorts of other issues that got in the way of progress and success.
The goal is clear for this team — they need to get their act in order so that they can put their best product on the field. If they do that then they will be competitive. If they still look more like a circus than a football team, though, then it could be another long year in Happy Valley.
Coach
The head coach is at least theoretically still Joe Paterno, but it is very hard to tell from the outside how much day-to-day impact he still has. Rumors of his retirement were rampant last year after some health issues and the disappointing season, but he brushed those off quickly. Ultimately, the guy is an institution, and you have to respect that and what comes with it.
The most important thing that happened for Penn State on the coaching front in the offseason, though, was that they managed to hold on to Tom Bradley. He has been the defensive coordinator at Penn State for 30 years, and has been a huge part of Paterno's success. He is a strong defensive mind and a brilliant recruiter that has been in demand for years at other schools, and this year he was a serious contender for head coaching jobs at several schools.
Offense
It's all about the QB situation here, and there is so much uncertainty that it is hard to know what to expect. Last year Paterno started his first-ever true freshman in Rob Bolden. He was mediocre until he was injured. Matt McGloin took over and was initially very good, but then he threw five interceptions in the bowl game to damage his cause. Bolden was healthy for the bowl game, but never played. He was obviously frustrated, and asked to be released from his scholarship. He has seemingly eased on that position now since he is in summer school at Penn State.
Both guys had their moments of success, and their horrible plays. It doesn't really matter which one takes over this year, but it is absolutely crucial that one emerges from the summer as a clear and obvious starter. If they don't have that then nothing else they have offensively — including seven returning starters and a strong offensive line — will matter.
Beyond the QB situation they will have to find a way to replace the production of Evan Royster at running back.
Defense
The offense might be an area of uncertainty, but there is a good chance that the defense will be more than solid — like is usually the case at Penn State. Bradley is still in charge, and he has a very deep and experienced roster to work with. I could go on, but it all boils down to this — this is a good defense that will be the strength of this team and can be relied upon. There is uncertainty surrounding the team, but that is not because of the defense.
2011 Penn State Nittany Lions Football Schedule
One bad early loss can have a big impact on a season — and not the good kind of impact. There is a potentially ugly early loss looming when they play Alabama in Week 2. They need to find a way to get ready for that game in a real hurry. The season also ends on a brutal note, with road trips to Ohio State and Wisconsin to finish things off. Beyond those three very rough games, the schedule is reasonably soft. Iowa and Nebraska are the two toughest opponents by far, and they get both of them at home. It could be worse.
2011 Penn State Nittany Lions College Football Futures Odds
Bodog has Penn State installed at 30/1 to win the BCS Championship. That seems extremely optimistic to my eyes. 5Dimes has them at +550 to win the Big Ten, and as the third choice to win the Leaders division at +230.
2011 Penn State Nittany Lions Predictions
This team is going to be decent, but I struggle to imagine them being much more than that. There are seven games on their schedule that they should win without a lot of trouble if things go reasonably well this year. Of the remaining five, though, I don't see them as a favorite in any. I expect them to come out with a win or two from that group, but nine wins seems like the ceiling here, and even that is optimistic. This will be a team that will be easy to forget about this year, and not one I would bet on in the futures markets.
Doc's Sports is set to embark on our 40th year of handicapping college football. Doc is coming off a profitable season with his college football picks, including winning his Big Ten and College Football Games of the Year. Doc spends the hours during the week studying the college football odds and releases 6-8 college football plays per week including top plays (6-8 unit selections). Doc is ready to start the first week of September and our Magnificent 7 Packages gives you every college football selection that we make through the BCS Championship Game in January of 2012. Jump on board now with one of the best college football handicappers in the business.