Super Bowl Props Predictions: First Touchdown Betting
by Darin Zank - 1/28/2011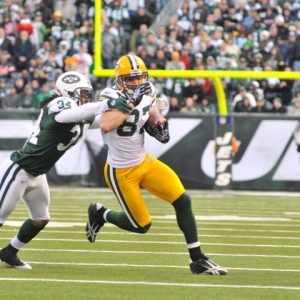 One of the most popular Super Bowl prop bets every year is the "first player to score a TD" offering, and for good reason. Bettors get to choose from 12-20 players or so as to who will get in the end zone first, and the prices on many of those players can be tempting.
This is a Super Bowl prop bet that NFL handicappers might want to do a little shopping on. Generally the boards are going to look similar, with running backs and wide receivers topping the betting, but there will be variations, and possibly something to take advantage of. For example, Pittsburgh WR Hines Ward is listed at +800 to score the first Super Bowl TD at BetUS, but he's getting +1,000 at Bookmaker and 12/1 at Bodog.
Similarly, Steelers TE Heath Miller is getting +800 at BetUS, +1,000 at Bookmaker and 12/1 at Bodog; Green Bay QB Aaron Rodgers, who scored the first TD vs. Chicago in the NFC Championship Game last Sunday on a called bootleg, is getting +600 at Bookmaker, +900 at BetUS and 14/1 at Bodog. Packers RB Brandon Jackson is getting +1,500 at Bookmaker, 18/1 at Bodog and +2,500 at BetUS, and his backfield mate John Kuhn is being offered at +1,000 at Bookmaker, 12/1 at Bodog and +1,500 at BetUs.
The favorite on most Super Bowl XLV "first to score TD" prop boards is Pittsburgh RB Rashard Mendenhall, who scored the first touchdown in the Steelers win in the AFC Championship Game last Sunday vs. the Jets. Mendenhall is getting +300 at Bookmaker, +500 at BetUS and 5/1 at Bodog to do the same thing in the Super Bowl.
Mendenhall tied for second in the league this season with 13 rushing touchdowns.
Green Bay WR Greg Jennings is the second choice on most of these boards, getting +500 at Bookmaker, +550 at BetUs and 13/2 at Bodog. Jennings tied for second this season in the NFL with 12 TD receptions.
Pittsburgh WR Mike Wallace, who caught 10 TD passes this season, comes next, getting 15/2 at Bodog.
Packers rookie RB James Starks is listed at 17/2 at Bodog; Steelers QB Ben Roethlisberger, who scored last week vs. the Jets and tallied the first TD (or did he?) in Super Bowl XL six years ago vs. Seattle, is getting 16/1 at Bodog; and the possibility of a touchdown-less Super Bowl is being offered at +6,000 at BetUS.
With some additional sniffing, we'd bet that even better prices could be found on all these players.
Over the last 10 Super Bowls the first touchdown has been scored by a wide receiver three times (four if you include Chicago's Devin Hester, who ran back the opening kickoff for a score five years vs. the Colts); a running back three times; and once each by a tight end, a quarterback and a defensive back.
Last year Indy's Pierre Garcon hauled in a 19-yard pass from Peyton Manning late in the first quarter against the Saints to score the first TD of Super Bowl 44, and paid off at odds of right around 8/1 on various "first to score" betting boards.
Over the 44 Super Bowls, wide receivers have scored the first touchdown 17 times, running backs 16 times, tight ends five times, and quarterbacks, kick returners and defensive players twice each.
Roethlisberger scored two touchdowns during the regular season, and one during these playoffs. His Super Bowl quarterback counterpart, Rogers, scored four TDs this season and has run for two more during these playoffs.
Pittsburgh scored 41 touchdowns during the regular season; 22 came through the air, 15 on the ground, one on a kick return and three by the defense.
Green Bay scored 46 TDs this season; 31 through the air, 11 on the ground and four by the defense.
For my Super Bowl first touchdown prop prediction I'll try to chase down a decent price, and forgo taking anybody from near the top of the "first to score TD" boards. Both Super Bowl starting quarterbacks have some mobility, and can be gotten at right around 15/1. Rodgers, though, got rocked on his scoring run last week in Chicago, and Coach McCarthy might want to avoid something like that at the Super Bowl. So we'll throw a small betting unit on Roethlisberger.
And while Steelers RB Isaac Redman caught only nine passes this season, two went for scores, so we'll lay a small bet on him at 20/1. The Packers, meanwhile, will probably have to throw the ball to get it in the end zone vs. the Pittsburgh defense. And with their deep receiving corps they offer several tempting betting options. But since Jennings and Driver will probably get the most attention from the Steelers secondary, we'll take Jordy Nelson at 14/1. These are three small bets with a chance to collect something substantial.
Doc's Sports' Super Bowl content is the best on the Internet and we will dissect the game from every possible angle, from Betting the Super Bowl Coin Toss to Super Bowl Squares Probability. We also offer expert Super Bowl picks from seven different handicappers (for only $25) and our expert team will be providing not only the side and total for the game, but a variety of high-value prop bets as well. Check our home page daily for the next two weeks!