Super Bowl Props: Predictions for Betting on the Quarterbacks
by Darin Zank - 2/1/2011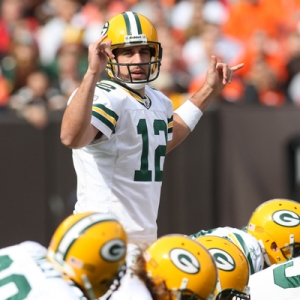 Super Bowl 45 offers up a great quarterback matchup, as a two-time champion in Ben Roethlisberger goes against a guy crowned by many in the football media as the next greatest thing, Aaron Rodgers. And among the Super Bowl prop bets -- almost too many to name -- is a whole series related to the performances of the starting quarterbacks. Bettors can take a shot at picking how many passes each QB will complete, how many touchdown passes they'll throw, how many yards they'll throw for, whether they'll get picked off, which QB will throw for the most yards, and a slew of other things. If one looked hard enough, they could probably find a prop on how many times each QB will scratch their behind.
Of course, the defensive units of the Packers and Steelers might have something to say about things, and that should be factored in before getting down on any of the Super Bowl quarterback props.
Roethlisberger completed only 10 of 19 passes in the AFC Championship Game vs. the Jets for 133 yards, but made two big plays late, completing passes for first downs that iced the victory for the Steelers. And he scrambled for a score in the second quarter. So Big Ben's worth doesn't necessarily show up in passing statistics all the time.
Green Bay's Aaron Rodgers went 17 of 30 in the NFC Championship Game vs. the Bears for 244 yards, and also ran for a score.
Rodgers completed 312 passes this season in his 15 games, an average of just fewer than 21 per game. Roethlisberger completed 240 passes in his 12 games, an average of 20 per game. Among those completions Rodgers threw 28 TD passes, which sounds like a lot, and it is, but it's also less than two per game. And Big Ben threw 17 scoring passes, barely more than one per game.
Sportsbook.com is offering a +175 price on Roethlisberger to throw exactly one TD pass in the Super Bowl; +180 to throw two; +300 to throw three; +800 to throw four; +2,500 to throw five; and +5,000 to throw six or more. The last time Ben played against Green Bay, last December, he threw three TD passes, including a game-winner with no time on the clock. Roethlisberger is also listed at +250 to be held without a scoring pass Sunday.
Rodgers is priced at +350 at Sportsbook.com to get shut out next Sunday; +220 to throw exactly one TD pass; +190 to throw two; +225 to throw three; +600 to throw four; +1,500 to throw five; and +2,500 to throw six or more. Rodgers also threw three TD passes in the game vs. the Steelers last year.
During this regular season Roethlisberger averaged 267 passing yards per game; on the other side of the line of scrimmage the Green Bay defense allowed 194 PYPG. Bodog is listing Roethlisberger's 'over/under' on passing yards for the Super Bowl at 240.5, completions at 19.5, TD passes at 1.5 ('over' +115/'under' -145) and interceptions at .5 ('over' -175/'under' +145).
Rodgers averaged 261 PYPG during the regular season; he'll go up against a Pittsburgh defense that allowed 214 PYPG. Bodog has pegged the former Cal Bear with an O/U on passing yards of 275.5, completions at 23, TD passes at two ('over' +125/'under' -155) and interceptions at .5 ('over' -155/'under' +125)
In a bet pitting the two QBs against each other Legends Sportsbook is listing Rodgers at -40.5 gross passing yards (-125) over Roethlisberger +40.5 (-105). But Bodog is offering the same prop at Rodgers -35.5 yards.
Bodog is also offering odds of +250 on Big Ben scoring a rushing TD.
The Steelers and Packers met just last year, a wild game at Heinz Field won by Pittsburgh, 37-36. The Steelers led almost all day, but Green Bay took the lead on a Rodgers-to-Jones TD pass with two minutes left. Roethlisberger then led Pittsburgh on a game-winning drive, hitting Mike Wallace from 19 yards out with 0:00 left on the clock. Roethlisberger picked apart a depleted Green Bay secondary that day, throwing for 503 yards and three touchdowns. Rodgers wasn't bad, either, throwing for 383 yards and three scores.
Super Bowl props predictions for the quarterbacks: Our guess is that Sunday's game will be a little different than last year's meeting between these two teams. Pittsburgh's defense ranked second overall this season, Green Bay's defense ranked fifth, and both units are healthy and playing great football. And while Rodgers and Roethlisberger receive much acclaim, and rightfully so, neither is throwing for 300 yards and four scores every time out.
The Steelers ran the ball well against the Jets two weeks ago, and they might try to do the same Sunday. This approach might limit Roethlisberger's numbers. So we're going to play 'under' Ben's passing yards total. And with the way the Pittsburgh defense is playing we're expecting a tough day for Rodgers, so we'll play his 'under,' too.
Doc's Sports' Super Bowl content is the best on the Internet and we will dissect the game from every possible angle, from Betting the Super Bowl Coin Toss to Super Bowl Squares Probability. We also offer expert Super Bowl picks from seven different handicappers (for only $25 for each NFL handicapper) and our Super Bowl odds page will be updated any time there is line movement for the big game. Check our home page daily all week for daily exclusive content!