College Football Handicapping: Big East Exceeding Expectations
by Trevor Whenham - 10/18/2012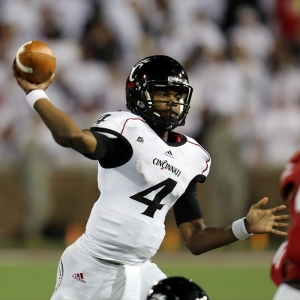 Heading into the season it was easy to make fun of the Big East. The conference had lost its best team, it was on the verge of a geographically ridiculous expansion, and it seemed quite possible that no team — including the champion — would come even close to the Top 25. About halfway through the college football season, though, the conference is far exceeding expectations. There are three undefeated teams, and all three are ranked among the Top 21 teams in the country.
The question that bettors need to ask themselves in a case like this is, simply, if they were duped. Is the Big East much better than most people thought that they were before the season? Or are they overachieving and heading for a fall? Let's take a look:
Louisville Cardinals
The Cardinals were the most heralded team in the league heading into the season, so their early-season success comes as little surprise.
Coach Charlie Strong is running a very solid program, and he has the ideal guy to run his team in QB Teddy Bridgewater. They haven't played the strongest schedule so far by any means. A home win over Kentucky means little, and the UNC victory would have meant more if the game wasn't so close or so high-scoring. A road game against Southern Miss meant nothing because the Golden Eagles are among the most disappointing teams in the whole country. Winning at Pitt was probably their best victory, but the Panthers have been so inconsistent so far that even that doesn't mean much.
Four of their remaining six games are relatively easy. That leaves a home game against Cincinnati and a rod game at Rutgers to complete the season. Given that schedule and their play, 11 wins certainly seems reasonable and that would be more than enough to keep them ranked. They also have a much better-than-average chance of running the table. This team is legitimate. The Cardinals are likely not good enough to compete with a champion of any other major conference in a BCS bowl, but they are still legitimate in relative terms.
Rutgers Scarlet Knights
Rutgers has a schedule that makes Louisville's look like the toughest in the country. Their toughest game so far was a trip to Arkansas, and circumstances made that one meaningless. They have essentially beaten no one and proven little.
Lucky for them their next three games are reasonably soft, with a trip to Temple their lone real test over that stretch. They could be 9-0 and still not have tested themselves. Their last three are at Cincinnati and Pittsburgh and at home against Louisville, though, so the record will suffer at that point.
This team has little balance — the second best run defense in the country and a terrible pass defense. An offense that just isn't very good in any aspect, but special teams that are oddly productive. Their record is an illusion, and they will not wind up ranked.
Cincinnati Bearcats
The Bearcats get credit for beating Virginia Tech, though it came at home and the Hokies clearly have more than their share of issues this year. Beyond that, though, they have again feasted on a meaningless schedule.
Strangely, they have yet to play a single road game. That will change with three of the next four away from home, and things will get tougher as a result.
The secondary is a concern, and their passing game can hardly be called potent. This is another team with an inflated record that will lose at least a couple down the stretch and will not be ranked at the end of the year.
The rest
Before the season, most people expected this conference to stink. Outside of the three we have discussed, that is pretty much the case. The other five teams are a combined 12-18, and only Temple, at 3-2, has a winning record. It's a sad state of affairs in the conference when the best team from the group of also-rans — Temple — wasn't even in a major conference last year.
Syracuse, Connecticut, Pittsburgh and South Florida are all deeply flawed teams that have lost four games and aren't underachieving at that level. Bowl eligibility is an uphill battle for any of these teams. Temple has the best shot, but four of their five toughest games on the season are still to come. This is a very uninspiring group — as people expected.
Betting performance
If you like losing money, then betting heavily on Big East teams is just the thing for you. The teams are a combined 20-23-2 ATS on the season. Only three of the eight teams are profitable, and Louisville is not one of them. If you take out the Big East games from that total — since there is a conference winner and loser in each game — the league is just 13-16-2 ATS, and only two of the eight teams are profitable.
It's possible for very good teams to struggle against the spread if they are heavily overbet by the public. This isn't basketball, though, so there isn't a single even remotely public team in this group. Their betting struggles are merely an indication of what we have already seen — they are an underwhelming conference. For the rest of the way this season they are going to continue to prove that.