College Football Handicapping: Big Ten Woes Week 1
by Trevor Whenham - 9/5/2012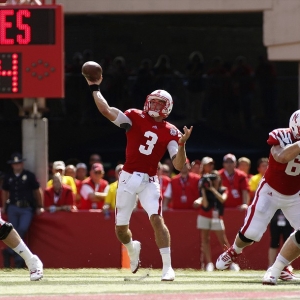 In the aftermath of Michigan's thrashing at the hands of Alabama in Dallas, one statistic stands out above all else — the Big Ten has now lost 10 straight nonconference games against Top 5 opponents. I'm a huge fan of Michigan and a big fan of the Big Ten in general, but even I'm at a loss to defend the conference these days. The sad fact is that it is a long way from the level of the SEC, and at this point probably behind the revamped Big 12 as well.
What the most frustrating about the Big Ten — both as a fan and as a bettor — is that the conference seems to be regressing. The Big 12 and Pac-12 both have had their struggles recently, but the conferences are now both noticeably the best they have been in years. The Big Ten, meanwhile, just seems to be stuck in the mud.
To truly understand the woes of this conference this year you just need to look at the 12 games played. Be warned, though — for the most part it's far from pretty. They went 10-2 as a group, but the two losses were really bad, a lot of the wins were almost as ugly, and they were a pitiful 5-6 ATS:
Braxton Miller has found his mentor
We'll start with one of the few bright spots for the league. Braxton Miller is clearly a very talented guy, but the Ohio State QB never seemed to fully mesh with his coaches last year. That has obviously changed now that Urban Meyer is in town.
Miller didn't play the whole game, but he threw for 207 yards and two TDs and ran for 161 more yards and a score. He was the quintessential dual-threat QB, and it was a sign of things to come under this new regime. In other words — look out league.
The saving grace for this year for the rest of the teams is that the Buckeyes aren't eligible for the postseason.
Did every Michigan player miss the flight to Dallas?
I can't dwell on the debacle that was Michigan's game too much or I'll slit my wrists. The Wolverines won't play another team nearly as good as the Crimson Tide, but if they perform like they did on Saturday night then they will be in trouble against much lesser teams as well.
The list of their issues is long — Denard Robinson's passing game has regressed, the receiving corps is lacking depth, the lines are inexperienced, the secondary is suddenly shallow, and so on.
They started the season ranked eighth in the country, but any college football handicapper who views this team as an elite Top 10 squad is going to be sorely disappointed — at least in the short term.
Unhappy Valley
For the first quarter of the Penn State game I was full of self-doubt. I was certain the Nittany Lions were going to struggle, but they looked brilliant early on. As the game progressed, though, it became evident that adrenaline was carrying them. As time passed their lack of experience, depth and talent became evident and things got more and more sloppy.
At one point in the game the commentators made the moronic statement that they expect the team to win eight or nine games. Based on their offseason, backed up by the last three quarters of that game, anything over three wins would be remarkable.
The more skeptical of this team bettors are, the happier they will be.
Le'Veon Bell vs. the world
Michigan State's running back was absolutely magical. The rest of the offense? Not so much.
Bell absolutely dominated Boise State and had perhaps the best individual game of any player all week, but the team needed every yard he gained because the Spartans could do little else.
People are calling this a BCS team. While they have that potential they need to find real answers offensively to reach that promised land.
Patience is the best approach for bettors.
Northwestern fears the easy win
Northwestern came from way ahead to try to lose to Syracuse before pulling out a last-minute, 42-41 thriller. It was a thrilling game, but it indicated all sorts of issues.
Syracuse QB Ryan Nassib is certainly no Peyton Manning, but he amassed 470 yards and four touchdowns, and he absolutely shredded the Wildcats in the second half. Syracuse is far from the best offense Northwestern will face, so the secondary issues are a major concern.
Taylor Martinez lives
The Nebraska QB is one of the most frustrating players in football. He's obviously wildly-talented, but he has never been able to put it together consistently.
On Saturday against Southern Miss, though, he had by far the best game of his career. He completed 76 percent of his passes for 354 yards and five touchdowns, and if he made a mistake it wasn't a big one.
Nebraska is seen as a second-level contender in the Big Ten by most, but if Martinez can maintain this kind of focus and accuracy then they will be tough to beat.
Bettors should absolutely keep a close eye on Martinez' stat line.
Northern Illinois?!?
It's not just that Iowa almost lost to Northern Illinois. It's that they needed to score nine unanswered fourth quarter points to earn the one-point win. It was ugly.
QB James Vandenberg, a senior, averaged a lousy 3.9 yards per attempt on 33 throws.
I'm willing to give the team a mulligan, but they are on a short leash after that mess of an opener.
Northern Iowa?!?!?!?!?
Wisconsin has basically been awarded their spot in the Big Ten Championship Game in advance because of Ohio State's non-eligibility. They may not get there if they keep playing like they did on Saturday.
They won, but it was only 26-21 against Northern Iowa — a team that most people only know because Kurt Warner once played there. A team like Wisconsin should not come that close to blowing a "gimme".
Zook is gone, but not forgotten
New Illinois head coach Tim Beckman got his first win with the team. It came against a pretty average Western Michigan team, though, and it was far from inspiring from every angle.
The Illini amassed just 248 yards of offense, and they do not look like a serious contender. In other words, it's like Ron Zook never left.
Yes, Minnesota is still that bad
UNLV is among the worst teams in FBS football. They took Minnesota to overtime. Minnesota is not good.
But Indiana may be worse
The Hoosiers numbers against Indiana State were fine, but it was only Indiana State. When things get serious there was nothing they showed in that game that should make any bettor think they are anything other than totally underwhelming.
That leaves the Boilermakers...
There was some buzz heading into the season that Purdue could be a surprise squad. For the most part that is still believable.
The Boilers totally dominated Eastern Kentucky — just like they should have — and they did it with their backup QB at the helm. It wasn't perfect — somehow they turned the ball over five times and lost the turnover battle to a bad team — but it was still one of the more impressive overall performances in the league.
This is a team to keep an eye on.
Doc's Sports wants to give you a great offer to try out our expert college football handicappers for free with no obligation, no credit card required and no salesman ever! These are the same college football picks that our clients receive from any of our Advisory Board handicappers and you can get $60 in picks credit in minutes. Click here for more details and to take advantage of this free $60 picks credit today.