College Football Handicapping: Most Impressive Unbeaten Teams
by Trevor Whenham - 9/26/2012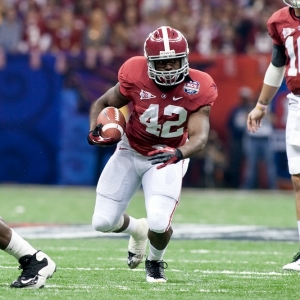 Through the first month of the college football season there are 27 unbeaten teams. The betting public loves to see teams with unblemished records, so those teams will get more attention than they otherwise might. After only four games, though, the record can be very misleading. Some nonconference schedules are tougher than others, so you need to look beyond the zero losses to really get a sense of what a team has done.
Here is a look at the five most impressive unbeaten teams so far, the most surprising, and the most underwhelming:
I'm impressed with...
Alabama Crimson Tide (4-0)
It is virtually impossible to doubt that they are the best team in the country right now. They have massacred every opponent, including a 52-0 tour de force at Arkansas. They can score like crazy, their defense is stout, and they are very deep. At this point I will be very surprised if they lose — though anything can happen because it is college football.
Oregon Ducks (4-0)
I had some doubts about this team before last week only because they hadn't really played anyone yet. Arizona isn't exactly a powerhouse yet, but they have been tough — as Oklahoma State can attest to. Oregon made them look ridiculous en route to a 49-0 win. The offense has always been good, but it was the defensive strength that opened eyes in that one. The only problem is that expectations are so high that they only covered one spread, and bettor expectations won't get any more moderate as time passes unless they lose.
Florida State Seminoles (4-0)
The first three games don't count because the opponents were so weak. Their win against Clemson was more impressive, though they gave up too many points for my taste. I still don't love this team, but the Florida State football schedule is weak enough that they can overcome those concerns and win a lot of games.
Kansas State Wildcats (4-0)
Color me impressed with this team. They crushed Miami. They became the first ranked team to ever beat Bob Stoops in Norman. The offense is potent, and the defense is sound. The Big 12 is brutally tough this year, but the Wildcats are built to last.
Georgia Bulldogs (4-0)
Heading into the season all the talk surrounding the SEC was that it was a two-horse race between Alabama and LSU. Georgia, a team that is masterful at being disappointing in the face of expectations, is working hard at becoming a part of the discussion. The Bulldogs schedule hasn't been the best so far, but they overwhelmed Missouri in the second half on the road and crushed Vanderbilt. I'm still tentative, but they are certainly opening eyes.
I'm surprised by...
Notre Dame Fighting Irish (4-0)
The Irish have been so disappointing the last several years that it was easy to doubt them this year. It seemed unlikely that they would be able to beat both Michigan State and Michigan in consecutive weeks, but they did just that. There are still issues — their strong defense is offset by an absolutely brutal offense — and the remaining schedule won't be easy. However, you can't argue with what they have done so far.
Florida Gators (4-0)
Florida has been a mess since Tim Tebow left, so it was easy to doubt that they were on the right track. Early returns are positive, though. Consecutive wins at Texas A&M and Tennessee were impressive. Some tough games loom, starting with LSU next week, but so far at least they have been more than expected.
Rutgers Scarlet Knights (4-0)
It was hard to believe in any team in the Big East this year, so Rutgers has been a real surprise — especially with Greg Schiano in Tampa Bay. In consecutive weeks, though, the Scarlet Knights were underdogs of more than a TD at South Florida and Arkansas and they convincingly won both. The way both them and Louisville are playing, their season-ending showdown could be one for the ages — at least as much as a Big East game can be.
Oregon State Beavers (2-0)
They have only played two games, but a lot of people didn't expect them to win either one. They totally shut down Wisconsin, and then they frustrated a UCLA team that had been on a roll. The end of their schedule is rough, but there are a lot of games this team can win if they keep playing like they are now.
Northwestern Wildcats (4-0)
The Big Ten has been so deservedly criticized this year that it's easy to forget that there is one nice surprise in the conference. Northwestern is one of very few teams to play three teams from BCS conferences, and they won all three. Now, Syracuse, Boston College, and Vanderbilt aren't elite squads, but it's still tougher scheduling than a lot of teams. The Wildcats have shown some real heart and solid balance, and are more of a threat in their lousy conference than it seemed they would be.
I'm not inspired by...
Minnesota Golden Gophers (4-0)
Jerry Kill has a huge rebuilding job on his hands. He's done well so far, but with the schedule they have faced they haven't proven anything yet. Their next five games are tough. If they have a strong record at the start of November then I'll be impressed.
UTSA Roadrunners (4-0)
When the only FBS team you have played is a South Alabama team that is just 1-3, it's hard to have much respect for your record. There are several losses awaiting the Roadrunners from San Antonio down the road.
Baylor Bears (3-0)
It's a nice story to see the Bears ranked a year after losing Robert Griffin III. It's an illusion, though. Their toughest win was against Louisiana-Monroe, and they only squeaked by, 47-42. Their next three were at West Virginia, against TCU, and at Texas. If they won one it will be a bit of a surprise.
Texas Longhorns (3-0)
The public is desperate for this team to return to its former glory. That explains why the Longhorns are ranked 12th despite not really having proven anything yet. All they have done so far is beaten Wyoming, New Mexico, and Ole Miss. They may yet prove that they are worthy of the attention they are getting, but they haven't yet.
Texas Tech Red Raiders (3-0)
Northwestern State, Texas State, New Mexico. Do I really need to say anything more than that?