College Football handicapping: Teams that are Undervalued
by Trevor Whenham - 9/19/2012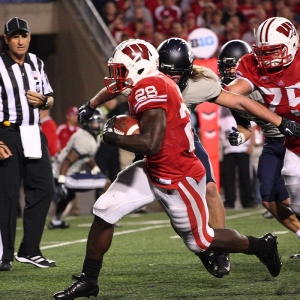 The media outlets covering college football can be brutal. They are quick to jump on a bandwagon when a team shows promise, but they are even quicker to jump off when the team has issues. Sometimes it is warranted, but other times the media gives up on teams too quickly — or doesn't pay enough attention to a team in the first place.
Here are five teams that, for a variety of reasons, the media isn't paying enough attention to or are being too negative when they do pay attention to them:
Michigan Wolverines
Michigan's season-opening loss to Alabama was profoundly awful. The Wolverines were outclassed on both sides of the ball, their game plan was suspect, and they didn't execute on the rare occasions they did have an opportunity.
It became very easy to be negative about this team, and to accuse them of being grossly overrated. They probably were overrated heading into the season, but make no mistake — this team is still very capable of winning the Big Ten.
They were no match for Alabama, but there is no real shame in that. They also didn't handle the Air Force option offense very well, but they won't see anything like that again, either.
Meanwhile, the defense is maturing, the running game is establishing itself, and Denard Robinson is as dangerous as ever on the ground and, surprisingly, he has emerged as perhaps the most efficient passer in the Big Ten.
Their game at Notre Dame on Saturday will be the first real gauge of where they are really at. If they carry themselves well there, though, then there is no reason they can't play in the Big Ten Championship Game.
Arkansas Razorbacks
Playing Alabama has not been good for a team's reputation this year.
Don't think for a second I am defending this team after a loss to Louisiana-Monroe and a no-show against the Tide. They have been terrible two weeks in a row. It just doesn't make sense to me that we would completely write this team off after so many people thought so highly of them coming in.
Their coaching is a mess, and that won't help. Tyler Wilson was out last week, though, so the offense will only get better once he returns and they face a mortal team again.
Wilson has emerged as a leader in the wake of the upset, too. There is a chance that his teammates will resent him because he wasn't on the field for that one, but if he can keep his team on his side then this squad will look a whole lot different than the one we have seen the last two weeks.
Northwestern Wildcats
It's a disgrace that Northwestern isn't ranked right now. The Wildcats deserve major credit for scheduling three games against major conference opponents — Syracuse, Vanderbilt, and Boston College — and winning all three.
They showed incredible toughness holding on in a wild one at Syracuse, and then they looked confident and competent in both home games.
It hasn't been perfect, but it has been pretty solid.
Given the Northwestern football schedule, there is a good chance that they will be 7-0, and 10 wins is achievable.
This is a team that deserves much more attention than they are getting.
Virginia Tech
I have no words to explain what happened when Pitt crushed Virginia Tech. Nothing about that game made sense.
Since then there has been a stampede off of the bandwagon for this team. While it hasn't been a perfect start for the season, it's too soon to write the squad off entirely.
Logan Thomas was seen as a potential first-rounder heading into the season, but now people have given up on him already. To assume that Thomas and the rest of this team has forgotten how to play football already is foolish. After all, there are few teams more experienced at picking themselves up and getting back on track after a September stumble.
Outside of Clemson and Florida State the Virginia Tech football schedule is soft, and this team is still a serious ACC contender. Thomas will have his day, too.
Wisconsin Badgers
This team has been terrible so far despite its 2-1 record. For years a stout offensive line has just been assumed for any Wisconsin team, but this one is just lousy — so bad that the line coach was fired after two games.
The important thing to remember, though, is that this team is still the class of a very easy division, and the Badgers still have plenty of time to get things on track before we really have to panic.
They lost a whole lot of coaching talent in the offseason, and Russell Wilson now plays for the Seahawks. Growing pains were inevitable early this year.
They have been worse than most likely expected, but the team deserves time to grow and get comfortable before we judge it a total failure.
Doc's Sports wants to give you a great offer to try out our expert college football handicappers for free with no obligation, no credit card required and no salesman ever! These are the same college football picks that our clients receive from any of our Advisory Board handicappers and you can get $60 in picks credit in minutes. Click here for more details and to take advantage of this free $60 picks credit today.