College Football Power Rankings: Ferringo 15
by Robert Ferringo - 9/27/2012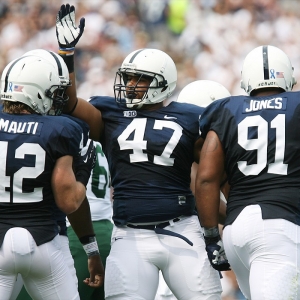 College football teams are starting to separate themselves, both on the turf and at the window. And while the beginning of the season ("Hey, college football is back! Hooray!") and the end of the year bowl season ("Meineke Car Care Bowl, here we come!") get most of the attention from college football fans, it is really the next six weeks that will determine the course of most schools' seasons.
Conference play begins in earnest this week, with the majority of programs preparing for backyard brawls and rowdy rivalry games. There are numerous additional factors that college football handicappers need to consider into their college football predictions. But one of the most important is to consider the overall value of both teams. And how they have been performing at the window can be just as pertinent as how they have been playing on the field.
Here are this week's Ferringo 15 college football power rankings (all records are ATS against the closing line) of what have been the most valuable teams in college football betting so far this year:
1. Utah State (3-0-1) –The Aggies were credited with a "push" against the closing line last week. However, most Aggie backers would have lost in their 31-19 win over Colorado State. Now this team is laying nearly three touchdowns at home against hapless UNLV. That said, Utah State has to try to avoid getting caught looking ahead to next week's Mormon-on-Mormon showdown with BYU.
2. Georgia Tech (3-1) –I'm still pretty speechless about Tech's collapse at home last week against Miami. But I am willing to chalk that one up to some fluke luck as well as the fact that the Hurricanes just seem to have Tech's number. The Jackets won, 49-21, at Middle Tennessee last year and were actually up 42-7 before calling off the dogs. But how much does this team have left in the tank after that emotional OT loss and just one week prior to a crucial ACC tilt at Clemson?
3. Purdue (3-0) –This team is coming off a much-needed bye week. But during their time off it is questionable how much they focused on this week's game against Marshall. The Boilermakers have Michigan, Wisconsin and Ohio State on deck, and they don't want to get caught looking ahead. Purdue is 6-1 ATS in its last seven home games, but they, and their Top 20 defense, will have their hands full with explosive Rakeem Cato.
4. Kansas State (3-1) – Bill Snyder did it again. The Wildcats won as outright underdogs again last week. They still aren't in the Top 40 in the nation in yards, passing, defense, or any other key stats. But they have won their first four games by an average of 25 points per game and have the week off to prep for a game against in-state rival Kansas next Saturday.
5. Texas Tech (3-0) –It wasn't too long ago that a trip to Ames to face Iowa State was an easy win and a time to rest. But the Red Raiders will have some work to do this week against one of the Big 12's top defenses. Texas Tech lost at home as a two-touchdown favorite last year in what was a killer letdown situation following their stunning win at Oklahoma. Texas Tech has revenge this year, and some mojo, but we're going to find a lot about this club by how it handle itself this Saturday.
6. Penn State (3-1) –I know: shocking. But I actually think that Penn State is one of the more undervalued teams in the country right now. This team is not good, mind you. This program is in shambles (and I am one of the people who actually thought they got off lightly). But that's what has upped their value at the window. Penn State is The Villain. And the books know that everyone wants to bet against them. So their spreads have been off and this team has posted a 3-1 ATS mark to this point. I think that will be the case all year.
7. Fresno State (4-0) – Can the Bulldogs stay hot? This team has gotten off to a perfect start, and they are starting to raise some eyebrows. They are now at home in a revenge game against San Diego State. Fresno blew a 21-0 lead in last season's defeat. If Fresno wants to stay on this list they absolutely have to get better at defending their turf. Fresno State is 10-28-1 ATS in its last 39 home games.
8. Mississippi (3-1) – I like this Rebels team and I believe they are much better than people think. But they are facing a Crimson Tide team that has given up just 21 points in their last five games overall. Ole Miss was pushed around and lost by 35 at home to Texas, so I wouldn't expect miracles against Alabama this week. The spread on this game is actually dropping, and the Rebels have only lost by more than 30 to Alabama two times in the last decade.
9. Oregon State (2-0) – I was high on Oregon State coming into this season and have collected with them over Wisconsin and UCLA. But it is still tough to tell what their overall upside is. The Beavers are in the Top 25 now, so their value will take a small hit. But if this team is a legit contender for the Pac-12's top tier then they will have a lot of ATS wins left in them.
10. UCLA (3-1) –Jim Mora's issue with the media this week A) made him look like a dick the same way it did Lane Kiffin and B) just makes me question his maturity and his focus, two areas where his ineptitude led to his ousting in the NFL. UCLA hits the road this week and beat the Buffs, 45-6, last year. However, the line on this week's game is actually moving away from the Bruins, dropping from an open of 21.0 to its current level at 19.0.
11. San Jose State (4-0) –Break up the Spartans! San Jose State won a wild one last week at San Diego State, and that is now three wins in a row. This team is actually on a 7-0 ATS run dating back to last year and is 8-2 ATS in its last 10. SJSU is 8-0 ATS in its last eight nonconference games and their 20-17 near-miss against Stanford in the season opener isn't looking like such a fluke at this point. The Spartans upset Navy last year. But that game was at home and didn't come after a draining, back-and-forth upset win the week before. Can SJSU stay hot?
12. Connecticut (2-1-1) –The Huskies won't have to face Buffalo running back Branden Oliver this weekend. But the Bulls won't be intimidated by heading to Connecticut. Buffalo only lost 17-3 to the Huskies last year, and the Bulls have already played at Georgia this year. Connecticut has had a tricky month. And they have played in three straight games decided by six points or less. Again – and this is the theme this week – does this team have the maturity and mental toughness to come back and produce a strong effort this week? The Huskies are 38-15 ATS after a loss and 33-16-2 ATS at home.
13. Central Florida (2-1) – The Golden Knights get to make a statement this week at home against Missouri, and I expect a pretty lively atmosphere. Central Florida is just 3-8 ATS when hosting BCS schools, but they are 20-11 ATS in their last 31 home games in general and have already gone toe-to-toe with Ohio State on the road. Missouri is still the better team in this one. But after already trading blows with some SEC powers, the question in this game is all about how focused the visitors are.
14. Arizona State (4-0) –Todd Graham appears to be rebounding nicely after his disastrous season in Pittsburgh. Arizona State cleaned the floor with an emotionally drained Utah team last week. The Sun Devils have lost, both straight up and ATS, in their last five trips to Cal, and the visitor is just 3-11 ATS in this series. But ASU has a chance to pick up a crucial road win against a Golden Bears team that has to be in letdown mode after their failure against rival USC last week.
15. Duke (3-1) – Break up the Blue Devils! Duke has rebounded from that 50-14 whitewashing at Stanford with back-to-back ATS wins. Now they are in conference play, and if this team has a prayer at becoming bowl eligible they will need a win this weekend at Wake Forest. The Blue Devils have lost 12 straight to the Demon Deacons, but they have been knocking on the door, losing the last four by a combined 16 points.
Honorable Mention: Ohio, Northwestern, Florida, Western Kentucky, UL-Monroe, Ball State, Toledo
The Ferringo 15 college football power rankings are my profit/power rankings. They are a ranking of the 15 teams I feel currently have the most value in college football betting. It is a not merely a reward for past achievement at the window, but more a total overview of past, present, and future projected achievement against the spread.
Robert Ferringo is a professional NFL handicapper and has posted two of three profitable winning weeks to start the year. Robert nailed his 7-Unit NFL Game of the Year last week and picked up $2,000 in profit with his college and pro selections in NFL Week 1. Robert has banked $9,400 in football profit over the last 10 months he has had football picks and will keep it going this week. He is looking forward to building on his stellar football handicapping resume again this fall and you can check him out here.
---
Most Recent College Football Power Rankings