Looking Back at the Week in College Football Betting
by Trevor Whenham - 10/22/2012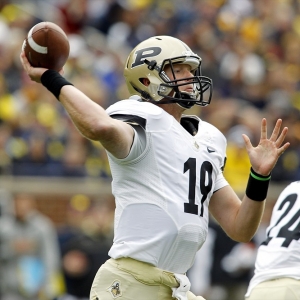 It's time for our weekly look back at the betting highs and lows of the week in college football action. We'll start with three games that were particularly rough on some unfortunate bettors:
Boise State 32, UNLV 7
The Rebels are almost impossibly bad at football. They are pretty much hopeless and almost always have been. Saturday was no exception — the offense passed 31 times and managed 71 yards for their effort. Despite the struggles, though, they still found a way to mess with bettors. Down 32-0 in the fourth quarter they picked up a Boise State fumble, managed not to trip on their own feet, and scored the touchdown that covered the 28-point spread. Despite being horrible, UNLV is now a nicely profitable 4-2-2 ATS on the year.
Texas 56, Baylor 50
The Longhorns were up 56-43 and cruising after scoring early in the fourth quarter. Both teams were playing like it was over, but Baylor managed a final touchdown with less than two minutes left, and that allowed them to cover the 8.5-point spread. Texas has now failed to cover three in a row, so they are a public team that is abusing the public.
Central Florida 35, Memphis 17
Memphis is another eternally lousy team, and at 1-6 they are having a typical year. The difference between them and UNLV, though, is that at 3-4 ATS the Tigers aren't nearly as nice to bet on. In this one the Tigers were down 35-10 at home as 24-point underdogs, but a touchdown with just 39 seconds left meant little but gave them a cover. A strong majority of bettors had backed Central Florida, and they had their souls crushed as a result.
The Awards Section
Since there were relatively few soul-crushing games this year, I thought it would be worthwhile to look back on the week and hand out some awards for the highs and lows teams have achieved. For many of these teams this is the only hardware they have any chance of seeing all year.
The Eternal Mediocrity Award
Washington Huskies - The Huskies show promise all the time, but they are seemingly incapable of recognizing and capitalizing that potential. It's like Ty Willingham haunts them eternally. They have lost three in a row, but this week's loss was their ugliest. Being an 8.5-point underdog at Arizona against a team undergoing a radical transformation is bad enough, but losing that game by 35 points is just plain brutal. It must be awful to be a Washington fan.
The Bye-bye Award
Two years ago Gene Chizik won a National Championship at Auburn with Cam Newton at the helm. On Saturday he probably got himself fired. Another pathetic loss at Vanderbilt dropped him to an impossible 1-6, and he still has three of his four toughest SEC games left to play. He has a massive buyout in his contract, but at this point paying it would be a bargain for the Tigers. Not only did Chizik lose again, but he also found a way to screw bettors and bookmakers in this one. As six-point underdogs they were down by seven late when his team managed a fourth quarter field goal to cover the spread. Incredibly, despite the fact that the team is terrible and was just 1-5 ATS heading into the game, the solid majority of bettors backed the Tigers here. That means that that field goal not only proved costly to Vanderbilt backers, but it also cost bookmakers significantly.
The Tin Man Award
In the Wizard of Oz the Tin Man has no heart. I can't think of a team in years that has shown less heart than the West Virginia Mountaineers. Their loss two weekends ago to Texas Tech was crushing, but it was far from fatal. They could still have a shot at winning the Big 12, salvaging their national reputation, and securing the Heisman for their QB with a strong performance at home in a marquee game against fourth-ranked Kansas State. Instead, they were down 31-7 at the half, 52-7 after three quarters, and 55-14 at the final whistle. It was a truly disgusting, empty performance. West Virginia didn't look like they cared, they didn't do a single thing well, and never seemed to believe that they had a chance. Disgusting — and potentially a massive setback for the program.
The We Hate Winning Award
We have a tie here, with two Big Ten teams sharing the hardware:
Northwestern - Up 28-16 with just over eight minutes left at home against Nebraska, all they had to do was hold on. Instead, they let Taylor Martinez march down the field twice in the next six minutes to take a 29-28 lead.
Purdue - The Boilermakers had controlled the Buckeyes in Columbus for much of the game, and they had knocked Braxton Miller out of action as well. They got a safety to go up by eight with 10 minutes left and should have been in control. With three seconds left, though, Ohio State managed a TD after a long trip down the field, and then backup QB Kenny Guiton found a wide-open receiver in the end zone for the two-point conversion to tie it. Completing the collapse, the Boilermakers gave up a TD in overtime and couldn't match.
The Miracles Can Happen Award
Duke beat North Carolina at home as 10.5-point underdogs in a game that would have been far more exciting played on a court. Remarkably, though, it was their sixth win, so it means that Duke will be going to a bowl for the first time since Coach K was a child — or something like that.