NBA Handicapping: The Chris Bosh Factor for Miami
by Trevor Whenham - 5/31/2012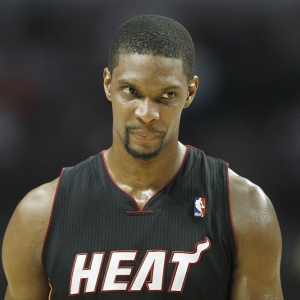 Since the first game of the second round Miami's Big 3 has been a Big 2. Chris Bosh has been sidelined with an abdominal strain, and his return is still uncertain — and surrounded in some mystery. He's working out, but the efforts have still been light, and no one around the team is indicating just when he might be back in action.
For bettors the absence of a player the caliber of Bosh is significant, and it needs to be carefully considered. It's not nearly as significant as if it were Wade or James that were hurt, but it still makes a difference in how the team performs and how the betting public views the game. Bosh could be back any day now, or he could be out until the NBA Finals if Miami were to advance — or longer.
As you consider what Bosh's absence means to the team, and how to deal with his absence and his return, here are five factors to consider:
The play of the Big 2
When Bosh was first out of the lineup the team struggled for two games. Since then, though, they haven't lost.
Driving that success has been the strong play of James and Wade. They are both averaging over their season scoring clips, and they are playing with a ferocity and focus that was missing earlier in the playoffs.
It's tempting to say that that is because of the absence of Bosh, but that could be too simplified.
On one hand, the lack of Bosh has forced the other two stars to shoulder the responsibility for the offense, and seems to have woken them up. Without Bosh the offense also tends to be more wide-open and aggressive.
On the other hand, the team seems to have focused more on fundamentals and unselfish play, and it could just be coincidental that that happened after Bosh was gone. Really, it didn't happen until after the Pacers had gained momentum and given Miami a scare, so Bosh's absence might not have anything to do with it.
Durability
The more responsibility for the team's success that the two stars have with Bosh gone, the more abuse their bodies are going to take. James is likely up to the challenge of that, but Wade is far from the least fragile player in the league.
Bosh doesn't directly affect Wade's play, but another star on the field helps spread the defensive attention, and it also makes it easier for a star to take some time off the court without a big letdown for the team.
With one star down the team can still be competitive. With two missing they would be in trouble.
Depth
Depth has been the biggest issue for this team since the Big 3 arrived in South Beach. When you spend so much on three guys you don't have much left for everyone else. The supporting cast hasn't exceeded expectations, and at times they have been downright disappointing.
With Bosh on the sidelines the rest of the players need to carry more of the load — especially if they don't want the two remaining stars to get too worn out before the challenge of beating San Antonio comes along. It's no certainty that the cast is up to that challenge over a long period of time — especially as opposing defenses adjust to limit their impact.
Toughness
Bosh's reputation and his toughness haven't exactly been elevated in these playoffs. First, he was spotted crying on the sidelines during a game. Then he doesn't exactly seem to be killing himself to get back into action.
You have to imagine that a guy like Kobe Bryant or Michael Jordan would do whatever it takes to help their team, and wouldn't let a missing leg — never mind a sore abdomen — keep them out for this long.
If Bosh lacks the heart that it seems like he might then you can't help but question whether his return will really be a big boost for this team — or if he's the playoff asset that he should be on paper. Maybe the team is better off with no Bosh than with a half-effective Bosh.
Urgency
In Game 2 against Boston the Celtics opened up a big lead early, and they were up by seven at the half. Rajon Rondo played as well as a point guard can, and he played the entire game, including the overtime. Despite that the Heat were calmly able to fight back, tie it up in regulation, and pull away in the extra period.
There is still a lot of basketball left to play, but you can't help but wonder whether the Celtics are really capable of winning this series — with or without Bosh. The Heat need Bosh for sure — and perhaps a miracle as well — when San Antonio comes to call. Until then, though, Bosh's presence or absence probably isn't the biggest issue bettors need to consider.
Doc's Sports is offering $60 worth of member's picks absolutely free – no obligation, no sales people – you don't even have to enter credit card information. You can use this $60 credit any way you please on any of our top NBA handicappers. Click here for more details and take advantage of this free $60 picks credit today.