NBA Handicapping: Los Angeles Lakers Struggles
by Trevor Whenham - 11/29/2012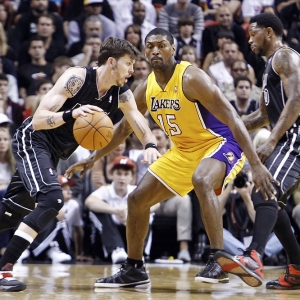 It's early yet, but 7-8 is definitely not where the Lakers were supposed to be after 15 games. Not after they had invested so heavily in Dwight Howard and Steve Nash in the offseason to create their Big Four to overshadow Miami's Big Three.
To watch their season so far, though, has been to see every kind of mess. The fact is that this team just isn't very good right now. They weren't any good under the ill-fitting Mike Brown system, and they aren't any better — yet — under Mike D'Antoni. What is interesting for bettors, though, isn't whether they are good right now, but rather why they aren't any good, and whether we can expect them to get any better soon.
They are the most public of teams, so the only way you can find any kind of value betting on them is to be on top of where they are at and what can realistically be expected from them. Here are five factors to consider when looking at the short-term future of the Lakers under D'Antoni:
Morris isn't Nash
This is by far the single biggest factor in the success or failure of the system. No player and coach have ever complemented each other more than Nash and D'Antoni did in Phoenix (with the notable exception of Phil Jackson and his stars). The two were meant to be together.
Not only has Nash been hurt, but backup Steve Blake has been as well. That means that the starting burden has fallen to second-year player Darius Morris. I'm a huge fan of Morris from his college days, but he's incredibly raw, and his confidence had been shattered by Brown. Not only does Morris have to learn how to play under the D'Antoni system — which is very demanding for point guards — but he also just has to learn how to play the point in the league. He's doing a credible job, and has even looked brilliant in flashes, but it's nonetheless a handicap for the team.
Nash is reportedly a week or so away from returning, but he has been for a couple of weeks now, so we don't really have any sense of the truth. Until Nash returns, though, we can't truly assess D'Antoni and his chances of success with this team.
Of course, the return of Nash will also force the public to jump on the team even more heavily than usual, so we'll have to be especially diligent assessing the team then.
Kobe is Kobe
Bryant has the chance to shine under D'Antoni. Unfortunately, he is his own worst enemy. His ego knows no bounds, and he is one of the worst teammates imaginable as a result. He insists on acting as the de facto point guard. That's creating plenty of points for him — he had 40 Wednesday night against Indiana.
There are two problems, though. First, he is dishing out some assists, but he is almost matching them with turnovers. Second, and more significantly, while he is scoring he's not helping others do the same — against Indiana the rest of the team had just 37 points combined en route to an ugly loss.
Kobe fully embraced Phil Jackson's teachings, and the results were spectacular. He never gave Mike Brown a chance, then he got his coach fired. Now he has the singular opportunity to make or break this regime. As much as I like D'Antoni, I'm not optimistic.
Lakers fans are ridiculous
D'Antoni has coached five games. Granted, they have lost three and haven't looked good. In fact, the fifth game was by far the worst. Still, it is stunningly stupid that I have read more than one column suggesting that the Lakers cut their losses; fire D'Antoni and beg Phil Jackson to come back.
There is no one on the planet more impatient than a Lakers fan, and few are less realistic about what they have. If this transition was happening in almost any other city in the league, it would be easier than it is under the giant microscope that is the Lakers.
Fans and backers of the Lakers will jump on and off the bandwagon at the slightest provocation, and bettors need to remember that and consider the impact it can have on how lines are set and how they move. The impact of public betting is more profound -- and more challenging to measure -- on this team than any other.
Tempo isn't translating yet
Under D'Antoni we expect to see a high-tempo, high-scoring offense. We just aren't seeing that so far. That much has been obvious because of how the team has performed against the total — the "under" is 3-2, and the two "overs" were both due to defensive failings rather than offensive potency.
There are a number of reasons for the lack of D'Antoni-esque zip so far. Morris on the point instead of Nash. Kobe playing ball hog. Pau Gasol being poorly suited for the system at his best, and he's not fully embracing the transition. The lack of a sharpshooter that the system needs to thrive. Dwight Howard taking forever to quit being self conscious and just play like we know he can. It goes on and on.
You can look at this in one of two ways. Either the tempo will pick up as those problems get addressed, or those problems will go away once the tempo and efficiency improves. Either way, bettors will be well rewarded for keeping an eye on the progress the team makes — or doesn't make — on this front.
Amount of change is tremendous
People seem surprised that this team hasn't found its stride yet. That seems ridiculous. Just think of what this team has already gone through this season. Mike Brown was fired. Bernie Bickerstaff took over on an interim basis. It seemed like Jackson was hired. Then D'Antoni was. Now they have to adjust to a radically different system. Then they gained Howard and lost Andrew Bynum. And gained Nash. Then they lost Nash. And Steve Blake. Howard hasn't been 100 percent physically. Neither has Kobe at times. D'Antoni is recovering from surgery and not at full capacity. It goes on and on.
Frankly, it would be a miracle if the team were performing at a top-level at this point. Howard and others have preached the need for patience, and at this point they couldn't be more right. If this team is struggling like they are now in a month then there could be major issues. Until then, though, just take a deep breath and look for better betting opportunities elsewhere if you don't like this one.